Luca Scuriatti and the Hot Tubes team triumph in the Junior Tour of the Ribera del Duero
The American won the general in the only junior stage race in Spain in 2021, with the participation of 25 teams from five countries, and 150 cyclists from ten nationalities.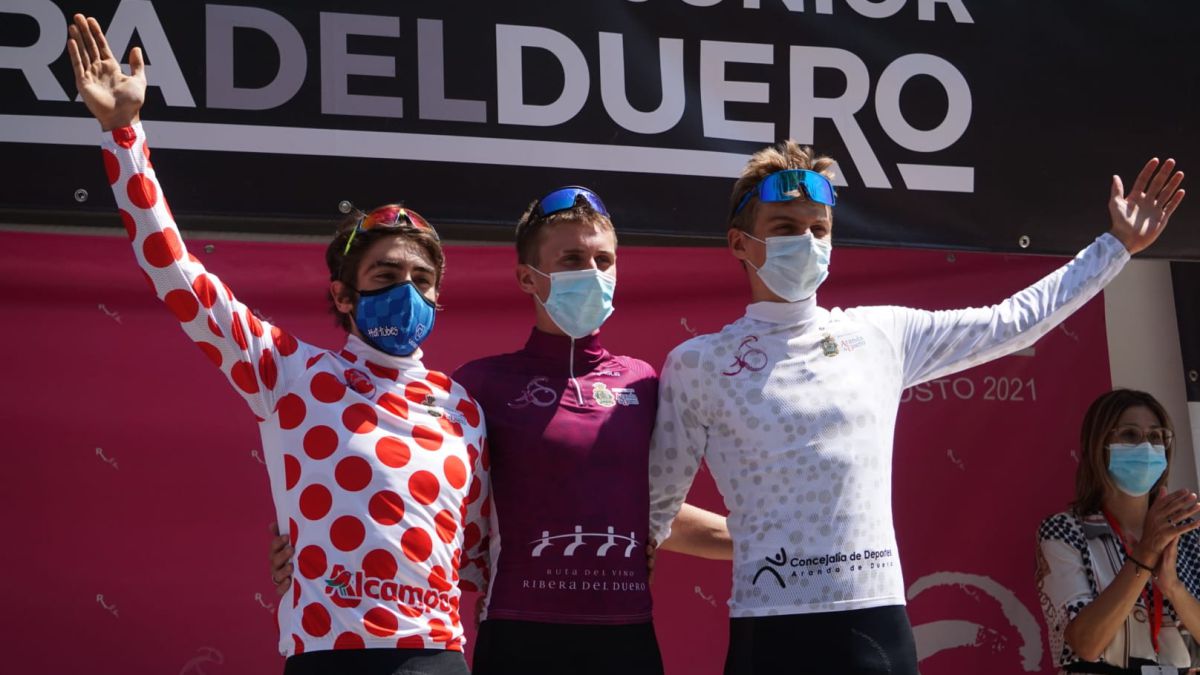 The Junior Cycling Tour of the Ribera del Duero, was held from Thursday 19 to Sunday 22 August, the only junior stage race with the highest UCI category in Spain in 2021. 4 stages were held, covering 331 kilometers in the provinces of Burgos, Segovia, Valladolid and Soria. 25 teams of 5 nationalities participated, with 150 cyclists of 10 nationalities, and representation of eleven Spanish autonomous communities.The Hot Tubes Development team from the USA, with riders looking to make the move to professionals, won 2 of the 4 stages, as well as the individual and team general classification, and 4 of the 6 general classification jerseys, taking the jersey of leader of the general with the American Luca Scuriatti, member of the junior cycling team of the United States, and winner of the second stage. The team was also awarded second and third place in the general classification. In addition, Canadian Matisse Julien got the Mountain jerseys and Special Sprints, and his partner Artem Smithd, the best first-year junior jersey.
A cyclist from the Guipuzkoa team, Markel Galparsoro, and another from the MMR Academy, Samuel Fernández, achieved individual victories in the third and fourth stages, and the Brazilian Víctor Paula, from the Portuguese Landeira team, managed to win the classification on the last day General of Flying Goals. The jersey of the first Castilian-Leonese in the general classification was worn by Pablo Rubio, a cyclist from the MMR Academy.
Other important teams that were in the Vuelta were the Portuguese team Landeira itself, or the French Team Inca, with six Colombians. On the Spanish side, the Eolo Kometa Fundación Alberto Contador, or the Valverde Team Terra Fecundis also took part.
Classification of the fourth stage of the Vuelta Junior a la Ribera del Duero
1. Samuel Fernández (ESP / MMR-Academy) 2: 36: 55
2. Samuel de Pablo (ESP / Eolo-Kometa) mt
. Roberto Alonso (ESP / Bathco) mt
4. Pablo Rubio (ESP / MMR-Academy) mt
5. Beñat Carbayeda (ESP / Gipuzkoako Selekzioa) mt
Final general classification of the Vuelta Junior a la Ribera del Duero
1. Luca Scuriatti (USA / Hot Tubes) 7: 40: 18
2. Matisse Julien (CAN / Hot Tubes) at 0: 007
. Artem Shmidt (USA / Hot Tubes) at 0: 55
4. Samuel Fernández (ESP / MMR-Academy) at 4: 0
5. Ibai Azanza (ESP / Navarra Selection) at 5: 25
Photos from as.com