"I like to win races, that's why I don't think about Formula 1"
The Catalan, leader of the IndyCar, attends to As before the final stretch of the championship: "If we continue like this, there will be no problem in fighting for the title."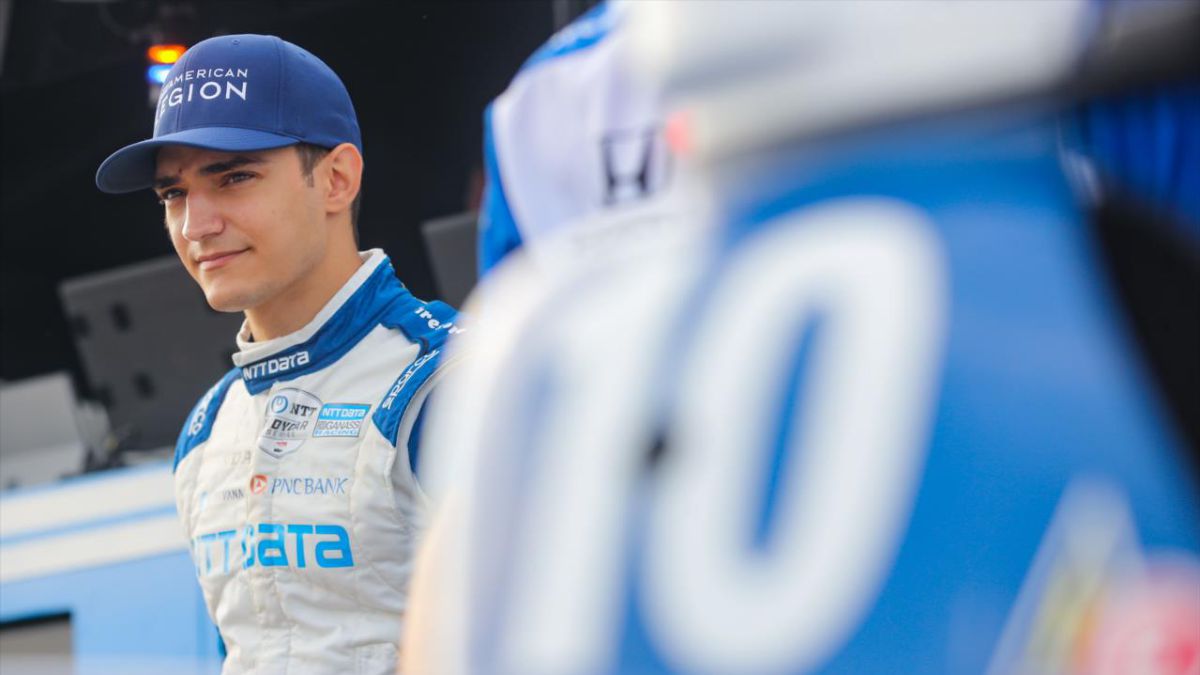 It is his second year in IndyCar and he already stands out in style. Álex Palou (Barcelona, 24 years old) is the leader of the American championship with 39 points over O'Ward and 56 over Dixon, his teammate hexacampeón, and was about to give the bell in the Indy 500. Before returning to action this At the weekend in Nashville, the Catalan attends As via telephone from Indianapolis, home of Chip Ganassi, his team, and where he resides.
— If I told Alex in 2019, the one who had to go find his life in Japan, that two years later he would have been on the verge of winning the Indy 500 and that he would be the IndyCar leader for most of the season, would you would you have believed it?
— No, not at all (laughs). I'm sure he wouldn't have believed it, nor would he be in IndyCar. I would see it with some possibility because you never know, but being leading the championship and fighting for the races is surely not. So I sure would be happy.
— And before the season started, would you have imagined it? Reaching the best team opened up that possibility ...
— Yes, it is true that once I make the move to Chip Ganassi, he gives me the opportunity to be part of one of the best teams, with more successes, and you know that the objectives change because so do the possibilities of having a car winner. I knew I was going to have a lot more options this year, but with the IndyCar being so competitive you never know how it's going to go. There are circuits that are new to me, and there are still some left, which makes everything more complicated, but so far everything has gone well, and with the team, great.
— How did your signing come about and what did you feel when you were made the offer?
— With the first contact I had no illusions because you never know, but when the contract was signed, I felt incredible. It was really the first time in my career that I have had the opportunity to be in such a great team, champion. In other categories I have been in smaller teams, and being in IndyCar with a team like Chip Ganassi is incredible, together with Penske, it would be as if in Europe you were racing for Ferrari, Mercedes or Red Bull. It is something very important.
— Despite his good performances in his rookie year, he will have surprised more than one there. How do they treat you in the 'paddock'? Do you notice that you have earned respect?
— It is clear that last year many people did not know me, this season they already do. There were people who counted on us, others did not, but yes, they treat me very well, I get along well with everyone. Here the relationship between the pilots is very open and almost all of us talk to each other, it is very different from what I have experienced in Europe, where the pilots hardly speak to each other. Everything is much closer here.
— What's it like to share ranks with American motoring legends like Scott Dixon or Jimmie Johnson?
— That's another incredible part, it's like everything is incredible ... (laughs). When I started watching IndyCar, Dixon was already on the team and he was a champion. He's been around for many years and he's a legend, surely the most successful driver in IndyCar. It's a pleasure, the only thing I can do is learn the most from him, he is helping me a lot, he tries to give me all the advice he can and I have a great time with him. And then Johnson, even if you don't know Nascar, you know his name, he's a legend, he's part of the history of world motorsport. Being able to learn from them is incredible because they are champions and in the end it is what I would like to become.
— Not only does he learn, he beats them. The Johnson thing is more normal because he has to get used to it, but Dixon sure has some advice ...
— Obviously, the step Jimmie has taken is very big, but it is getting closer and closer. And then Dixon, I think not, we'll see if in the end we both fight for the title and maybe in the last two races he doesn't tell me anything, but for now, he shares things. Hopefully I can come fighting hand to hand with him, it would be super good for the team and for me, of course.
— If you had to put a grade at the level of the IndyCar's grid, comparing it with other categories you have raced or seen, what would it be?
— There are people here who have been on the grid for 15 or 20 years, compared to everything I have done so far the level is very, very high. The grid is hotly contested, there is a lot of competition. Today it is one of the most competitive championships out there.
— Maybe next behind F1?
— It depends ... I think there is more competition here, we've had eight different winners in ten races. And if we talk about the driver level, F1 is the top. But if you look at the IndyCar grid and see where those drivers come from, there are people from F1, I don't know how many champions from IndyCar and also from other categories, like Scott McLaughlin, who has won the V8 Supercar of Australia three times. It is always very difficult to compare because there are also drivers in F1 who have uncompetitive cars and we do not really see their potential, however, here we do. Surely it is behind, but not far.
— We have talked about the pilots, but do the media and the American fans appreciate that their name is becoming more and more known?
-I notice it a lot, yes, our name is growing more and more, but I am also very happy with what I hear from Spain. There are no IndyCar fans there, but little by little I think that people are interested more, the media too, and that little bubble is forming. It cannot change from one day to the next, of course, but I like that there are people who like IndyCar and that the media like you dedicate time to us, and that it grows. Anyone who watches an IndyCar race will see the next one because they will like it.
-For those who believe that only F1 exists, tell them how a Spanish driver can earn a living in the United States, outside the focus of Europe.
-Someone who is born in Europe focuses on F1 because it is the highest category of motorsport, it is what you are used to. Instead, here in the United States the reference is the IndyCar. There are only 22 people in the whole world who can live from F1, also only 25 from IndyCar, but I think that to get to F1 you have to be very good, have very good results, and also have a little more help, from sponsors and other things that do not only depend on the pilot. On the other hand, here in America, although it is difficult you can get there only depending on yourself and I am very happy here, it was a goal that I had set for myself for a long time because I knew it was feasible.
-In sight it is that it has adapted perfectly to the American racing style, what are the differences that have most attracted your attention compared to the one we are used to here?
-What surprises me the most is the variety of circuits and modalities that are here, we have three different disciplines between permanent, urban and oval circuits, something that was totally new for me but that I enjoy a lot. And then it is also surprising how equal there is, with a car that is not the best you can win, because of how the car is made you can take advantage of it, and that cannot happen in other categories. And we also have refueling, the only category that we have, and that makes the pit stop strategies and racing incredible. It's fun and has a lot of variety.
— If you like, let's review how your season has been so far. The first thing was to arrive and kiss the saint with his victory in the Alabama start. Quite a declaration of intent.
— Yes, it was a good weekend. We were going very fast and we won the first time. We had tested there before and that helped us to be so competitive from the start. But winning the first race is something that you can't do every year, hopefully it can, but it is something special that gives you that extra confidence that you already carry throughout the year.
— After touching the podium and getting on it at the Indianapolis indoor circuit, comes his big performance in the 500 Miles. Two months later, does it still hurt a lot if you missed that victory at the end or do you see more of the good part?
— Let's see, it hurts a little bit, and I think it will continue to hurt a lot, but it is a pain that pushes me to say: 'Okay, we did very well, we were second and we didn't win, but no more.' I don't want to go through there again. It gives me motivation to work 200% to earn it. It was very special to fight to the end, we had a very competitive car, and losing against a legend like Castroneves, who has won four Indy 500s, hurts a little less.
— Seen with a certain perspective, could that performance in one of the most important races in the world have meant a before and after in your career?
— Yes, I think so. It is such a special race that it does mark you, it benefits you when you have good results a little bit forever. But until you win it, you don't see the real benefit.
— After the Indy 500, they have come a victory and two more podiums that keep them in the lead. Now it seems that no one can separate you from above.
— We tried. It is being interesting this year, we are being very constant. Yes, I have had a circuit that has not turned out so well. In general, I am very well, very comfortable, every time I am gaining more confidence in the car, in the championship, in the circuits and that is helping us. It is very good to have been first or second all season, but I would like to be first when the last race ends.
— Six races to go, can you get to last with title options?
— Yes, we are going to have options, then another thing is to win or not. We have a very competitive car, we have been very constant, and we have tools in our hands to arrive with options to fight for the championship. So we're going to go for it, but there's a lot of work to do. If we continue to do the work we have done so far, there will be no problem fighting for the championship in the last race.
— Who do you see as your greatest rival?
— Without ruling out anyone, my biggest rival is Dixon. The first, because he has the same tools as me, and later, because he has been in that position many times and has won six. It is something that I do not have and that you cannot learn if it is not by passing through there.
— The next one is in Nashville, but of the ones that remain, is there one that has more marked, in which it says: 'Attentive to this one, I can do something important'?
— Well, there is one that I am most looking forward to, Laguna Seca, because of how special that circuit is. I have never raced there, but it is very, very mythical and that I used to play it as a child in the Play (laughs). So it would be very special to win there.
— If after the last race at Long Beach he ends up without the title in his hands, would he be happy with his season or would he only be satisfied as champion?
— It depends on the circumstances, if we lost him, something he could have done differently, or if we just didn't have the rhythm at the end of the season. If it were for the rhythm, to work, and if it were for something that was in our hands, it would bother me more. I'll do my best to make sure that doesn't happen and leave 200% on the table.
— Have you ever imagined what it would be like to win the title or would you prefer to go race by race?
— Normally, I focus session by session, it is very important. Obviously, at some point I do think and say: 'Wow, how good I would feel if I was a champion!' And the only thing that does that is motivate me, it is good to think about it from time to time, I already thought about it since the preseason and it is something that helps me psychologically. But right now I'm not thinking about the championship, only about the next race, and I know that if we get on the podium and score a lot of points, that will benefit us and I won't have to think about the championship. Until the last race, it does not matter to think about the points, it is better to focus on getting 100% of each practice.
— Regardless of whether you are a champion or not, do you think you could get the attention of any F1 team? Are you aspiring to race there or are you just thinking about the IndyCar?
— Personally, I don't think about F1. I am in a place where I feel very comfortable and happy, and where I have the opportunity to win races every weekend, something very special for a driver because there are many F1 drivers who have come to America, like Grosjean, who have not had the chance to win and coming here they are very happy. You don't really want to get into a place where you're not going to get out of 10th, 12th or 15th position either ... What I like is winning races and that's why I don't think about F1. If I win the title, yes that people would pay more attention, but it would have to be seen what is better, if being 15th in F1 or winning titles in IndyCar, and I prefer the latter.
— Since we are talking about F1, Alonso and Sainz are very aware of you.
— Yes. I had a lot of relationship with Carlos because we were partners in karting, now not so much. With Fernando yes, because he has been here in the Indy 500 and last year we were together on the circuit for a long time and now I am also part of Kimoa. They are people who do not have to be aware, and they are, and making it known to others on the networks or in interviews is very good because it makes more people know us. I know Fernando likes IndyCar a lot and I hope that he will do the Indy 500 again and we can fight in the race.
— Now, to try to be the best Spaniard in the US by beating Serviá, with whom he surely maintains a good relationship. He achieved a victory and was runner-up in the Champ Car in 2005, he has already surpassed him in the first and is going for the second.
— Let's try it! I get along very well with him, he was the first person to have a professional life here and it was something that inspired me. He has helped me a lot because he is still in the races as a safety car driver and he gives me some little tricks that help me a lot. Although we are good friends, I will do what I can to try to surpass him and take the title, he is pushing hard for us and I hope we can achieve it.

Photos from as.com