Koeman's public stick: "The Ilaix thing is horrible"
Koeman censures the young midfielder, says he would stay with Braithwaite and also confirms that Coutinho continues: "I already said last year that I liked him."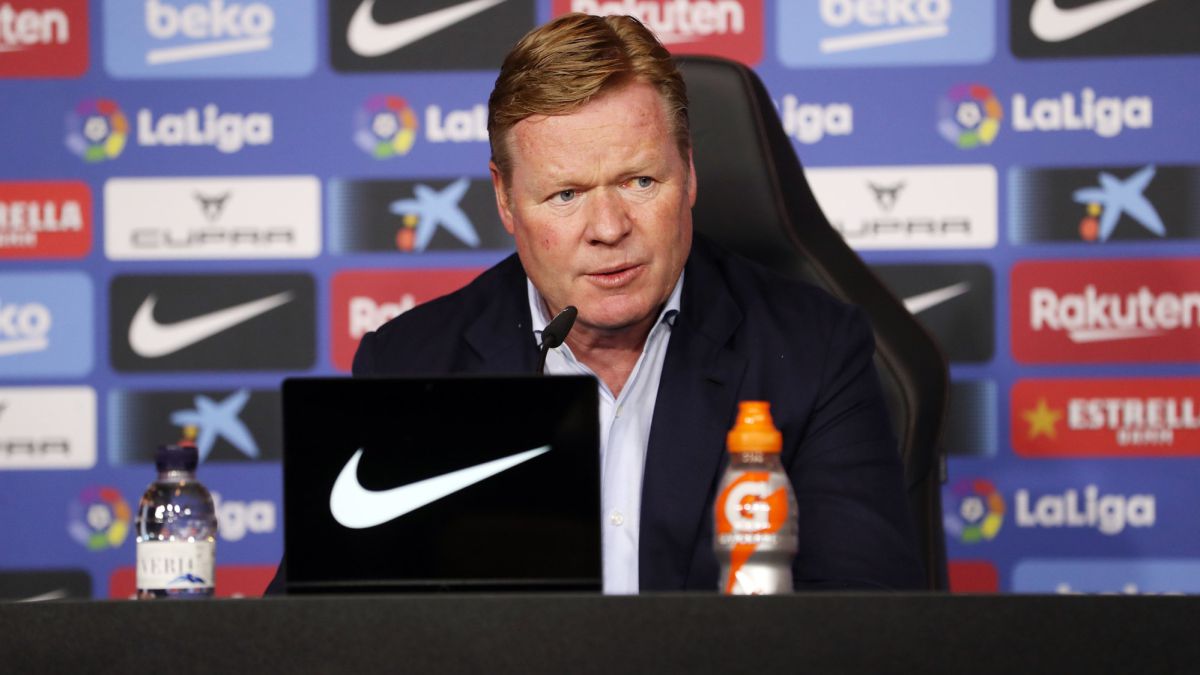 Ronald Koeman, Barcelona coach, spoke at a press conference in the preview of the second day of the League that the Catalans will play in San Mamés.
Do last year's matches against Athletic serve as a reference?
San Mamés is always a difficult match. In addition, Athletic has improved. He has been in a six-week preseason and has been able to work well and hard. It is a strong team that plays with a defined system and we know what we are going to find.
Have you come to a conclusion with Braithwaite; is it closer to staying?
We know the situation of the club. If there is interest in a player, we listen to him. But Martin is good for us. I love working with him because he is disciplined, he accepts his role of not always playing. It has to stay for me. Can play in all attack positions ... 444 444
Is there an agreement for Pedri not to play in September?
We have been thinking for a while what is the best for Pedri and we have decided that he will play tomorrow but, from tomorrow, he will have two weeks of vacation so as not to enter November or December with physical problems. I have spoken with Luis Enrique and then they will make their decision. But we give Pedri two weeks of vacation because he needs it. It is impossible to put up with everything he played last week. Needs a two week break.
There has been a lot of talk about Messi's ten. Should any player assume that number?
It is a matter of the club, not of the coach. My opinion is not important.
Do you prefer Mbappé to stay at PSG or go to Madrid?
I am the coach of Barça. I'm not interested. He is a great player and you have to choose him. That is not my problem.
Pjanic and Umtiti are still out. Did you expect your cases to be resolved?
We know there are plenty of players because if we count the injured, Dembélé, Mingueza, Ansu, there are too many players. Pjanic and Umtiti have a difficult time having minutes. The final decision is up to the player but they have a complicated situation, yes.
Are you in favor of Countinho staying?
Philippe is out because I think he needs one more week of training and being with the group before being called up. And yes, I count on him because for me he is a great player. I already said last year that I liked him and I do count on Coutinho for this season. It is important because it is effective in your game. You can play in the center of the field with more freedom. We have lost goals with Messi, we have to look for goals in other players and Philippe is one of them.
How are Piqué and Ter Stegen?
I was surprised by what came out of Piqué yesterday because he had some discomfort but it is nothing. He trained normally this morning and will play. Ter Stegen has been part of the training. He has recovered well but needs more training. We'll see when it's ready to play.
You gave Ilaix a chance. How are you experiencing this situation?
I spoke with Ilaix two or three weeks ago, more as a person than as the Barça coach. His situation is horrible because he is 18 years old, he is young, he has been able to play in the first team and he is the future of the club. And he does not play, he is not with us. And I know what the club wants to offer this player, it's the future. And my advice is that money is not the most important thing, it is playing games. But the player, in addition to his people, decide differently. I am disappointed with that because I believe more in football than in contracts. For an 18-year-old, the most important thing should not be money.
Can there be an exit in the goal?
Not at the moment. I understand Iñaki Peña's situation but we need three goalkeepers. Despite the fact that we have Arnau Tenas and others from the subsidiary, I want to have three top-level goalkeepers so as not to get into trouble. At the moment, there is nothing on the subject of our games.
What projection do you see for Nico González?
I will always count on the young people. In addition, they are training with us every day and they will continue. If they don't play with the first team, they will play with B. They need matches to compete. Nico, Gavi, Demir, Balde ... I see a lot of future in these young players. And if the opportunity arises, we will give it to you. We are pleased to have many young people training with the group.
Do you have the feeling that the Barça bench wears more than another?
Yes, it's true. In one year a lot has happened here. But I am where I want to be, I love being the coach of this club. And being in big clubs there is more pressure. But we are working well, there is a good atmosphere in the team. And I know that everything depends on winning here, but I have it assimilated. No problem.
Is Lenglet behind the other centrals?
I am very happy to have five or six centers because it is an important position. There is competition there and we need them. Umtiti has fewer chances but you have to have them. Lenglet is also the only left-handed man. It is going to have games. Now there is only one game a week but later it will be three a week.
There is a study that shows that Athletic is the second team in Europe that runs the most.
We have experience playing against them and we know what is going to happen. We have to play positionally well, fast, avoid their physical game ... It's a great game because they don't leave you alone. They come to press. They can't surprise us, neither can we. We already know what to expect from the match
Photos from as.com