Juanmi and Vinicius, the covered ones begin to uncover
Decisive from the bench, they claim ownership. The betico has been in the two goals of his team. The madridista has scored three in 55 '.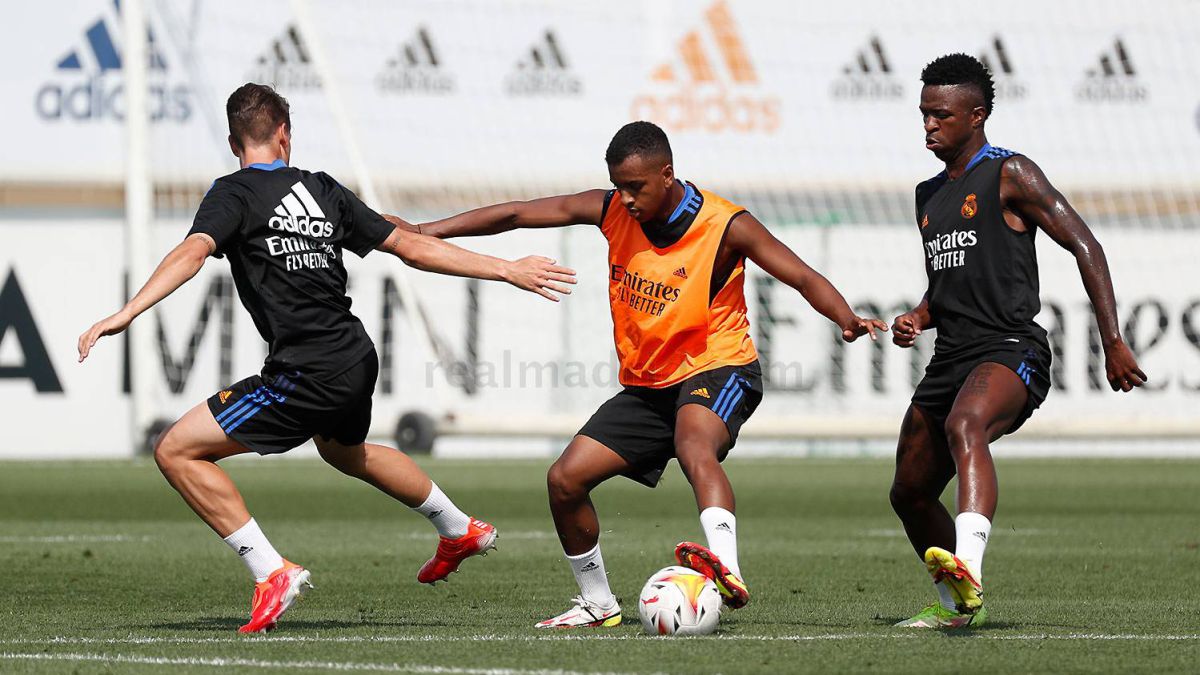 Betis and Madrid are in the same: finishing their lead (Willian José is already green and white, with Mbappé the last hand of the game is played), lamenting their defensive errors, squeezing the strategy and brightening the bottom of the closet. Vinicius has played 55 minutes in this league and has scored three goals. In his best year at Madrid, his average was one goal every 363 minutes. He seems about to be cured of that blindness in the area that hurt him so much. The question is whether as a starter he will work at the same pace as as a revulsive and there is some conclusive data: 12 of his 17 goals in Madrid came in the last half hour. In part it is explained because almost half of the games started as a substitute but also because a fatigued rival his speed (he has registered 10.6 seconds in 100 meters) makes him indefensible.The question is whether Ancelotti, a confessed conservative (he has not yet given any youth squad a minute), will dare with him and sit Hazard, until now in the same labyrinth of the last two years. At Chelsea, his average shots per game was 2.3; in Madrid, 1.7. There he scored in one of every three games; here in one in ten. And his dribbling average has been cut in half: from 11.1 per game to 6.7. In short, we are facing a notably worse footballer. In Madrid and in his National Team. Ancelotti and the club still believe him recoverable, but Vinicius is leaving the margin of patience to a minimum.From transferable to essential
Betis also has a similar case. Juanmi started the two games of this League on the bench and was decisive in the goal that he gave the team a point in Mallorca and scored the one that gave him another against Cádiz. The summer began as transferable and may end it as essential, although the arrival of Willian José, with whom he coincided in the Real, makes it even more difficult than Vinicius.
The match, which marks Madrid's third consecutive exit (at their own request, due to the Bernabéu works), catches both teams looking to the rear (follow the match live on As.com). In whites a radical change in trend is guessed. Hit more and get more. Now it goes to 3.5 goals in favor per game, double that of last season, but receives two against (0.88 last season, 0.84 the previous one). He has opened a door (his shooting average in these two games is 20), but he has forgotten to close another. It already happened in the previous stage of Ancelotti. Betis have also started conceding goals in the first two matchdays when last year they fell to zero. Emerson and Mandi's exits begin to weigh. Alaba, central
In the casualty chapter, Madrid will continue without Modric and will not have Nacho either, which will force a defensive restructuring, with Alaba as central, in theory for what he came, and Miguel Gutiérrez on the left wing. Carvajal will start on the right, in his first game as a starter since April 27 because of his physical problems. At Betis, Sabaly (he was injured in a friendly against Roma, underwent surgery and the club is looking for a replacement), Álex Moreno and Laínez (dragging his sprain the Games) are still out. The ex-Madridista Willian José, recently arrived, is not even summoned. In fact, they haven't even assigned him a number yet. In return, Pellegrini recovers Bartra and Camarasa.
The set pieces seem crucial in the duel. Betis was the leader in this luck last season (24 goals) and they have also scored their two goals in this way this season. Madrid, the tournament's top scorer, also has three strategy targets.
Today will be Pellegrini's 22nd match against his former team and he has only won three. The last one, almost nine years ago, when he was managing Malaga. Betis's statistics against the white team, however, is not so negative: only one defeat, and by the least, in the last five games. A warning for a Madrid that the noise of Mbappé has deafened.
Photos from as.com