Jordan's Forgotten Player
Luc Longley, Jordan's former partner, did not appear on The Last Dance. In Australia, they prepare their own documentary. On his resume, three champion rings.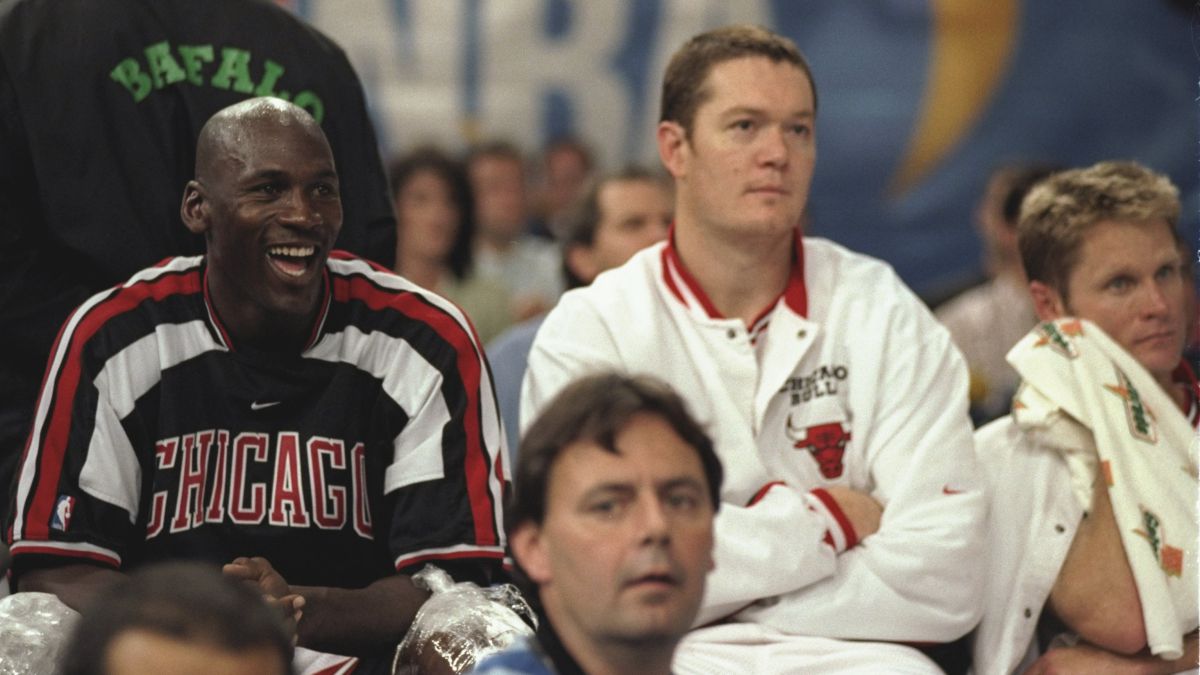 The NBA relies on names turned into legends. Extraordinary stars who have left their mark, have managed to write the best pages of a sport called basketball, which have transcended beyond the court and constantly resonate, positively or (sometimes) negatively, at the dawn of public opinion, that place in which the battles that decide the wars are fought. Bill Russell and Wilth Chamberlain, almost prehistoric heroes, remain in the fan's mouth, as does a pioneer like George Mikan, the Jerry West logo, the ignored glory of the 70s or the duels between Magic Johnson and Larry Bird, a decade later. They are an essential and essential part of a competition that has turned these men into authentic deities, has enhanced their legend and in these new times, has known how to adapt on a social, racial and cultural level, has managed to emerge stars one after another and have based in the discourse and narrative that accompanies them almost inherently, to expand to all corners of the planet.In all this history, forged by historical men, unexpected heroes, legendary trainers, titanic figures and transcendental second swords emerge from time to time. And after all this, we have a huge string of forgotten players, sometimes ignored, but always existing in any winning team, either as direct witnesses or as participants of moments that have been recorded in the retirement of the fans. There is always someone who does not fit into such a reverential name, who are mere companions but who have been there, at the moment of truth, forming part of franchises that have touched the glory or have stayed really close to it. Although in this case, and to enter that familiar story, touching the glory in the form of rings is usually essential to mark an era and transcend beyond the merely anecdotal.
Among those not-so-famous champions, who have been direct witnesses or active participants in moments essential to understanding the NBA, is Luc Longley. Born in Australia on January 19, 1969, the pivot soon emigrated to the United States, where he trained at the University of New Mexico. He came to the NBA in 1991, in position 7 in the first round of the draft, to join a franchise with only two years of existence, the Timberwolves, who landed in the NBA with the expansion of 1989. However, and despite Arriving in a high position in the draft, the center did not stand out especially in his first years in the North American competition. In 1993-94, he was traded to a Bulls who were in their first year post Jordan. And there his professional life changed gradually, gradually, without great fanfare but being a pylon hammer that became an essential figure in the scheme of Phil Jackson and his famous triangle, created by Tex Winter and perfected by the eternal (and eternalized ) figure of the Zen Master.
A role player turned idol
Longley was a player with peculiar qualities, highly appreciated by Phil Jackson but with little place in an NBA where dominant centers (Robinson, Olajuwon, Shaquille, Ewing ...) and talented power forwards (Barkley , Malone ...) were the figures that commanded and predominated. Longley was 2.18 and weighed around 120 kilos when fit, but he didn't have great jumping ability or an athletic or explosive body. He never passed the 6 rebounds per game on average, or the 2 blocks. Neither did he have extraordinary movements on the post or facility for dunk. However, he fulfilled in defense and did adapt very well to the triangle. He acted as the inner vertex of it when necessary, favored the circulation of the ball very well, solved well and without great bragging near the rim and fulfilled in defense. These characteristics were highly valued by the Zen Master, who has always exploited players in his teams that others did not consider so talented. It happened at that time with Longley and also, years later, with men like Derek Fisher or, to a lesser extent, Luke Walton.
Longley's personable character and good-natured physique caused a sensation at the United Center. Andrés Montes, due to his Australian origin, nicknamed him Crocodile Dundee in reference to the film, and the fans chanted that "Luc, Luc Luc" every time he received the ball. Longley played 62, 59 and 58 games in the three seasons of the Bulls' last three peat, and started each and every one of them, showing that he had earned the trust of Phil Jackson. He averaged 9.1 points in those first two seasons, and 11.4 + 5.9 in the senior season, career highs and the only time he had double-digit scoring. And he took three rings, of course, the best of his resume and some championships that assure you eternal glory and justify any step in the best league in the world. After those years, he went through Phoenix after the dismantling of the Bulls project in the Knicks, in 2000-01. But his fame was always based on his years in Chicago, his connection with the public and the fact that he was part of one of the best teams in history. The 72-10, the 69-13, the Finals against the Jazz, sharing a team with Jordan, Pippen, Rodman, Harper, Kerr ... anyway. Almost nothing.
The Last Dance
Longley, long after his retirement and his usual years of glory, has returned to be the protagonist in his last dates. And it has been precisely because of its absence in the documentary with which Michael Jordan threatened the global quarantine that occurred because of the coronavirus pandemic. In a spectacular article published on ABC by Greg Hassall and Caitlin Shea, they relate the annoyance that Longley has caused by not appearing in the documentary despite being present in almost all of the historical images collected. Something strange if we also take into account that the documentary, although it reviews the career of His Airness, focuses on the 1997-98 season, the best at a statistical level of a Longley who was also one of the favorites of the fans and someone wholesome and nice in the locker room. The fact of not being there has surprised many, and they have wanted to vindicate their figure in this article, and there has even been talk of taking their own documentary in Australia.
"Sitting on the couch and seeing how I was not as the episodes went by, you were discouraging me", the former pivot has admitted. Steve Kerr, his teammate at the time, noted Longley's absence: "I know it bothered him." "The worst thing for him was that the phone kept ringing for them to ask him why he hadn't come out," Luc's wife said. Jordan, for his part, has complained about what happened and has recognized that it was a mistake, and that if he could change something, it would be to include his partner. Jason Heir, director of the series, excused himself in logistics to justify the omission of Longley, who was not even interviewed. According to Heir, this is due to the distance between the United States and Australia, a trip that did not compensate to speak with a player who, despite this, expected to appear more in the documentary.In one way or another, Longley's story has come to light again precisely because of this, and his not inclusion in The Last Dance does not hide the reality: that of that boy who wanted to be an underwater architect, he dedicated himself professionally to basketball for Thanks to his coach Adrian Hurley, he spent "the most horrible year" of his life in Minnesota and, in the end, made history. He did it by being the first Spaniard to sign a million dollar bond, but also the only one from his country to win the NBA ring more than once. And he was the pioneer of a generation that today has illustrious names such as Patty Mills, Andrew Bogut, Aaron Baynes and Matthew Dellavedova. A historical man, within his level, and who has not appeared in a documentary that has transcended to unsuspected levels. But whose absence in it, of course, does not mean that it was not there. Luc Longley, Crocodile Dundee, was the center of the last three rings for the Jordan Bulls. And that, you know, is forever.
Photos from as.com