Jokubaitis: "Knicks fans called me Tingis Pingis"
Rokas Jokubaitis talks about his expectations in the NBA and his step forward this summer when he left Lithuania to sign for Barça, a step before the Knicks.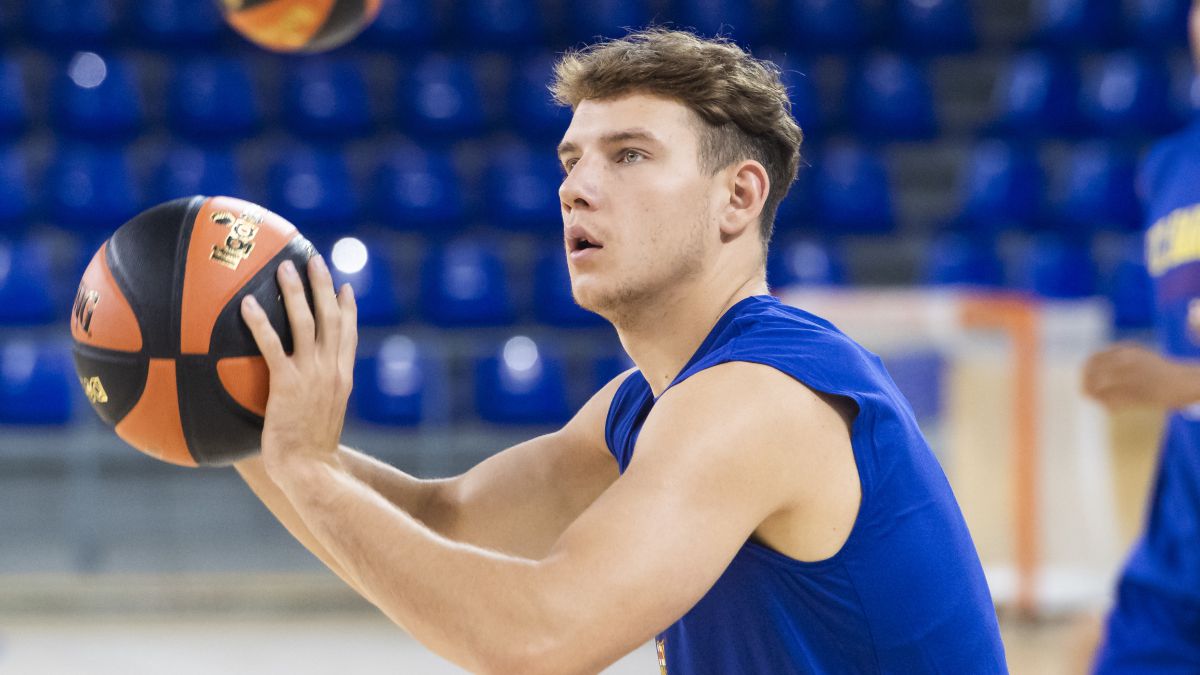 Rokas Jokubaitis has begun his stage at Barça, already embedded in the structure led by his compatriot Sarunas Jasikevicius, after being chosen by the NBA in the 2021 Draft. The Knicks were the ones who trusted him in the 34th position and with them he played the Las Vegas summer league with the permission of the Catalans, who have made him a long contract even though the boy's aspiration is to play in the United States when he takes a little more hair in Europe.
In an interview with Donatas Urbonas for Basket News, the new Barcelona player talks about how well the test with the NBA has gone so far and his big change this summer, leaving Lithuania to play in Spain.
"I thought the 'draft' lasted two hours or so, but after two hours they had only chosen twenty. I thought that the 44th or so would be chosen, it was a more realistic position for me. As a good Lithuanian I was shy and not He set very high expectations on me, "he says. As has been remembered this year with the case of Nikola Jokic, to which it also happened, Mark Tatum announced his name when television commercials ran: "It was a fun night."
"I went to the Facebook page and read the comments. And people saying things. 'Who is this guy?' They called me Tingis Pingis and things like that. It's going to be interesting," he says. The last European to whom something similar happened, and with a much higher election, is close by, in Latvia, a Kristaps Porzingis who was booed by what would become his fans: "But the franchise is moving forward."
This summer he moved to Barcelona: "I wanted to get out of my comfort zone. I knew I would have a more prominent role at Zalgiris and the contract they offered me surprised me, it made the decision even tougher. I'm intrigued by the level of In the Spanish league, I know that there are no easy games and that it will be more difficult to win the minutes. " It is endorsed by Sarunas Jasikevicius, it is a personal request from the coach with whom he is the great emerging star of basketball in his country. "Saras was very sincere: 'I am not going to lie to you. You know me. You will come, we will squeeze you and people will love you. It will be like in the Zalgiris. You will not see anything new in me'. I loved his honesty." There was a point in which it was seriously thought about betting on the NBA at this moment despite the fact that the agreement with Barça was made, but he reflected and will play for Barça (s / o Erick Moleiro): "In New York they told me they would give me if they chose me. And I think it was the most realistic scenario for me. After a good season in Europe I can go back to the summer league and fight for a place in the squad. Now I can talk about the NBA more seriously, I wanted to see about about how they work in the United States. In my opinion, the most logical thing for me is to stay in Europe for at least one more year. "
"The average age of Barcelona was over 30 and they needed younger players to revitalize the team," he says. He also says that there are no great promises about the Euroleague even though Saras is there, but he also focuses on the League: "It is the best on the continent. It is a challenge and I love challenges."

Photos from as.com