Jay Vine: "I hope to repeat Neila's result in La Vuelta"
The Australian Alpecin-Fenix rider attended AS before La Vuelta. He made the leap to professionals through the Zwift Academy and now he wants to shine in the peloton.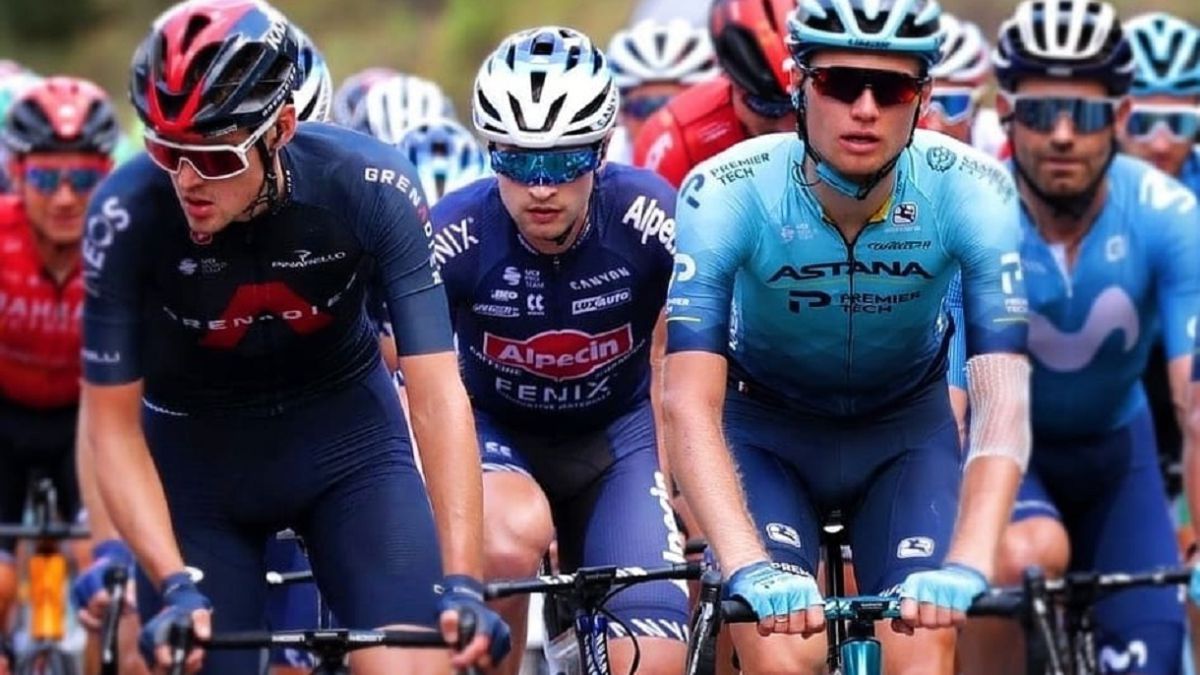 The Australian Jay Vine (Townsville, 25 years old) wants to be one of the great sensations of the Vuelta a España in the ranks of the Alpecin-Fenix. Despite being his first season as a professional after jumping into the peloton from the Zwift Academy, the young Australian cyclist was on the verge of winning his first overall in the last Tour of Turkey and in the recent Tour of Burgos he arrived with the best climbers on the demanding climb to the Neila Lagoons, finishing in fifth position. Before making his debut at La Vuelta, Vine called AS to discuss his expectations for the race and how he made the leap to professionals.
- Congratulations on your selection for La Vuelta. How do you feel before your first big lap?
- I'm very excited. The team has put a lot of faith in me, throwing me into the water in what is my fourth race in Europe and my first race on the World Tour. So yes, I'm very excited.
- In the Vuelta a Burgos, he finished fifth in the final stage of the Lagunas de Neila, a very tough climb. Will we see him up front in the mountain stages of La Vuelta
- I hope to repeat the same results in the mountain stages in La Vuelta. I have been training at height. All the numbers seem positive and yes, we hope to achieve at least these results in the mountain stages of La Vuelta.
- What is your main objective in La Vuelta? And what is the goal of the Alpecin-Fenix without Mathieu Van der Poel?
- My main objective is to compete and learn as much as possible and I hope that I can take several days of escape and achieve results in them. Even if Van der Poel is not there, our main objective as a team is always to come and win stages. Either with Jasper (Philipsen) or with me. We also have many options to win stages, there are days that are very good for us and that is good.
- Who is the cyclist that inspires you the most?
- The rider that inspires me the most is possibly Richie Porte, due to the way in which he has prolonged his career. You also know that it has shown that you can have ups and downs and that, in this way, you can be passionate about sport and enjoy what you are doing. And that's what I want to do in my career.
- After La Vuelta, what are your next goals?
- After La Vuelta I hope to be able to start in Lombardy. It would be the icing on the cake to end the season. I would very much like to run that race in Italy.
- How would you describe yourself?
- As a cyclist, I am still a bit green on the European calendar, but I consider myself a very combative cyclist and also a climber. Personally, my wife and I have been left alone in Girona but we love living in Europe.
- Came to the peloton after winning at Zwift Academy. How was that adventure?
- It was a fantastic opportunity for someone who came from Australia and was a bit older. It was very uncertain that I could become a professional. European teams don't tend to like Australian riders unless you're 17 years old and do it very well. So I was able to show my talent and my power at the Zwift Academy and also that I was capable of racing in Europe. The results were very good, so they show that there was no trick. Runners who do well at Zwift can prove it on the road, too.
- This year he was second overall in the Tour of Turkey, just one second behind José Manuel Díaz. Was that result expected? How did you feel?
- I did not expect that result. It was my first race in Europe and I had come to learn. My first stage in Europe was a sprint and I tried to learn how to sprint in Europe in a peloton that is three times as large as the pelotons I had raced in Australia. After all it was a great surprise. I felt very happy. I think it was a great start to the year and I think that performance is one of the reasons why I have earned a place in the team.
Photos from as.com