Javi Sánchez and Toni inaugurate the pucelan victories locker
In a match in which Real Zaragoza made merits to score at least one point, the Real Valladolid players used two blows to win.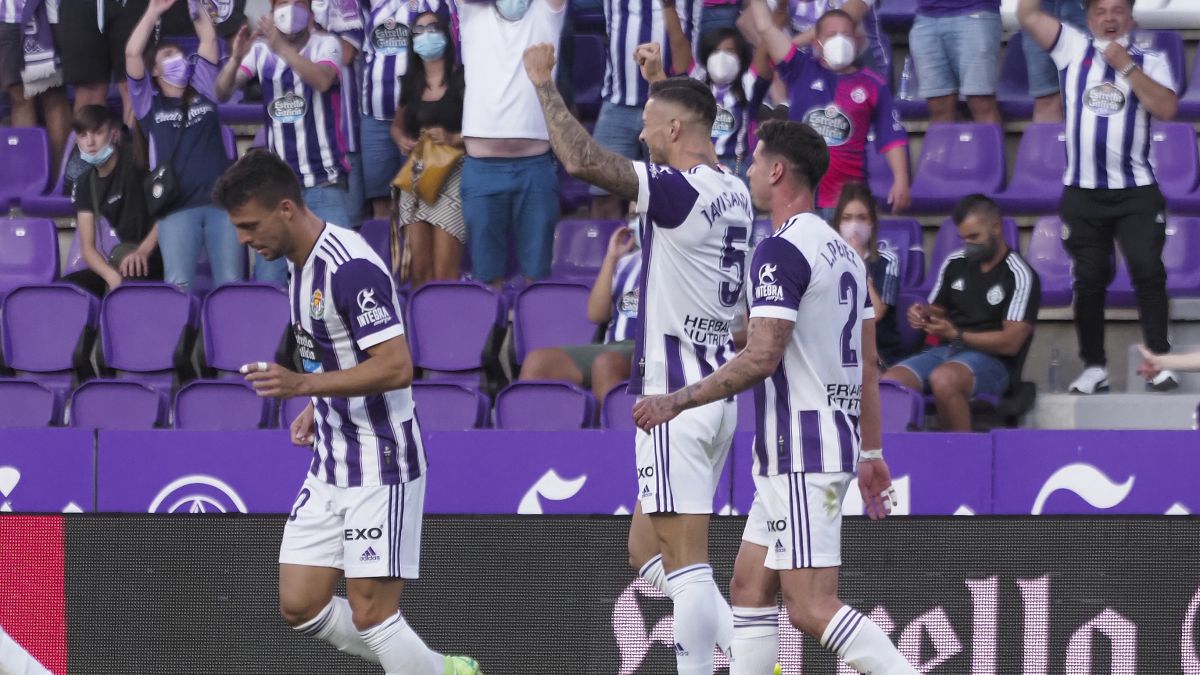 Real Valladolid inaugurated its victory record by defeating Real Zaragoza in a duel in which JIM's men deserved more. In a meeting in which the public returned to Zorrilla in an official match, the prolegomena were marked by the absence of Marcos André on the squad list. His sale to Valencia now seems closer, but the Blanquivioleta will sleep more comfortably today after winning a game again after many months.
Real Valladolid began pressing, looking to tickle the Aragonese, until Javi Sánchez hit it with a shot from 35 meters that beat Ratón. Before, the best was a wonderful inside pass from Toni to Weissman that the Israeli could not control by centimeters to stay hand in hand with the rival goal. Zaragoza, for its part, sought to damage the line of three centrals plus two long laterals, insisting on its right wing, that of Olaza, which did not receive help, so Gámez and Bermejo struck over and over again. Also in the center, with an Eguaras who arrived very free, the Zaragoza fans began to accumulate chances, all with a common denominator: Iván. The Zaragoza youth squad had three very clear opportunities, but the most obvious, just past the midfielder, crashed into the post when all of Zorrilla was lamenting the visitor's draw. Already before, Bermejo was about to surprise Roberto from 40 meters and Francés put the Pucelano goal to the test, who avoided the tie of JIM's men despite the merits of the Aragonese.
Pacheta reacted at half-time, gave entry to Fede San Emeterio for an unfortunate Sekou, and balanced his team, which had had a really bad time in the first half. With a remodeled plan, Real Valladolid looked for the goal of Ratón without much luck. Plano and Toni tried, but the Zaragoza goal avoided greater evils. In the opposite goal, Bermejo's downturn and Eguaras' warmth meant that the visitors did not disturb Roberto beyond a shot at the post by Borja, in a direct free-kick. The carousel of changes led to a runner in which the ball, however, barely reached the small area of either team, until Alcaraz put a precious pass into space to Toni and the pucelano youth squad did not miss against the goalkeeper. Real Zaragoza, ending the game.
With this not very bright victory for Real Valladolid, the pucelanos add four points and gain peace of mind to continue building in a week that shows many changes, while Real Zaragoza, which left a good image, adds a single point after the day two.
Photos from as.com