Javi Rodríguez: "In Bilbao there were good players and there will be good coaches"
The former base has returned to the capital of Biscay, this time as second to work side by side with Salgado as Mumbrú's assistants. He confesses his happiness in Miribilla, his best stage with Manresa.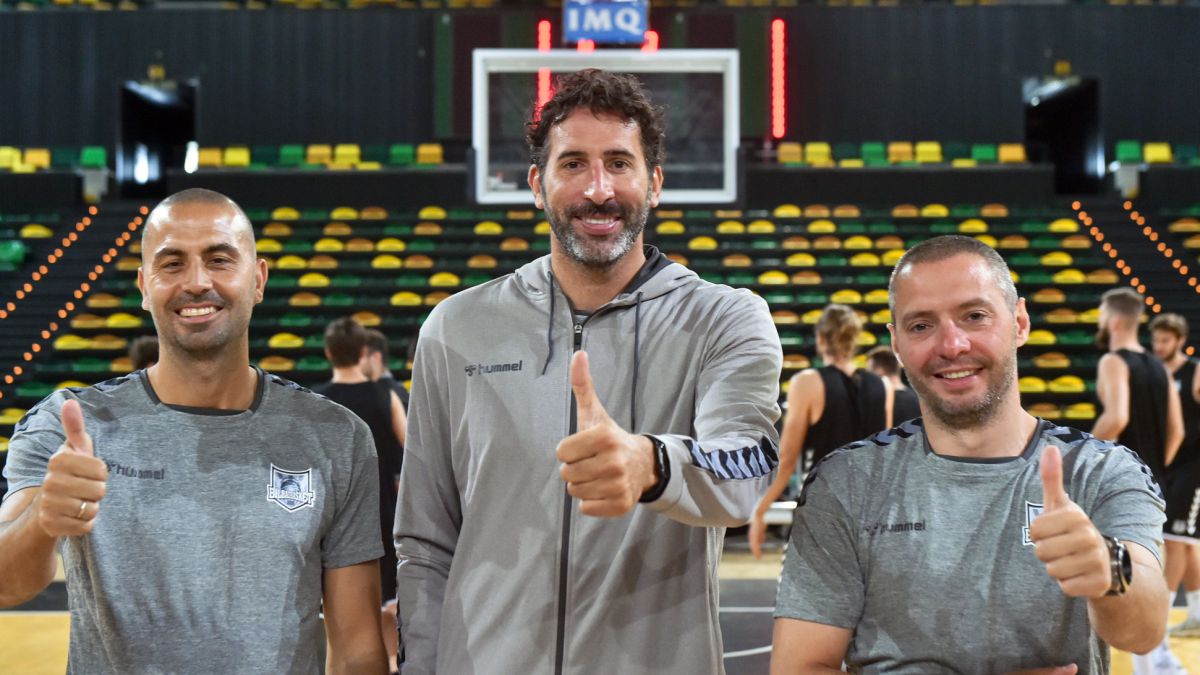 Javi Rodríguez, alias el 'Chino', has had a career as a true nomad. At the age of seven, his parents took the boy to the basketball school that was in the pavilion of his town, Porriño. Everyone wanted to see a pearl in him and the Baskonia recruiting team caught him when he was 14, ahead of other potential competitors. He had to pack his bags and make a living in America, at Trumbull High School and then at Boston College. Back home. He went through the TAU and continued his growth with the Gijón de Mocho López, with an unforgettable ascent. He went from being a physically powerful, fast and explosive player to a very imaginative game director, a point guard, come on. Then he had a bittersweet double stage in Breogán, because he came to play with the National Team, in a Pre-European against Belgium in Murcia, and to be apart. He also wore the shirts of Fuenlabrada, Manresa and Bilbao. It was ten years ago when he landed in a club in full growth. The team first moved to the BEC and then to the Bilbao Arena, with a baptism in which they were runner-up in the League. He did not finish expressing his game fully, but Javi left a good memory and, above all, Bilbao left him marked. After hanging up his boots, he chose the blackboard. He was Carles Marco's assistant for three years at LEB's Oviedo and then he took the reins for a year and a half. But he was fired. And now his friend Mumbrú has called on him to replace Lolo Encinas and complete the coaching staff of the 'Javis' with Salgado, another good friend. Today it has gone through the microphones of Radio Bilbao.
How about the return to Bilbao?
This city is one of those places like friends, that you spend a lot of years without seeing them and when you meet them again, it seems like two days have passed. I have been away for ten years, although I have seen matches and been to one, but I have the feeling that it has not been ten years but ten days. We appreciate the good harmony that I have had with Bilbao and how well they have treated both my wife and me, that is now evident again.
The 'Javis' in collaboration with another former player like Mumbrú.
When we played we were great friends, they are very good people, two incredible people. I have a very good relationship with them. It shows now when it comes to work. It was a wonderful time, with everything we have lived through, meeting again ten years later in another role, that of coach, is very gratifying. It is shown that there were good players in Bilbao and there will be good coaches.
Be careful where you go, La Casilla is now a 'vaccination track'.
Yes, I saw it yesterday on a television channel. He tells me: but if that pavilion is La Casilla. With my wife we remembered the passage in two years of training in La Casilla to release the BEC and Miribilla. They were some changes that improved what the club was, such as taking giant steps, being with ten thousand souls in a beautiful pavilion, but it is not advisable to forget the roots. I have played at La Casilla for several years and it is a very special place.
Paco Vázquez arrived and patented the 'Miribilla effect'. And runners-up.
Yes, although the first year I was there was strange, because suddenly Txus (Vidorreta) was dismissed. We started a new era without him. Fotis came, took a good team and saved him. Then he made him runner-up. We entered the Euroleague. Like everything in life, Bilbao Basket has had its bad times. It is not good to go down to the LEB, but fortunately it was only one year of stay. The signing of Álex (Mumbrú) was a success, because he knew the team and the club perfectly, and to keep it last year, too. There are difficult moments. The lack of public does a lot of damage and in a field like the Bilbao Arena, more.
How are the roles distributed in the coaching staff?
Alex is the one who decides. Distribute the tasks, although we all do everything, we establish how to organize ourselves. He makes the final decision. We add, we give ideas, we propose things, we get things done, there is nothing talked about, there is respect and affection, we decide what we think to help Álex and the players as much as possible. What it is about is that the team wins, that there is an audience in Miribilla, that people have a good time and that Bilbao Basket returns to the path of the good results of yesteryear.
Have you had a very eventful career as a player and coach, would you have liked more stability?
I feel fortunate in all my experiences. I left home when I was just 14 years old, to Vitoria, when there was only a few sections of the Cantabrian highway. I was coming from Porriño to Vitoria by train. Then I went to the United States, at the age of 17, when the Internet began to exist. I communicated by letter and spoke to my father once a week for five minutes on the phone. I'm going to Gijón, a bunch of friends ascend to the ACB, the TAU calls me, the National Team, the time comes in Lugo when I got to be apart, I fall to Manresa in the LEB, we go up, Bilbao signs me and not I play as I would like, I go back to Manresa and break my leg when I am going to be a father ... All that basketball has given me. When you have a stable career, everything is very easy, learning is minimal, but when you have had many ups and downs like me, you learn to value many things, I am used to them, it is good, Overcoming complicated situations makes you value the good times you live, I have learned from everything, I am proud of my step as a player and as a coach, the same. I went from assistant to Carles (Marco) to take the team in Oviedo, we did one of the best basketballs that year, we were on the verge of playing the Final Four and the following year, they kicked me out.
They were fourth and Ourense eliminated them.
We were three times away from finishing third, and very close to Bilbao, who finished second. We were second a few days. It was a wonderful year and the next year, they kick me out, in February, but with good reason, huh? The results were not good. I spend a year and a half in a pandemic studying and learning basketball and they call me from the place where I have been happiest on a personal level together with Manresa, with which, I cannot ask life for more than that, to give me these opportunities. Living them is within the reach of very few people, I am very grateful for these years and I hope that they will continue.
It is that he went to an Oviedo with seven dismissals in 15 years. You are not a coach until you are dismissed ... 444 444
In the places that I have gone out, 95 percent of people have valued my work, I have been able to play better or worse, but my effort or dedication has always been one hundred percent. In Oviedo in December I told the club that I think the solution is for it not to continue, because I already saw that the team was not working. He was very fond of the club, the managers and everyone. But they wanted to bet on me. They kick me out just two days before the pandemic. Fate is that capricious, but I accept it as it is, I have never reproached myself for anything because I have always given one hundred percent.
What good has this year and a half been for you? How has it improved?
First of all, it has helped me to be a better father. I have been with my son for 16 months, when for seven years I have spent little time with him for work. On a sporting level, I have seen a lot of basketball, I have had time to reflect, think about what things I have done well or badly, watch a lot of Euroleague and ACB, learn in other fields in which I had not investigated ... in short, I have tried to train myself . I am obsessive about learning when there is something I like. With basketball I am obsessive. It has helped me to be a better and more complete coach.
Is to stop being first is to go down a step or do you not see it that way?
My aspiration is to learn, I am leading a process. I have been an assistant at LEB Oro and head coach. Now I wanted as a project to be an assistant at ACB. It is a maturing project, you are raising the level. I feel fortunate to be an assistant at ACB, for Álex Mumbrú. It is what I wanted, to take this step, to continue seeing what is in ACB, one thing is as a player and another in this facet. My passion is basketball and I think I can contribute many things as a coach.
What about the team you have in hand, what can you tell us?
It is a talented team. It has players who can search for their shots, sometimes it is difficult to find people who make their own shots. It is a compensated block and in the absence of Jeff (Withey) coming, which is unknown because we do not know him, this Bilbao Basket has talent, works hard, is honest and courageous, and will make the people of Miribilla enjoy, the Let them come, hopefully there will be many because it is going to transmit. That is the important thing, that the team transmits, it is what is needed, that it hooks people, because here people are grateful for the effort and we are going to do that very well. On top of all that, there is talent.
That of getting rid in the last game is unmatched.
A more dramatic year is complicated. You are saved on the last day, after winning three of the five games to finish and the rival, none, that above you surpass a strong rival like Joventut by 21 ... people are cured after last year, we wait a year calmer, that the fans can enjoy on the field and grow. Two years ago the team did a season, it was a shame the break because it had a lot of potential. And this year we wish the same, that the staff give peace of mind and that people do not suffer like last year and enjoy.
They go to Gijón, close to home, something will have influenced their presence here.
I still run away and we do the typical hazing of kids who ran away at night. I do the same, ha ha ha. I'm happy to go because Gijón deserves elite basketball, that it once again feels what was experienced in its time two years there at ACB, that it help us continue to grow as a team and see first-level basketball.
Photos from as.com