"This is why we signed Sainz!"
Ferrari celebrates the level of the Madrilenian, who adds two podiums and is ahead of Leclerc in the standings. Aston Martin appeals Vettel's disqualification.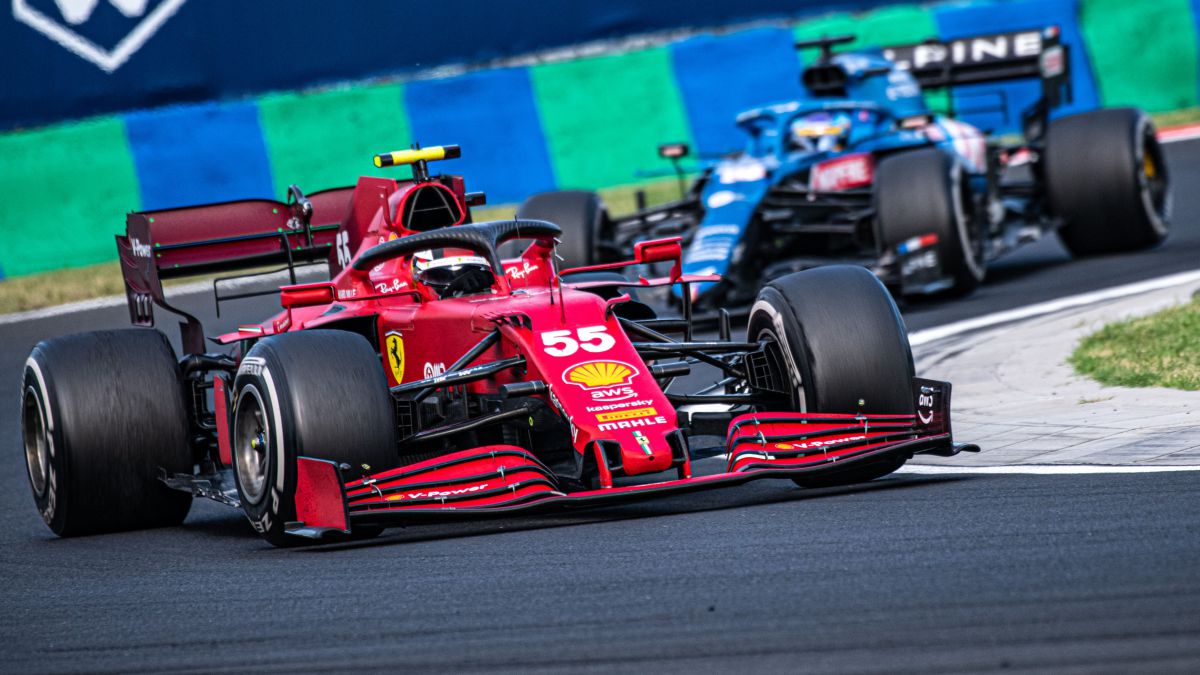 Aston Martin informed the FIA that they will appeal Vettel's disqualification and that plants an asterisk in all classifications. If the car did not have the required liter of fuel at the end of the race, there is no more, although the team leader argues that they far exceeded it. Meanwhile, Carlos Sainz remains in Hungary (he will do a Pirelli test on Wednesday) and has already his second podium as a Ferrari driver. The result, in addition, ties him in the table with Leclerc: now Carlos is sixth with three points ahead of Charles. Facing one of the best young drivers on this grid, Sainz has quickly adapted to Ferrari.
The balance of the 2021 midseason so far for him is satisfactory, although it could have been outstanding. There was always something missing, well on Saturday, well on Sunday, that has prevented him from having a perfect weekend. In Monaco he was second, but he had to aspire to victory, and in Hungary he was third despite the accident in qualifying. On Saturdays Charles wins (8-3), although it is not surprising because Leclerc shines especially one lap. However, Sainz has only failed to score in two races, Portugal and France, and in both cases it was due to a galloping 'graining'. It always adds up, even if it sounds like a Big Circus cliché. The only thing missing is the stroke of luck that has given Gasly (Monza 2020) and Ocon triumphs when he was ready to take the leap.
The 26-year-old Spaniard comments on his performance at Maranello: "I am happy with the way I am integrating into the team and with the speed I have had in the car since the first race. I have felt with rhythm on any circuit this year, although I do not think it is my strongest season in F1 (I have never added so many points at this stage of the championship) because I have lost many points and opportunities in different situations. Good speed in qualifying and in the race, but for some reason some things didn't go as planned. I haven't had a full weekend as a Ferrari driver and I used to do that very well before. "
"Ferrari has the best lineup on the grid"
Mattia Binotto, team boss, supports: "At Ferrari we have the best lineup on the grid. Carlos is integrating very well and is improving race by race. He is a great reference for Charles, him it pushes the limits further and makes it more difficult. They both have 80 points (with the podium, Sainz has 83) and that shows how important it is to have two drivers add up to the constructors' championship. " These two will give us a lot of satisfaction in the future ", ditch. A few days ago, a very important personality in the Ferrari garage was surprised in the paddock when they told him about Sainz's good work:" Sure, that's why we signed him! " .
Photos from as.com