The Argentine is presented by PSG and is happy. Nasser Al Khelaïfi maintains that he meets all Fair Play requirements.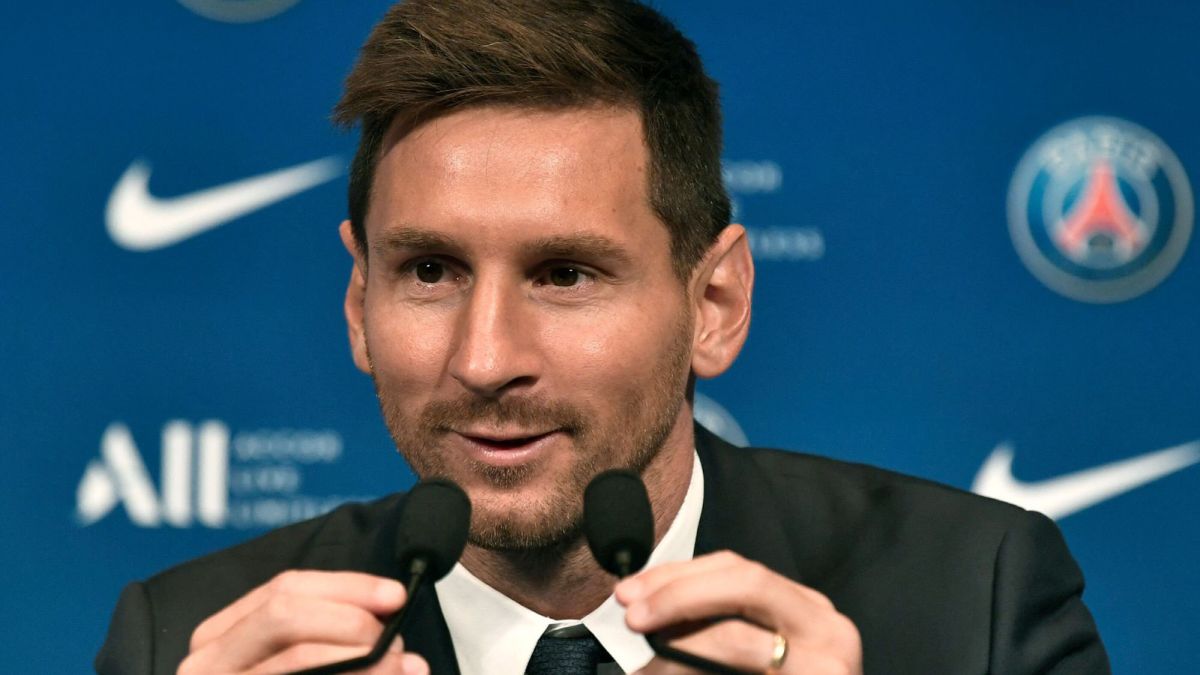 At 11:08 a.m., Leo Messi entered the press room of the Parc des Princes stadium accompanied by his children, who were already suitably uniformed with the full Paris Saint-Germain kit, while his wife recorded everything with her mobile phone . He was accompanied by Nasser al Khelaifi, who, by far, was the happiest person in the room, in the city, in France and in the Arab world.
Messi was also much happier and more relaxed than at his farewell in Barcelona. He acknowledged that in three days he has gone through every possible state of mind, but now "I am very happy, it was hard, but just getting here happiness is enormous. My arrival was crazy, I thank the people of Paris, we are sure to enjoy this time together very much. "
Messi made it clear that the sports project is what has motivated him to go to PSG "because everyone knows that my illusion is to lift a Champions League and I think that with this team I can achieve it. I can't stand the desire to meet my teammates, the coaching staff and start the stage. I see the coaching staff and the squad and I see that we can win everything and I also knew Ney, Di Maria, Paredes, everyone. I have the same illusion that when I was a baby I will give everything to achieve the objectives. "
However, it seems that we will have to wait to see him in action: "I come on vacation, I have been unemployed for a month. I will start training only in the preseason, but hopefully it will be as soon as possible. "
Although at the press conference, the communication department of the French team tried to erase any reference to Barcelona without giving a voice to the majority of journalists displaced to Paris, Messi did have a memory for the fans who are devastated in Barcelona.
"That (Barcelona) is not left behind overnight, I went through all the feelings. I already told the fan that I will always be grateful to them because I was there for many years and they already knew that I was going to go to a strong team because they know that I am a winner. If we face it, it will be nice on the one hand and weird on the other. If it happens, hopefully it will be with people, this is football and that can happen ", he said.
But if Messi was happy, his happiness was nothing compared to that of the president, whom Messi thanked "how they treated me. How fast and easy everything was, that it was not easy. They made themselves available to us as soon as Barcelona released the statement ".
The president of PSG, who did not once pronounce the word "Barcelona", described yesterday as "an important day of happiness for football fans around the world" and defended that "we have followed the rules of financial fair play We spoke with the partners and sponsors, with the League and when they saw that the signing was done, everything was arranged and in order. You see the negative many times, but the whole club has been involved in this signing and everything has been done around the law. I think the French League has improved its level thanks to PSG: television rights, commercial contracts have progressed because everyone wants to see PSG and that benefits everyone. The presidents of all the clubs have called me to congratulate me and thank me for bringing Leo. "
Photos from as.com