"What I saw at Barça I have not experienced in 40 years"
Quique Setién reappears in Jot Down to talk about his career, his stage as a player and his future on the bench: "I wished they wouldn't call me."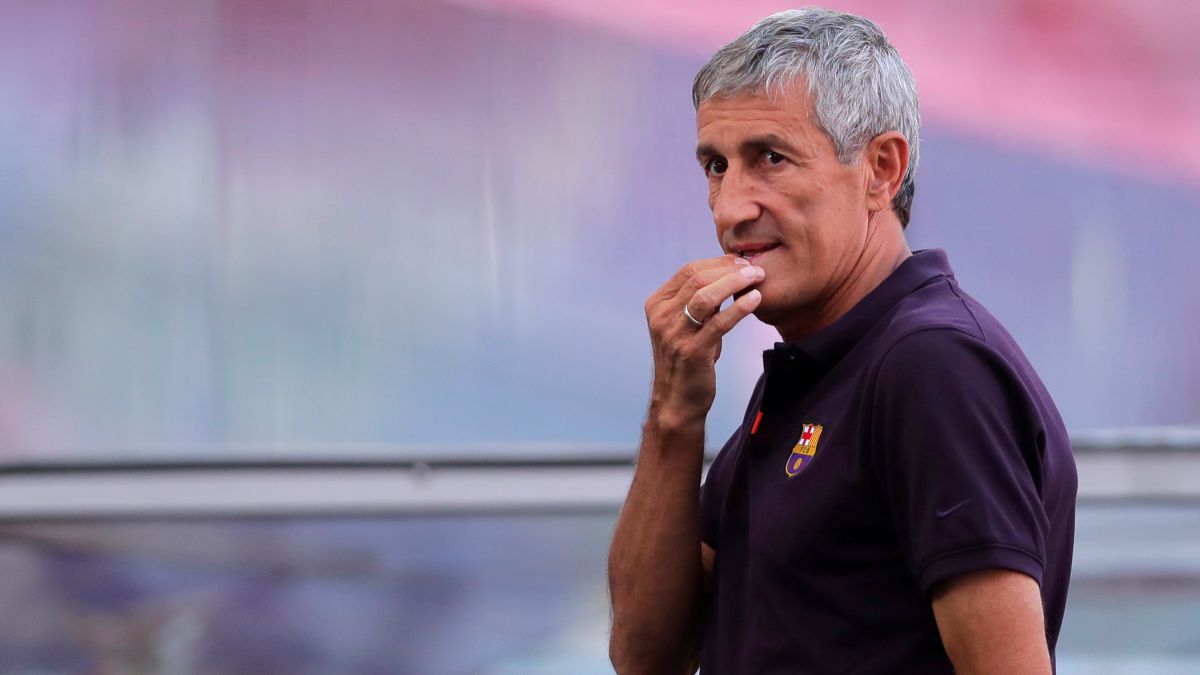 Little has been known about Quique Setién since he left the Barcelona bench, after failing to win the league title and be beaten in the Champions League against Bayern Munich. Before the Blaugrana club recruited him, he was in town, with cows and enjoying the tranquility away from the spotlight. Once he was dismissed, he was in the front line for a problem with the settlement and disappeared without a trace. Now, he reappears in Jot Down to tell what happens to him and if he is able to train again.
Return to the bench: "There have been offers and opportunities too, although not here in Spain. I have decided not to accept them because the teams did not stimulate me enough and they were not economically interesting."
Motivation: "I have been wishing they did not call me, imagine. I have had a moment of deep reflection regarding the last experiences I have lived, which have made me see life in a different way. The football that I have been living in In recent years it is not football that I liked. What I have always liked has been playing football, being in contact with the ball ... In fact, I never thought I would be a coach when I played, but it has become in my way of staying close to the ball and the footballers, transmitting my knowledge to them and making them understand the game that was so hard for me to understand ".
Was there expectation for Pedri when he was training in Las Palmas ?: "Well, you find that all the time everywhere. 'This is going to be a phenomenon', they tell you, as soon as you arrive. But you have to wait. Pedri is a very complete player and I love the way he is, he is very focused on what he has to be. He gives me the impression that he is not a divo, that what he wants is to play football and have fun playing. "
Luis Enrique: "They have hit him a lot because he is a kid who has never gotten along well with the press. He has not been a pushover of those who says yes to everything. He has his personality and speaks with criteria and that to a large part the press makes him feel bad. Perhaps the concept of the game does not carry the essence of Cruyff's or Guardiola's Barcelona, but it has followed a series of guidelines that we all follow a little: try to keep the ball, try to get it back. as soon as possible, be a brave team and make sure that the players understand the game. The point is to have the ball as long as possible, both to attack and to defend. Keep it until we find the spaces. Also, you have to explain to the players why things are done: if you send a footballer to a site, you have to explain why he is going to that site, because then it will be much easier for him to adapt to the variants that you are introducing and it gives you the possibility to change the game in the middle of a game ".
Winning or playing: "I'm not about teams, I'm about players. I don't care about teams, I don't care if they win or lose. Let's see, Racing will always want me to win, but I don't care about the rest ... And, mind you, I'm also critical of Racing. I don't want Racing to win, I want it to play well, because that gives you more expectations, more joy. "
Luis Aragonés: "He was very hard on me, but I learned a lot from him; he changed many things, he helped me a lot with the point of aggressiveness and tension that I lacked. Here, at Racing, I ended up accommodating because I scored two goals or hit Two passes and the people were already happy. The sad thing is that I did not realize that I could have made four. Besides, the physical condition. I took great care of myself, but even so I often felt tired on the field and it I used to tell the coaches: that it was hard for me to give two long runs in a row. The thing is, they didn't give it importance as long as I later scored a goal or made a good play. I remember a coach recommended that I make love twice a week, but always separated from the parties. That was all his advice. And to hire a professional if he needed it. I didn't understand anything. "
The 86 World Cup: "Let's see, one thing was the experience there and another was the experience when we returned. There, I was extremely pissed off, I didn't understand anything. I was convinced that I was going to start, but convinced to the point that When Miguel Muñoz gives the starting eleven against Brazil, my first reaction is to think "this one was wrong." And then it is that he did not even call me to any game, which is not like now that everyone can sit on the bench. At that time alone There were six substitutes. Muñoz was also from the old school, who told you before, very much about motivating the player, but in general everything was a bit of a disaster: we were focused too long, he did not like at all that the players coincided with their women. I didn't care because I was going alone, but I remember one day we came from playing in Querétaro and we went to Mexico City and instead of staying to sleep there, we were exhausted, he made us take a bus for two hours to a lost hotel ".
Miguel Muñoz and his regime with soccer players and their women: "He wanted us to be completely isolated and this occurred to him. When we got to the hotel, it turned out that it was a horror. The rooms looked like caves, the beds were dirty ... We were starving We had come from playing a game and they had prepared some melon slices for us to eat. Imagine the one that was put together. We all planted ourselves at dawn and demanded that we leave there. Of course, we had to re-fish two who were so tired that they had already fallen asleep. "
Jesús Gil: "The thanks were always laughed at. Even when he died, it seemed that someone other than the one I knew had died. Gil was always with a thousand lawsuits at the same time because it was his way of working. I remember one Once they called me from Telemadrid, when I was no longer at Atleti and, suddenly, they told me 'Jesús Gil is here, surely you want to say something to him.' The guy had gone with the little crocodile that he took to the sets . It was like an alligator. The fact is that I said to the announcer: 'Yes, yes, I have something to say to him, of course: let's see if the crocodile grows big and eats it.' "
His relationship with Piterman: "I asked him how much money he was willing to invest, after saying that his goal was to play the Champions League. He told me that he had four very good Palamós players. Yes, he had managed to dominate all the others in Catalonia teams and that he was going to repeat the same thing now in the Spanish league and that, of course, he would decide the line-ups and the system and go down to the locker room with the players. I told him that no coach was going to tolerate that, but he didn't seem to understand. . We shook hands and at that moment I separated from Racing ".
The call from Barcelona: "I am perfectly aware when I go to Barcelona that I am going because they have no one else, but what you cannot do is give up going to Barcelona and train the best players in the world, including the best. Let's see, if I had done well in Lugo, in Las Palmas, in Betis ... why am I not going to change the dynamics there too? I have always gone to teams that were in a bad streak, it is normal. Nobody He calls you when a team is doing well. If they change, it is because things are going badly for them ".
Impression at Barça: "What I find there, I tell you, I have not found it in forty years that I have been involved in football."
The pandemic league: "You can kick me out because we lost 2-0 at the Bernabéu, but we have three hands in hand with the goalkeeper and we failed them. And Madrid goes and scores a goal that Vinicius hits with I don't know what , it bounces off Piqué's leg and passes over the goalkeeper, who had it stopped. Given that, there is nothing to do. And we lose the league because Madrid are called six penalties and we enter a screwed phase because there are many trouble in there ".
The cries of Eder Sarabia: "I told him: 'When you're a coach, do whatever you want, but as long as my name is on here, you know that I don't like this.' And that day they caught him, but there were other days that they didn't catch him and that he also did. In fact, that specific day, I went to the locker room, gathered the captains and apologized for the forms. The truth is that They did not give it any importance, but the one who had to go to the press conference to show his face was me ".
Bayern's win: "The first twenty or twenty-five minutes of the game the team is fine against a great team, and there is even a chance to get ahead, but after the fourth goal, the team collapses, collapses. account of the limitations they have, because we already knew that the team was caught with pins. Not to beat Mallorca, but for that level ... Barcelona has been suffering for many years, you just have to see it. a tremendous regeneration at the club, if everyone knew it there, but there was no capacity, not even financially, to do anything ".
This is how Barcelona said goodbye to him: "They never told me that I was not continuing. I heard the president on television make a statement and the sports director, Abidal, stayed to eat with me the next day and wanted to convince me to forgive them the money. We got along very well and we had had a lot of contact, he was a hell of a guy, and I told him: 'Look, you better not get involved in this, I'm not going to go in either, the lawyers are going to be ...', so nobody He never called, no one officially told me that he was fired, after forty days I received a dismissal letter because the deadlines were met and there I already filed a complaint that is in court waiting for the trial to begin. "
Do you see yourself training again ?: "Right now, no. It's just that, besides, I don't feel like it. Nothing. Besides, I have a lot of things to do here. I'm going to train a second-year youth team, from national league, I'm going to be the assistant to a kid who is there as a coach, to give him a hand ".
His new stage: "Yes, I do feel like that. With children, yes. For the rest, right now I don't see myself training again, I've lost all interest" .
Photos from as.com