How does the Pucela get to the last day of the market?
The club has a free card in the first team if Hugo Vallejo is registered with the Real Valladolid subsidiary. Expect a long and scary day in Zorrilla.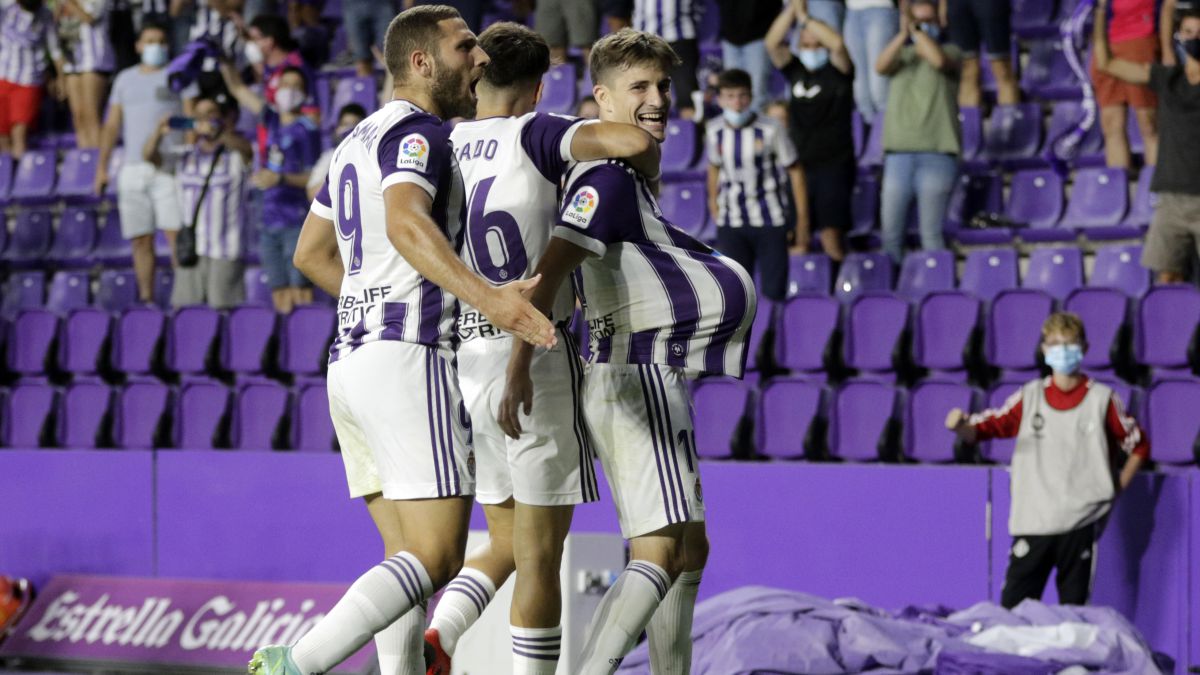 Real Valladolid has entered the last 24 hours of the market with duties to do and fear that some of the fundamental players for Pacheta, to face the challenge of promotion, will have offers on this last day of the summer market. With the departure of Orellana yesterday, the squad is left with 27 players and could now even register another player. Sergio León, Iván Alejo or Hugo Duro are the names that sound the most to strengthen the team. This is how each player in the squad arrives at the last day of the market.
1- Roberto: There are no doubts. Stays.
2- Masip: There are no doubts. Stays.
- Janko: His representative wanted to remove him and the club does not see him with bad eyes, but no offers come. If they arrived, they could leave.
4- Luis Pérez: He stays. Starter in the first two league games.
5- Joaquín: He is one of the players who can receive a last minute offer, but it must be very powerful for Valladolid to attend to it. In principle, it stays.
6- Kiko Olivas: It stays. One of the bases of the project.
7- Bruno: The club has no problems with it coming out, but there are not enough interesting offers.
8- Javi Sánchez: It has sounded in some Spanish and Italian clubs, but the offers have not been accepted by the club and the player focuses on Real Valladolid.
9- El Yamiq: The club values some of the offers from the Moroccan, especially from France. It could come out.
10- Olaza: His representative wants him to leave, but he has not brought a single purchase offer, only transfer requests, as Fran Sánchez acknowledged yesterday. In principle, it stays.
11- Nacho: Stays.
Corral: He has hardly any options to stay. The club will have to settle it if a last minute offer does not come for it. Not enrolled.
12- Ram: Knee operated on after Christmas, the sports director, Fran Sánchez, revealed that he will have a record.
13- Alcaraz: It stays. The club wants him to be important in Pacheta's team.
14- San Emeterio: Renewed last season, enters Pacheta's rotation. Stays.
15- Aguado: The surprise of the first days. Stays.
16- Anuar: Despite spending a summer of doubts, he stays. It made its debut in Lugo.
17- Roque Mesa: His quality and good performance make him attractive to First-class clubs, but no interesting offers have arrived for him. Stays.
El Hacen: Knee surgery last July will not be available until next year. Run out of record.
18- Kike: He was injured in the first training session of the preseason, he had surgery and will not return until November, but he is registered. Stays.
19- Toni: It stays. Pacheta's confidence and his new role make him focus on Real Valladolid.
20- Plano: His continuity is up in the air, after Levante's offer now it seems that Elche is pushing to get his services. If the offer does not improve, it stays.
21- Hervías: He is recovering from knee discomfort since the preseason began and is enrolled. Stays.
22- Weissman: Several European clubs have been interested in him, but the offers to the club have not been of interest and the footballer is very focused and identified with the project as Fran Sánchez said. Stays.
23- Guardiola: The club wants him to leave and he wants to leave, but his departure has not been completed. Lightning could be your destiny.
Hugo Vallejo. It was the first signing of Real Valladolid. You can have a Promises record despite being, for all intents and purposes, first team.
24- Cristo González. The canary was presented yesterday. It is the second signing of the club.
Photos from as.com