Hazard breaks free from trauma
The Belgian claimed after the match against Alavés that he had left the ankle discomfort behind. His feelings are good and he expects great things from this season.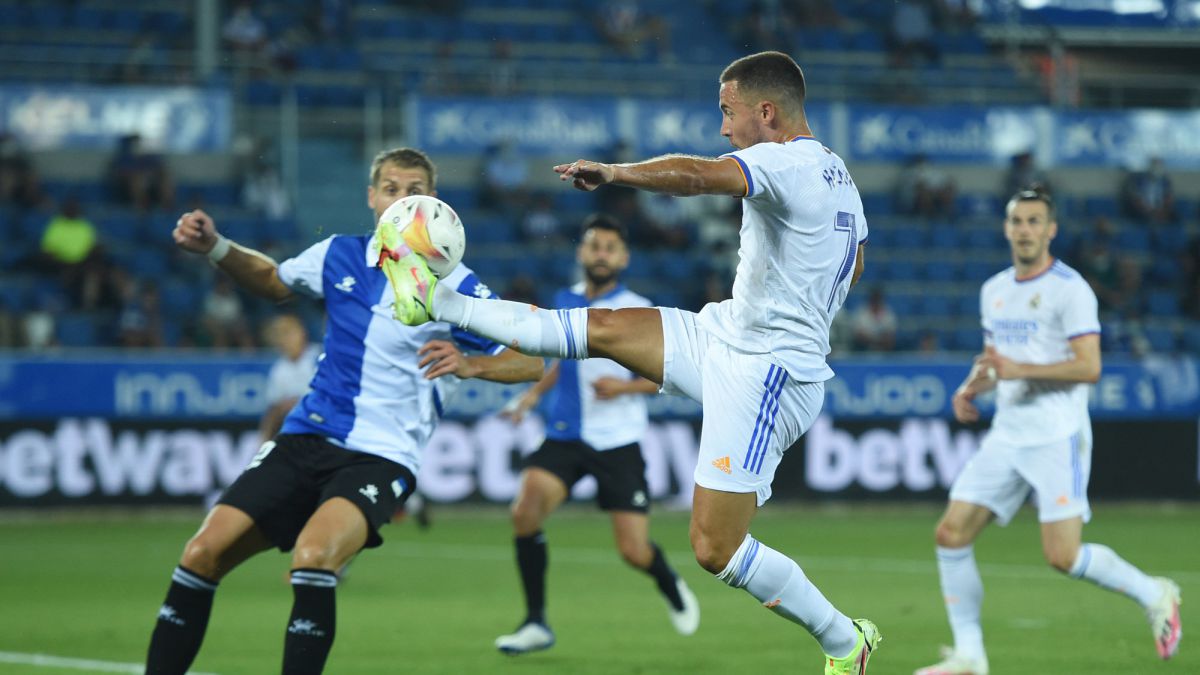 Eden Hazard (30) has started his third season at Madrid in good physical shape, and that's already news. In the two previous seasons, he suffered muscle injuries that prevented him from being available during the first league rounds. After Madrid's victory over Alavés (1-4), the Belgian assured in Movistar + that: "My ankle is already out of my head and we are going to give it our all."The Belgian was also confident that this season will be successful for the Whites. "Good feelings for me and for the team. We have scored four goals with good feelings. We are going to win as many games as possible. I think this year we can do good things together," said the Belgian.With regard to the lack of goal that Madrid accused last season, Hazard is hopeful that this season the punch will increase. "I hope it changes. We are here to score goals, and more the forwards. The most important thing is that we are all together, we can put three or four forwards. The important thing is to win the three points each game," he added.Hazard's challenge
The Belgian's passage through Real Madrid is marked by the continuous injuries he has suffered since he arrived at the white club in the summer of 2019 and that have not allowed him to show the level he wore in England. The Belgian has set himself a goal this season to put aside injuries and return to being one of the best footballers in the world. In the match against Alavés he had a good performance and was seen to be in good physical shape. When no one expected him, he begins to show his best version and for now the ankle injury is "out" of his head.
The origin of his trauma
His first injury was in his suitcase. During the first preseason in Madrid, he was detected a thigh injury for which he had to lose the first three league games against Celta, Valladolid and Villarreal. The Belgian joined the team in September. He played 23 games and began to show his best level, however, everything went wrong on November 27, 2019. In a Champions League group stage match against PSG, his compatriot Meunier injured him after a hard tackle. The next day the worst news was released. Hazard had suffered a fine fissure in his foot. He was out for 75 days and missed 18 games.
The Belgian had to wait until February to return to the pitch. He played the matches against Celta and Levante, but it was precisely in the defeat of his team (2-1) at the Ciutat de Valencia that he was injured again. On this occasion, he suffered a fissure in the fibula and had to undergo surgery, for which he was absent for 76 days. However, he only missed 3 games, as the pandemic allowed him to reach the final stretch of the season on time.The 2020-2021 season did not change his fortunes
In September, a trauma caused him to miss two games and he ended the month with a new thigh injury in his right leg. He was unemployed for 27 days and missed 6 games, highlighting the match against Barça, a rival that he has not yet been able to face because he has always been injured. The Belgian recovered from the injury and was able to play three games before it was confirmed in November that he had tested positive for coronavirus, so he had to be out for another 13 days. He reappeared on November 21 against Villarreal, but only a week later was injured again against Alavés. Again, a muscle injury kept him out for 30 days and made him miss 8 games.
Hazard recovered at Christmas and was able to play against Elche, Celta, Osasuna, Alavés and Levante. He made his debut in the Copa del Rey in the defeat (2-1) of his team in Alcoy. 2021 was called to be his year, but on February 3 he suffered a muscle injury again. He was out for 37 days and missed 7 games. He returned on March 13 on matchday 27 against Elche. Madrid won (2-1) and it seemed that, at last, the Belgian had recovered from his injury. But just two days later, the white club reported that Hazard had suffered a muscle injury, which kept him out for 38 days and made him miss 8 games. After recovering from the injury, the Belgian played 7 games, but they were discreet performances and nothing to do with those seen at Chelsea. On May 21, the club again reported that the attacker had suffered trauma.
The footballer recovered for the European Championship and played every game with his national team, but after his team's elimination against Italy on June 28, it was reported that he had suffered a thigh injury. The Belgian was out for 45 days. During the preseason with Madrid, he worked on his recovery under the supervision of Real Madrid's physical trainer, Antonio Pintus. And after the first league match against Alavés, everything indicates that, finally, the Belgian is recovered.

Photos from as.com