Goudelock assumes the role of leader
"As soon as I received the call from Bilbao Basket, it didn't take me more than five minutes to make the decision to come," says Mini-Mamba, star of the Mumbrú team.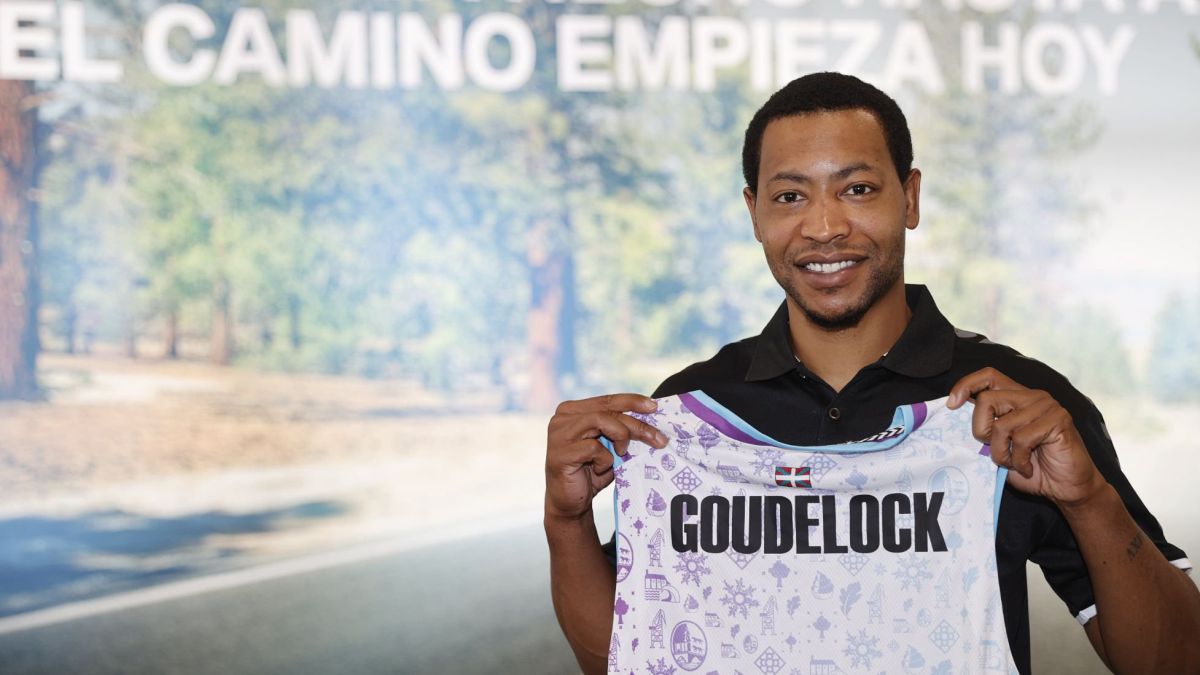 Andrew Goudelock is the great star of Bilbao Basket. A player with a huge pedigree who, it is true, has lost some momentum in recent years, but has a brilliant career. In his presentation as a new signing for Bilbao Basket, he assured that he "proudly" assumes the role of "leader" of the team this season and underlined his intention to "support and be an example so that the youngest feel comfortable." "I am sure that I am the oldest of the team and my experience should be used to transmit it to the new ones. In all the places I have been I have tried to contribute what I have learned," said the 32-year-old guard, in his first press conference as 'man in black'
Goudelock arrives in Bilbao from Vilnius Rytas, with which he averaged 14.2 points, 2.4 assists and 1.9 rebounds per game last season with 47.5% in triple shots, records that he raised to 14, 5 points in the Champions League.
The new Bilbao Basket player was once nicknamed 'Mini-Mamba' when he met Kobe Bryant in the Lakers dressing room in the 2011-12 season. He also played for the Houston Rockets and top-tier European teams such as Unics Kazan, Fenerbahçe, Maccabi Tel Aviv, Olimpia Milan and Reyer Venice.
"As soon as I received the call from Bilbao Basket, it did not take me more than five minutes to make the decision to come. I appreciated the organization of the club, what it transmitted to me, and as soon as I spoke with Alex (coach Mumbrú) I said to myself, go ahead . Surely coming to Bilbao is the best decision I could make, "he explained. Goudelock made his debut with the Bilbao Basket shirt last Saturday in Gijón in the friendly against Hereda San Pablo Burgos, leaving some touches of his scoring facility by adding 13 points in less than 15 minutes with a 4 of 7 in triples.
"It is still early days, but I have seen that there are all kinds of players in the team. Young, but with very interesting skills and virtues in all positions. The important thing is that we are not individual, but that we form a strong team. I have many desire to start and see what we give of ourselves ", stressed the escort.
The club is looking for a new sponsor. After a relationship of more than 13 years, RETAbet and Bilbao Basket separate their paths. · From the club, we want to thank the Basque company for these years in which we have worked closely and closely. RETAbet supported us in some of the most difficult moments in the history of Bilbao Basket, and those gestures are hard to forget. The times of COVID have been a great example of what we want to express. We also want to thank you for your seriousness, sensitivity and sense of responsibility to avoid misusing the game. We attest that their message has always been the same from beginning to end: Responsible gaming. ", Said the entity. RETAbet was crucial to carry out the bankruptcy, but the new sponsorship law that prevents bookmakers entering the sphere of sport, has ended up leaving him aside.
Photos from as.com