Girona and Las Palmas measure their wishes for greatness this afternoon
The rojiblanco team is looking for their second win in a row and the debut of Álex Baena is expected. The canaries, without the sanctioned Benito, to release their record of victories.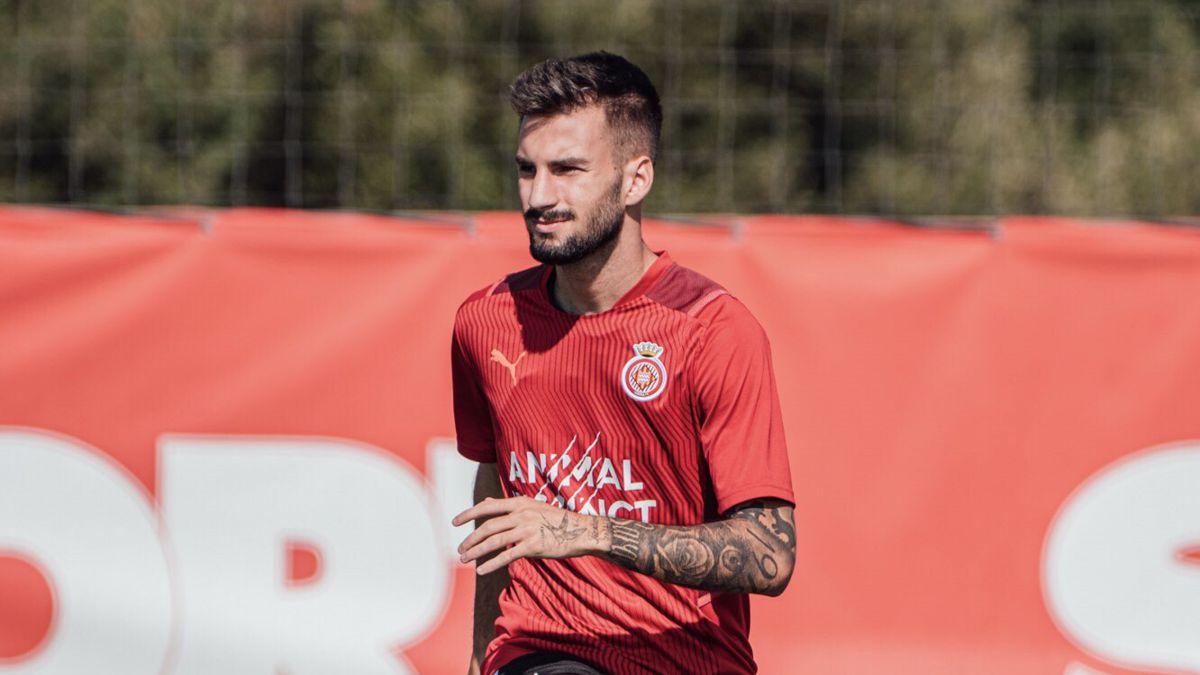 Duel between aspiring to become great in Second. Michel's new Girona, who will be looking for his second victory of the course (he would be full), receives a daring Las Palmas (follow the game live on As.com). The Canaries want, and need, their first win because although the point against Valladolid gave them confidence, they are aware that to look up it is better not to do it from the tail. Montilivi reopens its doors for the second weekend in a row and will do so with the possibility of attracting 3,360 spectators.
It is also a meeting with incentives because Míchel was under Pepe Mel's orders from 2006 to 2010 at Rayo and this Sunday he will challenge one of the coaches he considers a teacher. The coach, who fell on his feet at Girona, wants to stay. His team was incisive, vertical and effective against Amorebieta and the challenge for this Sunday is to be the protagonist. Girona need the ball to shine and also to try to drown Las Palmas. But there is more to focus on and that is that Mamadou Sylla no longer wears the red-and-white jersey. Last Friday he headed to Alavés. But to king dead, king put. Álex Baena, a player on loan from Villarreal, is ready to make his debut and will appear from the bench. Michel is considering giving continuity to the block that beat Amorebieta, with the doubts in attack from Stuani's companions. Nahuel Bustos and Samu Saiz start with an advantage, but it cannot be ruled out that the youthful Ureña will remain.
As for Las Palmas, he arrives in Girona with the handsome man uploaded. It happens that the Gran Canaria team, despite the draw against Valladolid, once again showed good feelings, both in football and in competitiveness, against a more powerful rival as it did in the preseason against Espanyol, Cádiz, Sevilla or Wolverhampton. Pepe Mel has also achieved that his team is capable of playing both with a defense of four and doing it with three centrals, it does not matter whether it is from the start of the game or during the course of it, being able to vary the tactical disposition in any moment.
After what was seen in training last Saturday at the Ciudad Deportiva, Mel could come out with a defense of four, fixed for the moment Álvaro Lemos, Ferigra and Navas. On the left side, after the expulsion of Benito on the last day (he will be out), Ale Díez seems to win the game over the mighty Sergi Cardona. In said previous work, behind closed doors, the ownership of Sergio Ruiz and Maikel Mesa was confirmed, except for a last minute surprise, with the young Alberto Moleiro accompanying them during a good part of the training session, who is leaving such good sensations. Ahead will also be from the game Pejiño, Peñaranda and Sadiku. Mel also tested Jesé, although this card could be played in the second part. He already gave excellent results against Valladolid (as soon as he left he made the tie), and also the Gran Canaria striker himself is still physically limping after injuring his ankle and having passed the Covid-19.
last month.
Photos from as.com