Giannis's savior: Jrue Holiday, from ostracism to light
Holiday, buried by the mismanagement of the Pelicans, arrived at Giannis' demands to pass from underworld to light. Redemption and vindication.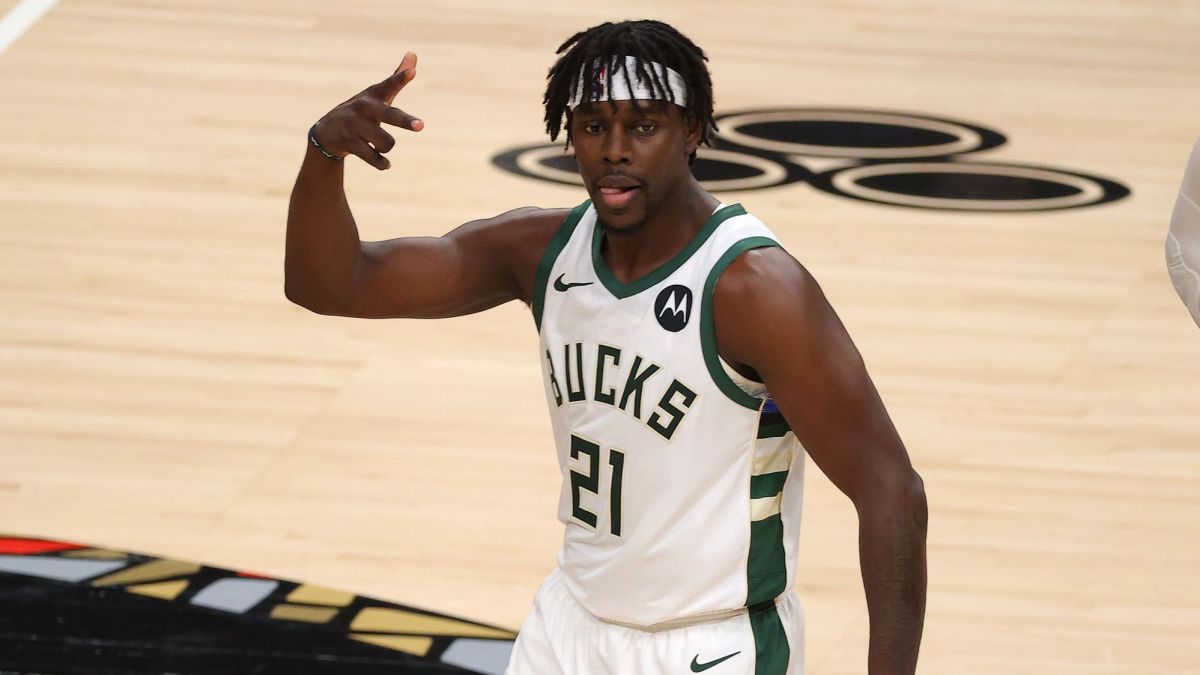 Giannis asked and the Bucks gave him. It was the talk of last summer, with the Milwaukee project in low hours and many problems for its continuity after an early elimination in the East semifinals, against the fifth classified, the Heat, and by a resounding 4-1. The years passed, Antotekounmpo did not win, the fans grew impatient and fear increased in the offices of a franchise that had not won the ring since 1971, in the prehistory of a League that lived in such distant times that they still did not even know Kareem Abdul-Jabbar as such. Lew Alcindor and Oscar Robertson led a team that at that time was in the West, small short-lived (barely three years old) to the greatest of all successes. What no one knew then is that after that, they would not win again.
The dynamics have been tried to change many times. There was still time to play other Finals (1974, with a 4-3 loss to the Celtics), a year before Jabbar, already self-sanctioned in this way, requested the transfer after an embarrassing 38-44, relegated to last place in the league. competition without a recently retired Robertson. The departure of the pivot, which required a large market (his legend continued in the Lakers), accelerated things: the Bucks became the team of Sydney Moncrief and Don Nelson in the 80s, with eight consecutive appearances in the playoffs (three finals of Conference and five semifinals), then they went into difficult years first (with Del Harris) and impossible later (with Mike Dunleavy) and resurrected with George Karl, Glenn Robinson, Sam Cassell, Ray Allen ...
It was, until Anteto arrived, the last conference final played by a team that was already from the East and that lost in seven games against Iverson's Sixers, in 2001. After this, another journey in the desert until the arrival of a Giannis that stood out with Jason Kidd and exploded with Mike Budenholzer, a questioned coach without aura, but who has individually exploited a player from another era. The Bucks have added 60, 56 and 46 victories in the coach's three years, records that could be higher if not for the shortened seasons, coronavirus through. And they returned to the Eastern Finals, which began winning 2-0 in 2019 before Kawhi did his thing and We The North wrote a new chapter in the history of the competition.
Quickly, everything turned to impatience. Giannis had a year left on his contract, the elimination against the Heat had been painful and the Greek refused to ensure his continuity. Budenholzer, more outside than inside, stayed to please him. Bogdanovic arrived, but in the end he did not, and ended up in some Hawks eliminated by the Bucks themselves in the Eastern finals, that damn round that they have not surpassed since 1974. Thanasis arrived by grace of the directive and, again, at the request of his brother and undisputed leader. And, among all this, emerged the signing that has meant the reconciliation of history, the signing of Giannis's contract and a qualification for the Finals in which said arrival has had a lot to do with it. We are talking, of course, about Jrue Holiday.
A base buried in New Orleans
When Jrue Holiday's career is remembered, there will be a before and after of the Pelicans. First, the eruption with the Sixers in which he became known and played his first and only All Star, back in 2013. And second, his arrival at the Bucks and all that that has meant. In between, seven years lost with the Pelicans, with two sad playoff appearances and just one round won, in 2018 with Anthony Davis, and company. And in that time, some other injuries (he only played 82 games in his sophomore year), many transfer rumors and more than 126 million in contracts.
In theory, Holiday's trade was a good decision for the Pelicans. They found a way out for a 30-year-old player who wanted to go out, and who did not fit in with the young project they are trying to create around Zion. Holiday has collected 26 million dollars this course and has a player option of 27 (almost nothing) for the next one. In other words, a risk that the Bucks assumed even in the short term, always to satisfy a Giannis who ended up signing for 228 million in five seasons, linking his career to that of the team that drafted him. In the operation, the Pelicans hosted Eric Bledsoe and George Hill. Some gambled and others got rid of something they did not want. But, but, but ...
From ostracism to light
In the end, the Pelicans has had absolute disaster and the Bucks have come out alive from a season in which almost no one has. Getting rid of a monopolistic and one-dimensional man like Bledsoe, reviled by the Milwaukee fans and by public opinion, has been a cold stream. And nobody misses Hill, very veteran and far from his best days. And, of course, the reward has been impressive: 17.7 points, 4.5 rebounds and 6.1 assists for a player who stands out just like he did in the Pelicans ... but with repercussion. Appearing on the covers, appearing on the news and saving a project that tirelessly fights to become a dynasty. Or, at least, in champion. Something very difficult to achieve in an NBA that does not wait for anyone. And if you are a small market, even less.
All this process has caused many people to realize now that Holiday is very good. It is not a base to use, nor a good player asecas. He is practically a star, the point guard who best compensates for the attack and defense of the competition (behind, perhaps, Chris Paul), a great passer, with an innate ability to enable and improve his teammates, a voice that the rest follow. and a leader who also writes down how and when he wants. And, with an unusual reliability for one-on-one on both sides of the court, as a stopper despite spending on offense and as a shooter, a quality that had never been exploited as much as in this course: above 50% in shots from the field and 39% in triples, the highest figures of his entire career. Essential to get along with an Anteto with whom he blends perfectly on the track, running when it is necessary to do so, giving him the last pass in transition or scoring three when the defenses are locked around the Greek in the zone.
Holiday has exploded this course and has become essential after Giannis's injury. His shot of three has suffered in the playoffs, but he has exploited his distribution capacity. He averages 17.6 points and more than 8 assists in the final phase, he has gone to 22 + 5 + 10 in the series against the Hawks, with 33 points and 10 assists in the opening game, 25 + 6 + 13 in the fifth round and 27 + 9 + 9 + 4 + 2 in the sixth, with qualification for the Finals included, the first of his career. The point guard has been consolidated within the competition, he has been a gold mine for the Bucks and it only remains to be seen if he will exercise his player option and continue his relationship with the franchise in which he has enjoyed his incredible return, or will he have to wait. In his debut in the Finals, his role was again essential: irregular in the shot (just 36%), but with good averages (16.7 + 6.2 + 9.3) and 27 points with 13 assists in the fifth game, the one that turned the tie around with up to three teammates scoring 27 or more points in the history of the Finals.
But if Jrue has stood out for something, that is why he already hinted at the Pelicans, between good times, injuries and the fact of belonging to a franchise adrift. Defense has been the differential factor for a POA point guard (point of attack: maximum aggressiveness on the ball). Chris Paul went to 32 points and 9 assists in the opening game; From the second, Jrue was in charge of his defense full time. And he turned the life of the Suns point guard, one of the best in history at his post, into an ordeal. A wall of muscle and concentration of lead. Jrue had had defensive sequences to frame before the fifth game, and it was there where, also, he signed a full night in attack in a Finals that began by failing everything, far and near the rim, but rectified in time, in that integral fifth game, definitive, key. Prior to a sixth of return to the ring (4 of 19 in shots), but in a series in which he had already made his mark. And in a season in which it has been the revelation of a revealing team. Culminated, of course, with a ring that will last forever and that will shine at the top of the curriculum of a base that is, quite simply, extraordinary. This has been demonstrated.
Photos from as.com