Galán: "It is a very good opportunity and I want to take advantage of it"
The four-five lands in Miribilla: "I have been fighting for this for a long time and I am very grateful to Bilbao Basket for having bet on me."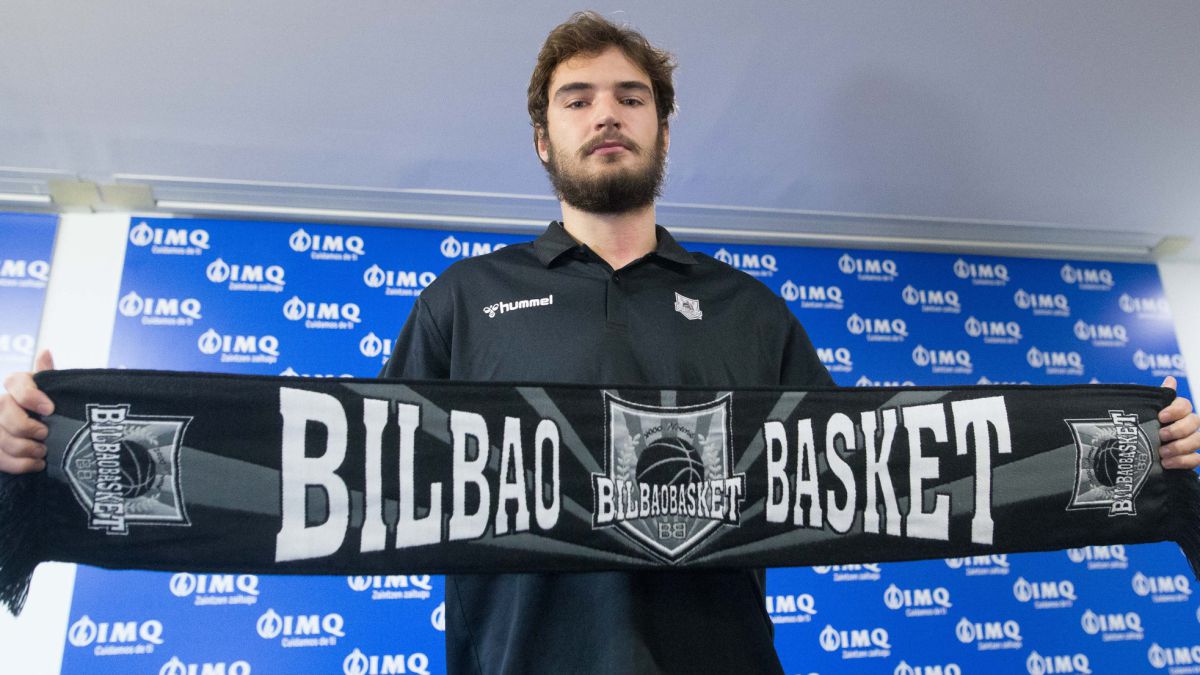 Álex Galán was fighting in Alicante for a promotion that he saw as close as many feared with the relegation of Bilbao Basket. In the end, neither one thing nor the other happened and the Extremaduran four-five did finally make the leap to the ACB, to wear the local shirt in Miribilla. Formed at Joventut, he was going to be an important player. He was a regular in the lower categories of the Spanish team and was part of the team that won the silver medal in the European Under-20 held in Israel in 2019. But he has been slow to receive this opportunity, which he considers very good for his career and he hopes to take advantage of it. Of course, it will not be out of desire, because he is a guy who leaves his soul on the field. "I have been fighting for this for a long time and I am very grateful to Bilbao Basket for having bet on me", confessed the pivot in his presentation in the auditorium of the Igualatorio Médico Quirúrgico, in Bilbao.
Galán, 21 years old and 2.07 meters, arrives in Bilbao from HLA Alicante, from LEB Oro. He credited 8 points, 3.7 rebounds and a PIR of 9.4 during the regular season and improved those records (9.2, 3.7 and 10.2) in the promotion playoff to the Endesa League. There he shared a flat with Jorge Bilbao, who spoke to him day in and day out about the benefits of the capital of Biscay. "The call from Bilbao Basket caught me by surprise because I was on vacation, but it was a great joy and I didn't have much to think about when the opportunity appeared ", points the complement to the two fours and two fives that Mumbrú has, a man of few words and somewhat fearful in front of the microphone, to whom he is not very used.
He defines himself as "a team player who can contribute many intangibles" and thanked the good references of the team and the city that Jorge Bilbao, his "great friend and colleague" offered him last year in Alicante. "People are quite excited about the team we have and we all believe that we can do a better role than last year. We are excited and eager to start," added Galán, who played his first minutes as a 'man in black' last Saturday in Gijón in the friendly against Breogán.
For his part, the general director of Bilbao Basket, Pedja Savovic, defined Galán as a player who can occupy the positions of "four and five, who plays very well under the basket, can score, is a very good rebounder and always plays at one hundred by one hundred". The leader, on the other hand, commented that in just two weeks of training, and with several players still to be integrated into the dynamics of the group due to physical problems, he has perceived "positive" aspects such as "unity, cohesion and leadership" in the group. prepared by Alex Mumbrú.
Savovic also considers that Bilbao Basket will be one of the teams that will benefit the most from the return of the public to the pavilions and added that "the experience of playing in Gijón with a thousand people in the stands was fantastic."

Photos from as.com