French: "We are going to go for the First Division"
The youth squad, who at 19 is facing his second season with the first team, is ambitious and has set himself the promotion of Real Zaragoza as his goal.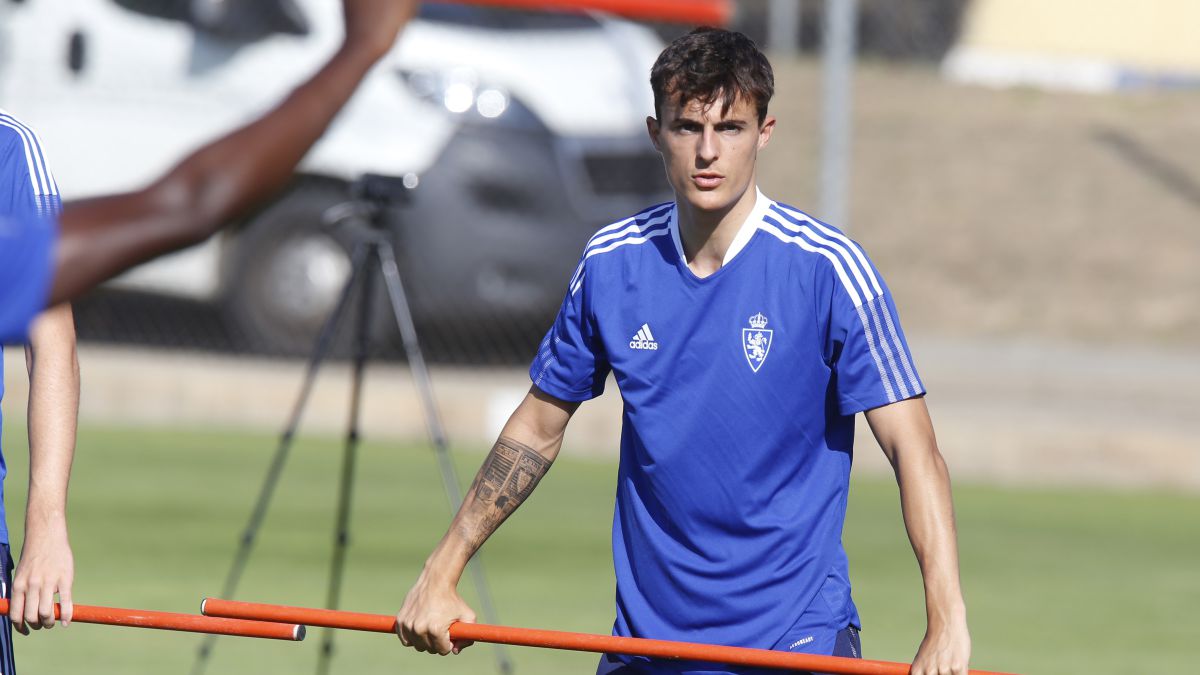 Alejando Francés faces his second season in the first team with the aim of being promoted to the First Division. The 19-year-old youth squad has also referred to his future and the possible interest of other clubs in taking over his services: "I am very happy here and I hope to continue at Real Zaragoza for many more years."
− How much do you want the League to start now?
− It's what we've been waiting for since we started the preseason. We know that Ibiza is a very difficult opponent and we are going to go for them. We are at home and we really want to go for the three points.
− What is your goal in what will be your second season in the first team?
− We are going to go for the First Division, which is the goal for which we have been fighting for many years. We know it is very difficult, but we hope to have a great campaign and see if we can move up.
− What has changed in Alejandro Francés compared to a year ago?
− The truth is that my life has changed a lot. In the first season he had a lot of ambition. I knew the pressure was very high and we were able to overcome that difficulty. Now I face it as more confidence and patience because although I have not played many games, I already have a little more seniority. Hopefully this season will be the final one to be able to go up to the First Division.
− Has it been a somewhat calmer summer than expected in terms of offers and possible interests from other clubs?
− During the summer I disconnected because we had a very difficult season and we earned those vacations. I have been quite calm and whatever has to happen will happen, but, as I have said many times, I am very happy here and I hope to continue for many more years.
− How do you feel in the dressing room after the preseason?
− The preseason has been very good. We have played against three First Division teams and they haven't scored a goal for us. Defensively we are picking up the competitive rhythm again and we are keeping a clean sheet, which is the important thing, and we hope it continues to be like that.
− Is Juan Ignacio Martínez transmitting the same ideas to you or is there something different compared to last season?
− It is clear that now we have much more time to practice the ideas that he has because when last season arrived we were in tow and we needed to win yes or yes. I think that now he has other ideas and we are seeing them during the preseason. Let's hope that at the start of the League we continue to play as we are playing because I think we are doing quite well.
− The fans will be able to attend La Romareda, even if it is only 40% of the capacity. Are you excited?
− Yes, because I have not had that luck of playing in La Romareda with an audience. I am very excited to see my people and my city supporting us, since we need them to give us that encouragement to be able to win.
− How have you lived on a personal level this unusual summer with this possible sale of the club?
− It is quite a difficult situation for the club, but they are doing our best and we must focus on sports, which is what will make us stronger and reach that goal that we all have. We must continue learning and growing as footballers.
Photos from as.com