The rain delayed the race and only two laps were completed behind the safety car. Verstappen officially won, but half the points are shared.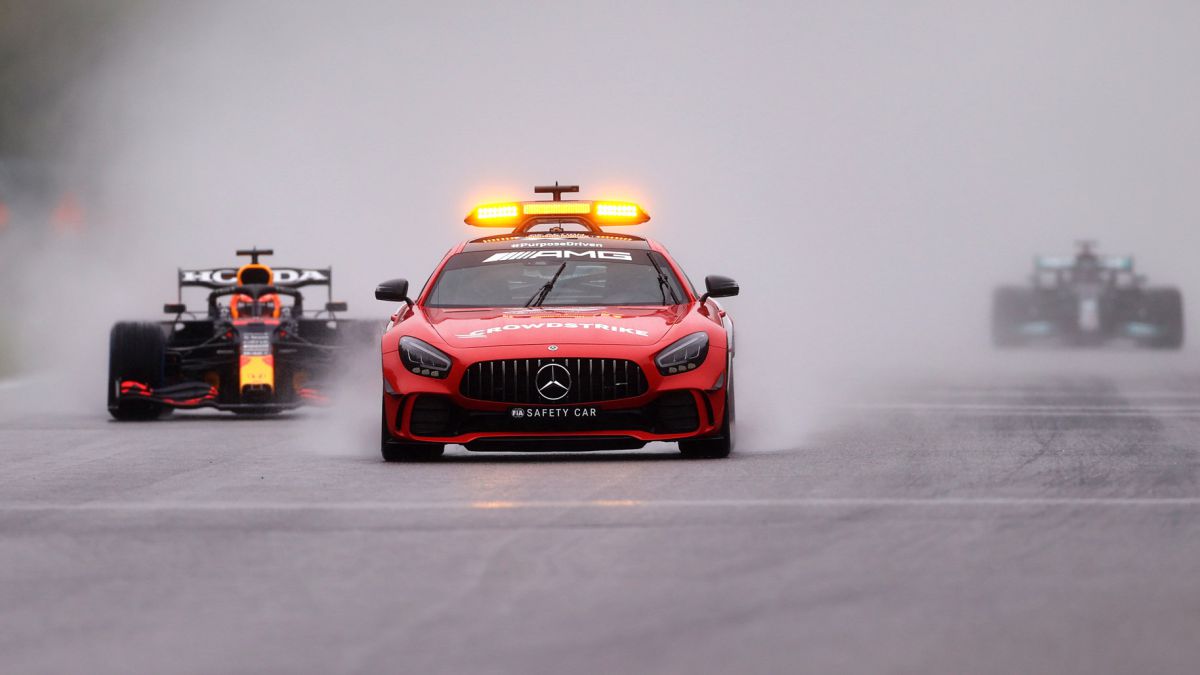 "How do you see it, Fernando?" And Fernando, under an umbrella and on his way to the garage before taking his car to the grill, responds: "Negro." He fell short. The 2021 Belgian GP will be remembered for a long time as one of those races that puts almost everyone in agreement, but worse, at the height of the grotesque in the United States 2005. The zero visibility due to the rain delayed the start of the race for more than three hours and when it resumed, to the applause of 75,000 staunch fans soaking in the rain, only three laps were completed behind the safety car. From the second, the winner could be declared, celebrate the saddest podium in recent times and distribute half of the points. Verstappen thus won the shortest race in F1 history followed by Russell, with the Williams, and the leader, Hamilton.
It was noon when it began to rain heavily in the Ardennes and would not stop falling. At 2:20 p.m. the cars left the garage for the warm-up laps. Sergio Pérez crashed his Red Bull at Les Combes and broke the wing and front suspension. At first he had given up. With the grid in place, F1 delayed the start by 25 minutes, until 3:25 p.m., and did two more laps of formation behind the safety car before raising the red flag and sending everyone to the pit-lane again. Checo would have time to rejoin because his mechanics were able to repair the damage. But rushing would be of little use.
Direction of the race proposed to hold a one-hour test starting at 6:00 p.m., for a moment the weather forecast gave hope. "There is grip, the problem is not the asphalt because the track is not bad. But there is no visibility," explained Maylander, driver of the medical car, who inspected the condition of the track on several occasions. At 18:17, three hours later, the 'safety car' came out in front of the train of cars and the race officially started. The weather conditions had barely changed.
Lap one, uneventful, cars lined up. Lap two, it barely rains a little more. "Red flag", decided the commissioners. A few minutes later it was announced that the race would not resume. "Will there be a podium?" The Red Bull 'team manager' asked Michael Masi, race director. "Absolutely," said the Australian. 'Mad Max' cut Hamilton five points thanks to his pole position the day before and judging by the applause from the stands, the Dutch fans are worth it. Russell achieved his first podium with a car that was not supposed to be there after an epic Saturday. Sainz was tenth with the Ferrari, adding a whopping half a point. Alonso was eleventh.
Lessons. No one doubts that the safety of the pilots is the highest priority and there was little room for maneuver due to the lack of visibility. But the three hours of silence sting the fans, on the track and at home, and the 'express' outcome to close a classification and solve the grand prize tastes bad, very bad. "You couldn't see anything at five meters," Hamilton said. Even so, F1 also does not shine for its flexibility to advance the time of a race (F3 ran in the morning in better condition) or delay it the next day. "It could have been a great race and I feel very sorry for the fans, it's no one's fault but they were there. I hope they get their money back," the seven-time champion settled. Because lost time cannot be made up. And it is that the shortest race in history, two laps, lasted 4 hours and 45 minutes.

Photos from as.com