Euskaltel already has eight on their return to La Vuelta
Euskaltel-Euskadi has decided to return to the Tour of Spain and will do so with a staff of eight riders who mix experience and youth.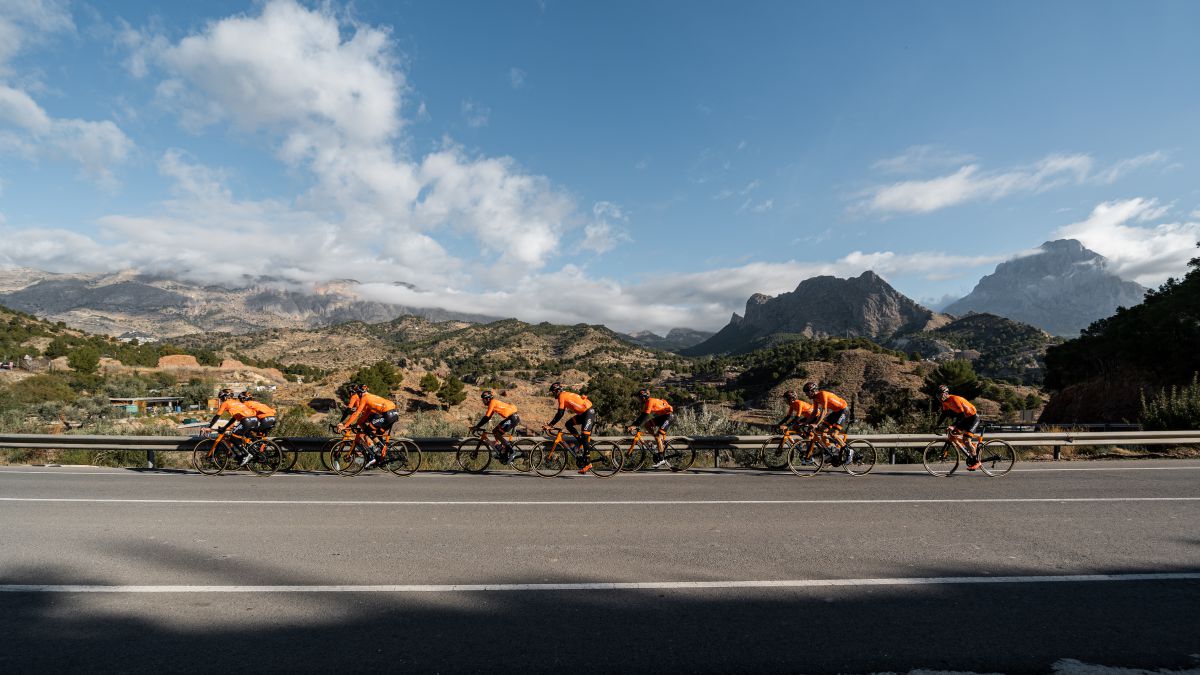 The Euskaltel-Euskadi returns to the Tour of Spain with the utmost enthusiasm and the objective of fighting for a stage victory. The Basque training presents a block of eight cyclists, a mixture of veteran and youth and of proven quality: Mikel Bizkarra, Joan Bou, Mikel Iturria, Gotzon Martín, Luis Ángel Maté, Antonio Soto, Xabier Mikel Azparren and Juan José Lobato, under the sports direction by Jorge Azanza.
The team returns to the Grand Tours and does so with eight riders motivated to fight every day to achieve at least one win. Mikel Bizkarra and Mikel Iturria, this winner of a stage in the 2019 Vuelta in Urdax, are two guarantees, while Maté -it will be his tenth participation- and Lobato will contribute their experience inside and outside the race. There are four newcomers: Bou, Gotzon Martín, Soto and Azparren. They have been between Maté and Azparren for fifteen years, which certifies that it is a diverse but very cohesive and united bloc. In fact, Bizkarra, Bou, Iturria, Gotzon Martín and Maté have competed in the recent Vuelta a Burgos and Soto, Azparren and Lobato arrive from the Arctic Race in Norway.
The orange tide is back and now with more force if possible, in the world's greatest showcase of the WorldTour and the Vuelta a España. Eight cyclists and a technical and auxiliary staff who will give themselves to be able to rise to the sporting challenge and respond to the bet of their main sponsors and collaborators and the trust of their partners and all their fans.
Jesús Ezkurdia, General Manager: "I am especially excited and excited about the return of the orange tide to the Vuelta a España. For some it is our first lap and for all it is our first lap together. We know what awaits us: suffering, dedication, effort ... But we are going to try that all this has a meaning, that there is a feeling behind the physical effort. We have a responsibility, but that excites and motivates, because we grow in the face of challenges and we are much more than a team, we are a sports, quarry, and social project ".
"Our objective will be to try to be present in the race and try to fight a stage"
Jorge Azanza, sports director: "We present a compact block. Our objective will be to try to be present in the race and try to fight a stage, even knowing the difficulty Bizkarra and Iturria are two climbers who can be present in hard stage escapes. Gotzon, Bou and Soto are young in progression, it is their first big one, and they will surely give us a presence. Lobato and Maté are the captains on the road. Maté has ten Laps and is going to pass on his experience and Lobato is a respected cyclist. Both can bring peace of mind and guide the youngsters in the race. Lastly, there is the youth of the team, Xabier Mikel, who has had a very good progression this year; we believe that the Vuelta will give him a lot and that he will also be able to contribute his bit ".
The 8 cyclists:
Xabier Mikel Azparren (1999) Debut
Mikel Bizkarra (1989) 3rd Lap
Joan Bou (1997) Debut
Mikel Iturria (1992) 3rd Lap
Juan José Lobato (1988) 4th Lap
Gotzon Martín (1996) Debut
Luis Ángel Maté (1984) Lap 10
Antonio Soto (1994) Debut
The route
The Vuelta a España 2021, to be played between August 14 from Burgos and until September 5 in Santiago de Compostela, presents eight high finishes and two time trials. A route that is divided into: eight flat stages, seven mountain stages, four medium mountain stages, two time trials and two rest days. There are 45 mountain passes, highlighting three of Special Category, Velefique, Lakes of Covadonga and Gamoniteiru, plus 13 of First, 13 of Second, and 16 of Third.
The eight high arrivals are: Picón Blanco (3rd), Cullera (6th), Balcón de Alicante (7th), Velefique (9th), Pico Villuercas (14th), Lagos de Covadonga (17th), Gamoniteiru (18th) and Castro de Herville (20th). The chronos will open La Vuelta 2021, 7.1 kilometers in Burgos, and will close it, 33.8 kilometers in Santiago de Compostela.
The 21 stages:
Saturday 14 August. 1st stage: Burgos - Burgos, 7.1 km CRI
Sunday, August 15. 2nd stage: Caleruega - Gamonal (Burgos), 166.7 km
Monday, August 16. 3rd stage: Santo Domingo de Silos - Picón Blanco, 202.8 km
Tuesday, August 17. 4th stage: El Burgo de Osma - Molina de Aragón, 163.9 km
Wednesday, August 18. 5th stage: Tarancón - Albacete, 184.4 km
Thursday 19 August. 6th stage: Requena - Alto de la Montaña de Cullera, 158.3 km
Friday August 20. 7th stage: Gandía - Balcón de Alicante, 152 km
Saturday 21 August. 8th stage: Santa Pola - La Manga del Mar Menor, 173.7 km
Sunday 22 August. 9th stage: Puerto Lumbreras - Alto de Velifique, 188 km
Monday 23 August. Rest
Tuesday, August 24. 10th stage: Roquetas de Mar - Rincón de la Victoria, 189 km
Wednesday, August 25. 11th stage: Antequera - Valdepeñas de Jaén, 133.6 km
Thursday 26 August. 12th stage: Jaén - Córdoba, 175 km
Friday, August 27. 13th stage: Bélmez - Villanueva de la Serena, 203.7 km
Saturday 28 August. 14th stage: Don Benito - Pico Villuercas, 165.7 km
Sunday, August 29. 15th stage: Navalmoral de la Mata - El Barraco, 197.5 km
Monday, August 30. Rest
Tuesday, August 31. 16th stage: Laredo - Santa Cruz de Bezana, 180 km
Wednesday, September 1. 17th stage: Unquera - Lagos de Covadonga, 185.8 km
Thursday, September 2. 18th stage: Salas - Altu d'el Gamoniteiru, 162.6 km
Friday, September 3. Stage 19: Tapia - Monforte de Lemos, 191.2 km
Saturday 4 September. 20th stage: Sanxenxo - Mos. Castro de Herville, 202.2 km
Sunday 5 September. 21st stage: Padrón - Santiago de Compostela, 33.8 km CRI
Photos from as.com