Espargaró: "There will be Aleix and podiums for a while"
"The question will have to change from now on, from 'can you get your first podium here?' to the 'here you can get your first victory? ", assures Aleix.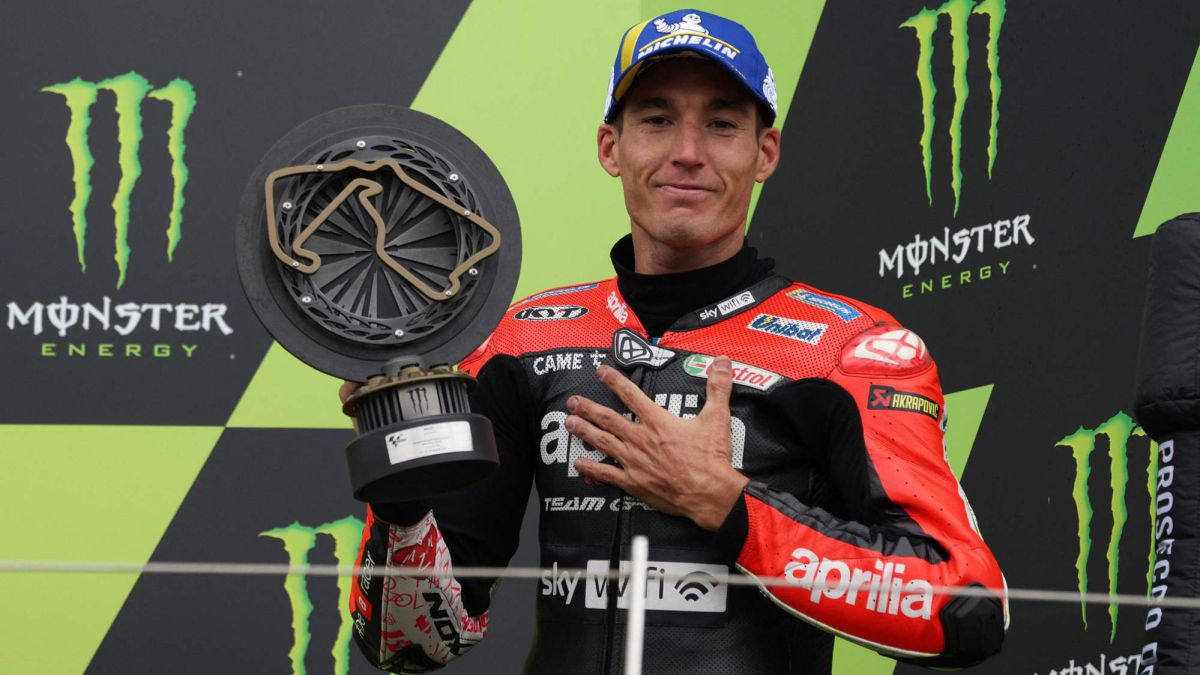 Happy, how could it be otherwise, Aleix Espargaró finished with his third place at Silverstone. It was his second podium in MotoGP and Aprilia's first in this category.
-Congratulations. What can you say?
-I had a bet with Aprilia, that if I made the podium I would keep the bike. And it's just the beginning. When you are in a moment like the one we are now, it is fair and deserved. It has not been a podium the result of chance, rain or falls. We have been knocking on the door for many careers. And I'm going to stay here, there will be Aleix and podiums for a while. Now we are going to Aragon, to a track that I really like and I am very motivated. The question will have to be changed from now on, from 'can you get your first podium here?' to 'can you get your first victory here?' I am willing to accept this challenge and this pressure.
-How was the race?
-I have not felt super good in this race. There have been others where I felt more competitive, but because I went wrong or did not overtake earlier, I did not reach the podium. But this weekend I felt very competitive and the papers said so. In FP4 I was the rider with the most pace with used tires. This morning in the warm up as well. MotoGP is a sea of sharks and you have to believe it. The fact that today six factories have finished in the top six means that there is a huge fight and because of the level of pilots, you have to believe it yourself. And I believe it right now. I'm riding at a high level and today I have shown it.
-In a ranking of special moments, where does this podium place?
-I give it more value than Aragon 2012 and on a par with Motegi Sunday when Pol won the World Cup. He won it alone, but I felt part of that championship, I know how I helped him because he hit rock bottom at some points of the season and winning that title was something very special for me. The emotion I had that Sunday is similar to what I felt today. I am in the best moment of my life, not only on a professional level, and although it sounds strange, this third one changes my life little, but I am very happy for the people of Aprilia. You cannot imagine how the people in the box are today and in Noale. I am very satisfied with them.
-What happened on lap 3 that the motorcycle stopped?
-We are analyzing what happened. I thought it was the gas pump, which had given us a problem this year. The engine has made some vacuum and it was not going, I have started to hit it and I think I have lost a year of life. Then the engine started working again, but it was too late to follow Fabio. It was a shame.
-The project started in 2017. Because of how these years have been, has this result arrived later than expected?
-The podium has taken a long time, without a doubt. In 2018 we took three steps back. We were completely wrong with the bike. And when Massimo Rivola arrived, we changed the way we work, many new technicians arrived and Aprilia invested a lot more money and it is showing now. I am very excited to be the standard-bearer for this project. They have been difficult years and when I said that I was thinking of retiring it was not a threat to Aprilia, I thought very seriously. I discussed it with my wife, my manager and my people, because I thought that being where I was was a privilege and you have to be happy and enjoy it. If you are not, I am dedicated to something else. I couldn't go on like this. But things changed, we started to improve and the results are arriving at the moment we deserve.
-Is this podium a way to greet Maverick?
-If Maverick in Qatar had been told that he was going to get off the Yamaha to get on the Aprilia, it is as if he got out of a Ferrari and got into a Mini. But we have shown all year that the Aprilia is growing, that we are a serious project. We are not at the level of Yamaha yet, but we are improving and Maverick is going to find a competitive bike, a dedicated racing team, with enthusiasm. These people really feel racing and the atmosphere is spectacular.
-How were the sensations when you saw Miller's Ducati on the last lap in front?
-I was prepared to attack Rins for second position, and I neglected that Miller was behind. He has overtaken me but today was my day. It passed me by accelerating and I was able to return the overtaking on the curve. When I crossed the finish line it was a moment of many emotions, especially because it took a huge weight off my shoulders. He had succeeded.
Photos from as.com