El Mirandés, with much controversy, fishing from La Rosaleda the point of rigor
Malaga and Mirandés share one point for each other. Pulido Santana annulled two goals to the jabatos. Great game from Kevin. 6,519 spectators.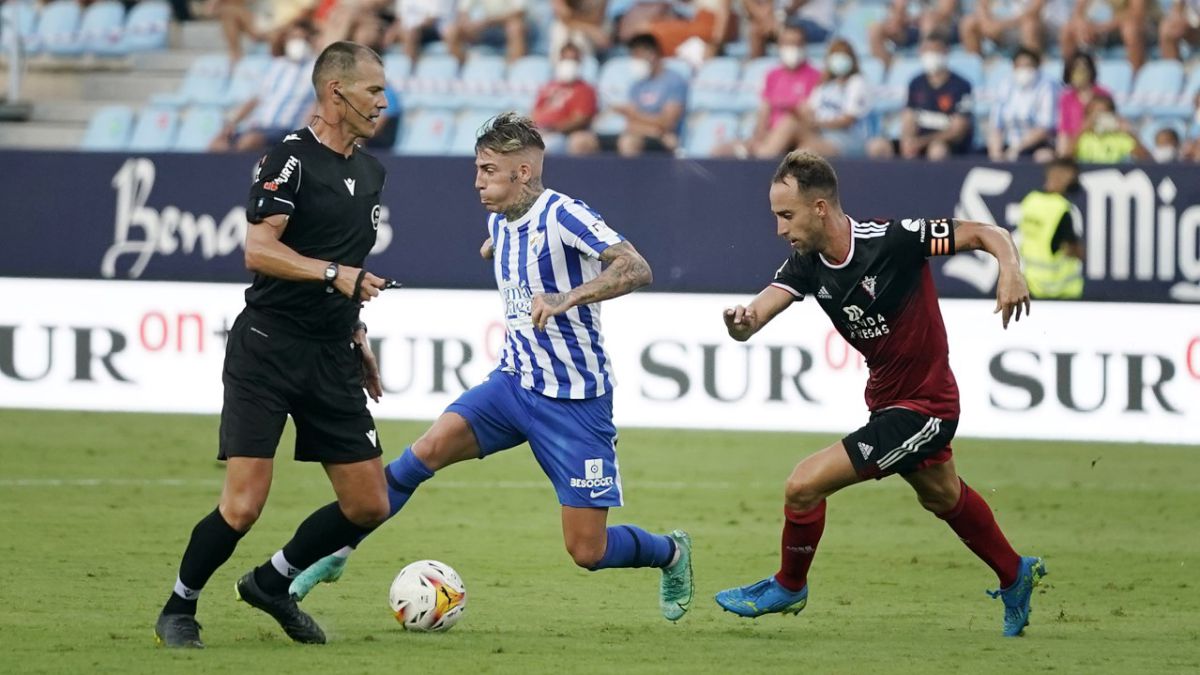 El Mirandés takes the usual point from La Rosaleda in a match with two totally different parts, a first half where José Alberto's were superior and a second half of a reddish color and with controversy due to the two goals annulled to those of Miranda; the first due to a foul by Íñigo Vicente on Ismael who did not go and a second to Hassan for a previous infraction by Oriol Rey on Juande via VAR. At Málaga, a refreshing alternative for youth squad Kevin. Will make talk.
17 months later the public returned to La Rosaleda. Only 6,519 viewers, but something is something. Atmosphere in the stands and eager to take out the beloved team's jersey for a walk despite the restrictions imposed by the insufferable pandemic; social distance, little option to move around the stadium, forbidden to eat, to pay for a ticket despite being paid ... a real tostón. But it is what it is.
Y to open your mouth, two teams renewed. The Mirandés thing is common. He only keeps five players from the previous exercise. He is a regular changing templates. Málaga, with eight signings and their courage to promote homegrown players.
Both teams leave hungry. High pressure and a lot of cheekiness in the rookie Kevin, skilled and with a leading role in strategic actions. Precisely Kevin, at 27 ', gives a great goal pass to Brandon, who, ahead of Capellini, sends the ball up. At 39 'Pulido Santana annuls a goal to Juande Rivas for offside. Three minutes later Paulino crosses a long pass from Luis Muñoz in excess. A lot of fight, football in a few meters, stuck at times, pressure after loss and a lot of wear and tear. The break is reached with 0-0.
The second part begins the same as the first, with Kevin deepening and lifting the stands with his electric verticality. At 49 'Carreira takes out a ball under the sticks, coming from a bad assignment by Capellini.
Málaga pushes and looks for more Paulino. But it cost him a world to find the key in the last pass or the final shot. The rojillos, with patience, look for their moment and warn at 63 'with a great shot from Álex López that Dani Barrio, in his first intervention, sends a corner. The Mirandés, clearly, is going to more while the locals lost that air that the refreshing appearances of Meseguer, Álex López plus the attacks of Simón Moreno and Íñigo Vicente bring to the boars.
The boars take a step forward and at 78 'Oriol Rey crashes a shot into the base of Dani Barrio's right post. A minute later, the controversy. Iñigo Vicente fights with Ismael for a ball. The Malaguista defender loses his position and falls. The referee signals a foul that does not exist and the play ends in a goal that is annulled by Pulido Santana, who does not take into account the angry protests of Anduva's team.
And more anger. At 92 'Hassan introduces an excellent Iñigo Vicente center into the network. When the boars celebrate the goal, the VAR appears to discourage them and appreciate a distant lack of Oriol Rey on Juande that cancels everything else.
And little else, final whistle and a point for each one who, seen what is seen, feels better to Málaga than to Mirandés.
Photos from as.com