Egan Bernal: "We still have possibilities"
The Colombian cyclist valued his performance in the first weeks of the Vuelta a España and assured that "anything can happen" in the last stages.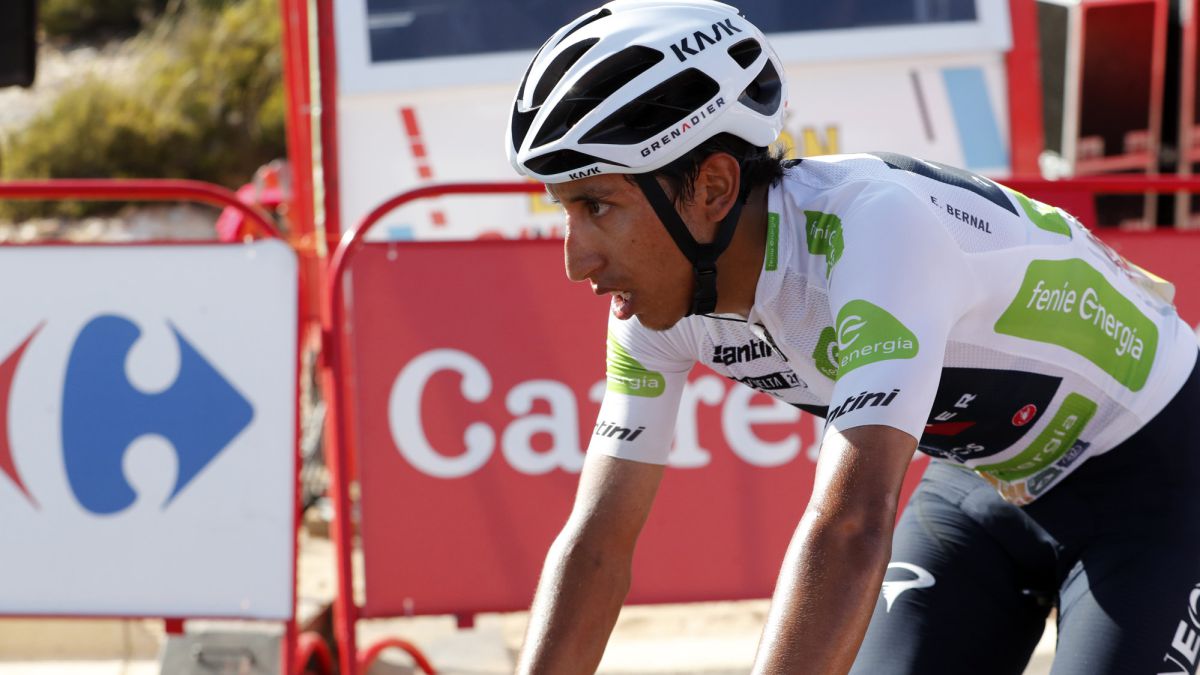 The second day of rest is completed in the Vuelta a España 2021. As he prepares to face the last and demanding week of the Spanish round, Egan Bernal, Ineos leader, spoke with the media and gave a balance of his performance in the first 15 days of competition.
The Colombian, who currently occupies the seventh box, appreciated his performance despite the physical problems he has had and assured that he will continue to fight for the first places in the general classification. In addition, he stated that he enjoyed the race and praised Primoz Roglic, great favorite for the title: "He is one of the best in the world, very solid. For me he is a great fighter" .
Balance of La Vuelta: "The first weeks were going to be complicated, but hey, I was able to be there with the desire and a lot of head. Having some difficult days but here we keep trying. Obviously we would like to keep trying, but as I have always said, before to do anything you have to have legs. This is about going from day to day especially when you are not at your best level ".
Physical discomfort: "Obviously I'm much better (on my back). The problems I had on the Tour are no longer the same. At the Giro my back was a bit more resentful, now at La Vuelta I'm much better. I still can't say I am at 100% because at the moment of the race it still hurts. But let's say that when it comes to pressing butt he has responded, it is more leg pain than back pain. We are on the right track ".
Fight for the general and conclusions of the first weeks
Possibilities in the last stages: "We are not in the best position, that's for sure, but it is not bad. We are seventh and eighth and we feel good, so we still have chances this week. Any something can happen and if we have the legs and we feel good, we would like to try something. If we have the opportunity, we will surely do something ".
Sensaciones en La Vuelta: "I think I am enjoying myself. It is difficult to enjoy but I still think I am. I realize that I really like to ride a bicycle, I really like to suffer, to be up there and show myself that I can reach the goal, even if I don't have legs I will manage to reach the goal (…) I have had very many days complicated here, I've been very, very tired, but I want to do my best. And show myself that I can be a runner that even if I am not at 100%, I will give my all in every race. "
To face a great one in cycling: "I feel that I have been learning more in this Tour of Spain without being 100% than in the Tour or in the Giro d'Italia that I won. When you have legs it is easy to move forward, but when you do not have legs, that's when it's time to start analyzing the situation and being more intelligent ".
Final of La Vuelta, relationship with Yates and possible duel with Pogacar in 2022
Last week: "Anything can happen, there are some stages that are very complicated. the hardest, Yates endured and left. Each one's strength is already a bit at the limit and anything can happen. You have to be calm, enjoy the bike, be up there and if we have a chance, take it. "
Sharing a team with Adam Yates: "We have a good relationship with Adam. Both he and I are willing to sacrifice options in the general classification to help each other, at least that's what I feel. Let's see if there is a need or not for that. Yes If it happens that one has to sacrifice for the other, I think we would do it without problem ".
Face Tadej Pogacar in Tour 2022? "For me, Pogacar is one of the best riders out there, he is very solid, very complete. It would be interesting to compete against him, it would be something good to see. But hey, for me it is not only the Tour, for me there are three greats in the year and my number one goal is not that it be only the Tour every year. Next year, it depends on the route, I will choose the calendar. Let's see if we coincide ".
Photos from as.com