"Sainz does not surprise me"
Ferrari director Mattia Binotto takes stock of the first half of the year and praises his drivers: "We have the best lineup on the grid."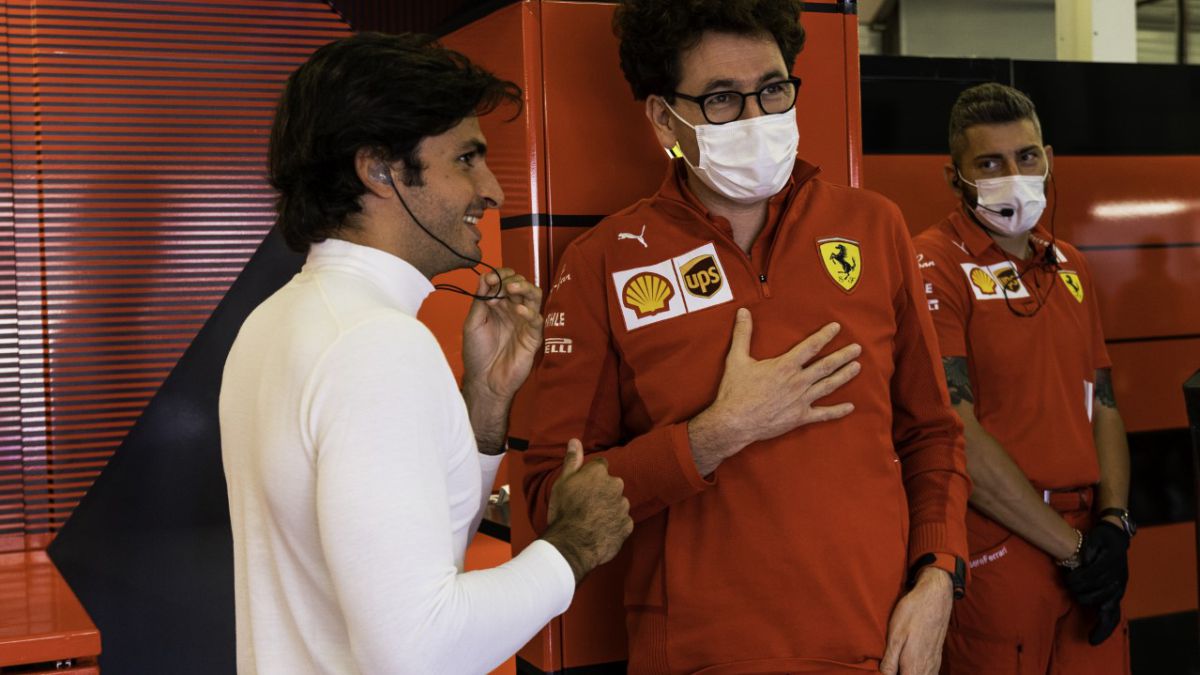 Before closing the Maranello factory for two weeks for the summer holidays, Mattia Binotto (Switzerland, 51 years old) held a videoconference with a dozen international media to take stock of the first half of the 2021 season at the Scuderia. The first conclusions are offered by numbers, "which is the best way to analyze." "In lap time, in qualifying, in 2020 we were 1.4 ahead and now, 0.7 seconds. And we have already added more points than in all of last year," the Ferrari boss introduces.
The disadvantage of the SF21 with respect to Mercedes and Red Bull "is not due to a specific area" although Binotto clarifies those seven tenths: "It is 60% of the engine and 40% of the chassis". On the problems of degradation and 'graining' in the front tires, they were alleviated after Paul Ricard: "We have altered our 'set-up' to slip less, we went from understeer to oversteer". A decision that "slightly compromises" qualifying performance, "but not much", to improve in the race. In any case, "it is no longer a critical problem."
As for the drivers, with Sainz sixth (83 points) and Leclerc seventh (80 points) in the table, Mattia repeats: "We have the best line-up on the grid." Monaco and Hungary, with two zeros due to external causes. "AS asked about Carlos' performance and his early adaptation and the evaluation was more than satisfactory:" If it surprises me? No, I am not surprised. When we made the offer, we had already done a lot of analysis and we always knew that he is a strong, competitive, consistent and fast driver. "
"Let's not forget that in his first season in F1 he was Max's teammate (Verstappen) at Toro Rosso, and he did it well. And his 2020 partner was Lando (Norris), we see how strong he is now and Carlos did well. compared to him. We are not surprised how fast he is. I am happy, there is no doubt about that, because he is doing well. And also because of how he is integrating and how he behaves with Charles (Leclerc), because of the type of leadership that he works not only in the car, but in the Maranello factory ", he added to this newspaper.
New engine in the SF21
For the second half of the season, de Sainz expects "what he himself said, he has not yet been able to curdle a full weekend. There has always been some detail or error in qualifying, start or race ". And Ferrari, which consolidates third place in manufacturers (they are already ahead of McLaren) not as a goal, "but as a consequence of improvement."
In addition, Binotto confirmed that Ferrari is preparing a performance evolution in the power unit for 2021. How is it possible, if it is not allowed to improve performance in the engines this year? The engineer clarifies: "By 2021 you can have a new engine, an update on each component (engine, turbo, batteries, MGU-H, MGU-K…), but we did not complete a new unit at the beginning of the year and we still use components 2020. We will have an evolution in the near future and it will be a significant step towards the end of the season ".
Photos from as.com