"KTM did not give any indication to Binder"
Mike Leitner, chief technical officer of the MotoGP KTM project, gives Brad Binder all the credit for victory in the crazy race in Austria.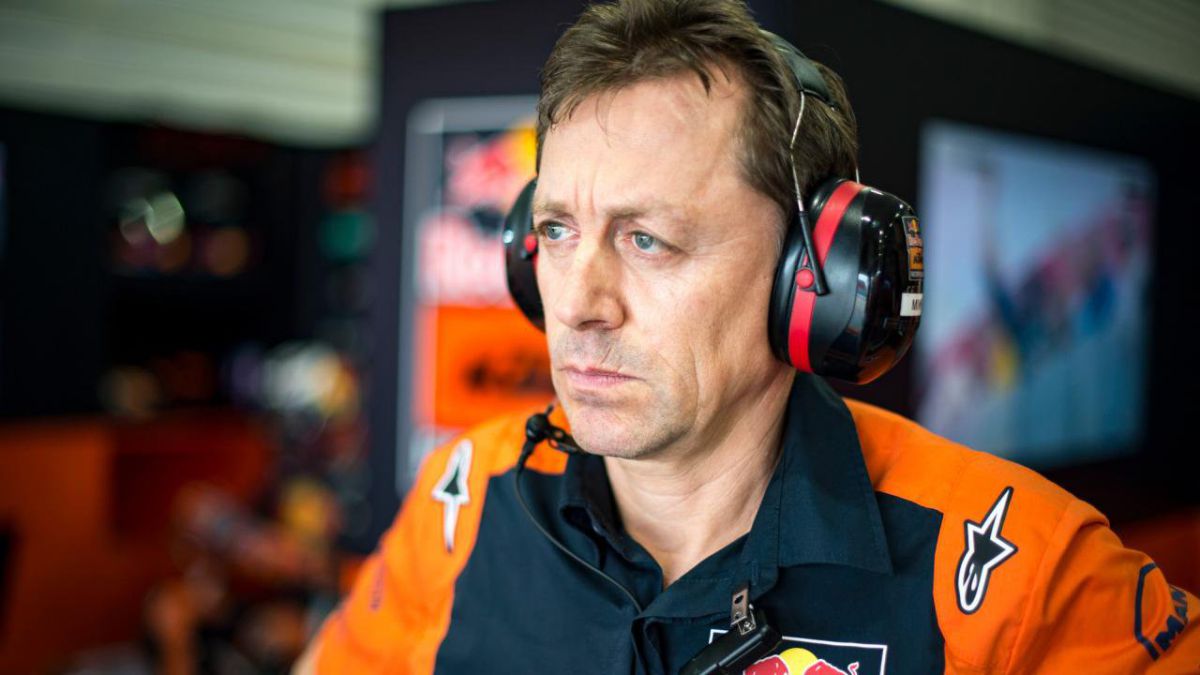 Mike Leitner, chief technical officer of the MotoGP KTM project, gives Brad Binder all the credit for the victory in the crazy race in Austria and shows how happy it is for the Austrian house to win the home race.
-Congratulations. What can you say after a win like Binder's?
-Right now I can only say that it has been an incredible GP. Winning in the home race is the best. We knew it was going to be a very tough weekend because the level of competitiveness at this GP is very high. We did well in the race, but we didn't expect to fight for victory. To be honest, we did not give him any indication to enter, it was his thing, and we fully trust his performance on the track. It is clear that you chose correctly.
-Did you think it was the right thing to do for him to stay on the track while the other top drivers entered the pits?
-If it was right or wrong you can say it once the race finishes (laughs). At that point, what you need is people to make decisions and this is a clear sign that Brad makes decisions. I have a lot of experience in this kind of racing with other drivers, such as Pedrosa, who started from the pit lane at the Valencia GP where we had a strong discussion and at the last second he decided to go out with slick tires, if at that moment the driver He was wrong, no one is going to tell you. Then everyone knew it, but that's the easy part. Decisions are made in those moments, although no one can affirm the outcome.
-Is Binder a pilot of character?
-Yes. The last two laps were very difficult to manage. Brad did his calculations and once the race is over it is easy to say that he was correct, but it is very difficult to handle this type of situation with the pressure it entails. I can only say that he did his best.
-What would you have said if you could talk to him during the race?
-One of the good parts about MotoGP is that we do not have radio or communication with the rider, only through the board. The driver is a very determining factor in racing and that is why it is such an attractive sport for spectators.
-Why is this year more difficult for KTM to win races and make podiums compared to last year?
-It's not easy to win races, but we've already had two this year.
-In Barcelona, KTM won all three categories and today it has been repeated again, because GasGas is KTM. Is the factory on the asphalt at the level it is on the off road?
-We look well in the rookie cup for young people with potential who can become champions and we invest a lot together with Red Bull. It is an interesting itinerary to be able to take riders from this category to MotoGP. Without a doubt, it is a great effort by the brand and everyone involved and it is very satisfactory when a rider wins in MotoGP having passed through all the brand's categories and more so when it is the home grand prix.
-Will Dani Pedrosa return as a wild card in Misano?
-Not decided. We will see, it is not yet known.

Photos from as.com