Delgado: "I like that they hit and hit me, I have fun like that"
The Dominican center, star of the ACB the last two months of last year with Estudiantes, launches a declaration of intent. He aspires to enter Europe next year.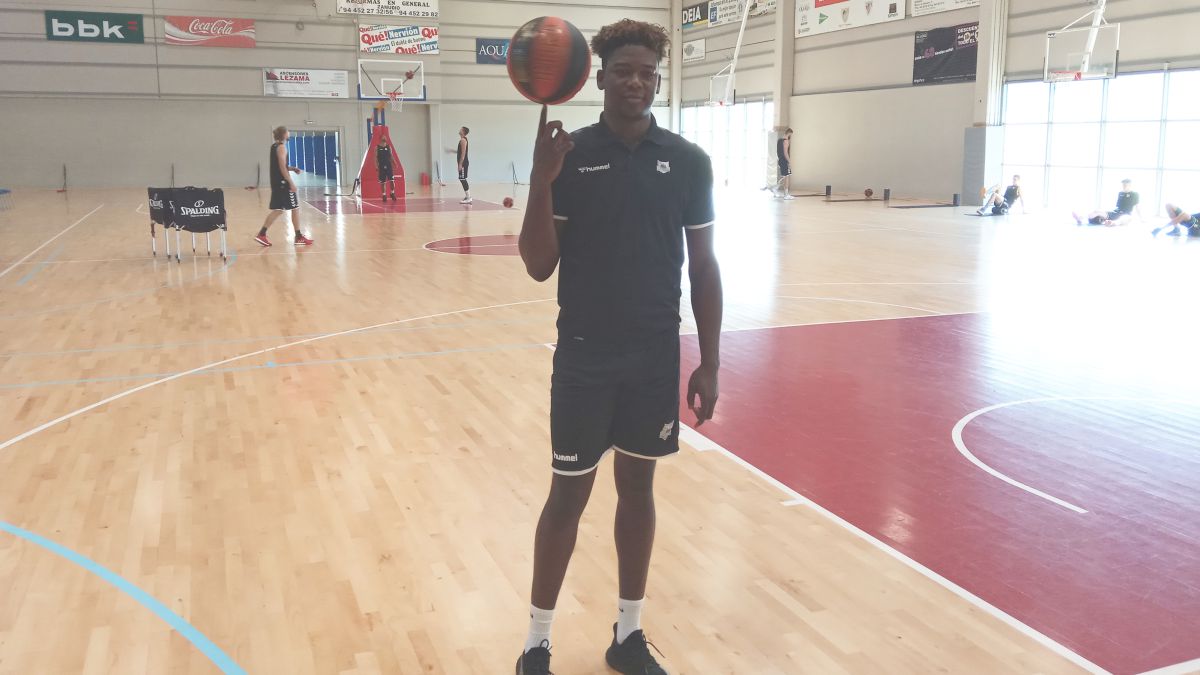 Delgado is slowly appearing through the Bilbao Basket sessions, although today he was a bit flattened after receiving the COVID vaccine. You can tell that he is a cheerful and outgoing guy, who is going to fit perfectly in this Bilbao Basket that is going to exercise these days at the fabulous Irish sports center, in Leioa, where the club has its campus. His last two months last year, in which he was the ACB MVP, are his great endorsement in the face of Miribilla's fans. But it doesn't stop there. "I have many things to demonstrate and learn from my game, I have little time here, but I am going to work on it little by little and with the help of the coaching staff, which is giving me the confidence and comfort that I have not felt for a long time. That is going to help me a lot, "he says with his relaxed verb.
Bilbao Basket works with many players, but also with quite a few casualties. Tomorrow the concentration begins in Gijón and has an appointment before Breogán, which he arrives very fair. The 27 is measured with Burgos. Luz and Reyes leave due to small fiber breaks. Goudelock is still very fair and will play little and the incorporation of Withey, after passing the COVID, is scheduled for tomorrow, although it is already known that everything depends on the bureaucracy. Hakanson is now with everyone after qualifying Sweden for the World Cup and has added another temporary to accompany them. He is the base from Lugo Pablo Ferreiro, who has passed through A Coruña and Oviedo in LEB. To all of them we must add the kids from the Chacón and Velasco quarry, as well as Ardanza, on loan from Zornotza. Monge meets the Euskadi Cadet team that plays the Spanish Championship in Huelva.
As in almost all the cases that are presented, Mumbrú's call was decisive in signing Delgado, "he called me and told me things as they are, he spoke to me from man to man and told me what he thinks is best for me and for my future, "says the Dominican pivot. "He helped me, he gave me advice and apart from speaking to me as a Bilbao coach he spoke to me as a friend ... as he was a player he gave me advice that I took into account." In short, his new boss has given him confidence "he believes in me and knows what is best for me" .
He likes what he has seen at the moment in Bilbao, what's more, he feels "impressed", from the players to the coaching staff, they have left him "with his mouth open", he perceives that he is in "a great club and very well organized "with the mentality of winning, so he understands that" this year is going to be very special. Those last two months in which he won the MVP in the ACB, he does not feel that they will persecute him when it comes to prosecuting his work, because "I think they do not define me, I can improve a lot." "The goal I have this year is above those two months. We have to improve the entire team, a single player will not win the games, I cannot focus only on myself but on the team and that we progress together, that is the key now. I never think that I have to score points, rebound ... but help the team ", he reflects.
His idea is, therefore, to continue progressing, and collectively he launches ambitious: "I want us to compete in Europe next year, that's the goal." He cannot imagine fighting for the lower zone again, as with Estudiantes. There he had Bilbao Basket as a direct enemy, and in the end his current team took the jack to the water and where he was, he ended up in the LEB. "It was incredible, you could see Bilbao Basket wanted to win and stay in the ACB, every time they went to the field you could see that they were going to win, the seriousness and focus, the coaching staff did a great job. matches, "he throws with a mischievous look.
With the arrival of Delgado, Miribilla recovers that figure of the pivot that is going to crash, inside, something that seems out of use with the famous five mobiles and that can play open. "That has always been my game -constates-, what I always try is that in my position I am always the one who wins and help the team, playing hard is in my blood because I like physical contact, hitting and hitting me, because the game is about having fun and I feel like I am having fun that way. "
Fortunately, he will be able to feel the warmth from the fans, he who is such an expressive player, "when I see the people who come to support them it is very nice, when I go through the city many people tell me 'count on us', that fills , with the support of the fans we are going to play much better. " For his part, the sports director, Rafa Pueyo, thus defined a pivot who started very badly in Spain last year when he landed out of shape (nothing to do with his current physical condition) and ended up like a rocket: "He's a player whom we know well in the Endesa League. He had a season finale at a very high level, managing to be MVP of the competition in the last two months. His virtues are clear. In my opinion, two fundamentally, his power and his intuition for rebounding in the two hoops and especially his ability to finish close to the basket using his body and feints, he is his very effective player, in addition, we have been training for a few days and what we are seeing is that he is a very good teammate and also a magnificent passer. they are going to do better as a team. "
Photos from as.com