Dee, a sniper with LEB experience for the Estu
The collegiate team announces the signing of the American point guard (28 years and 1.83 meters) for next season. It comes from the Acunsa GBC.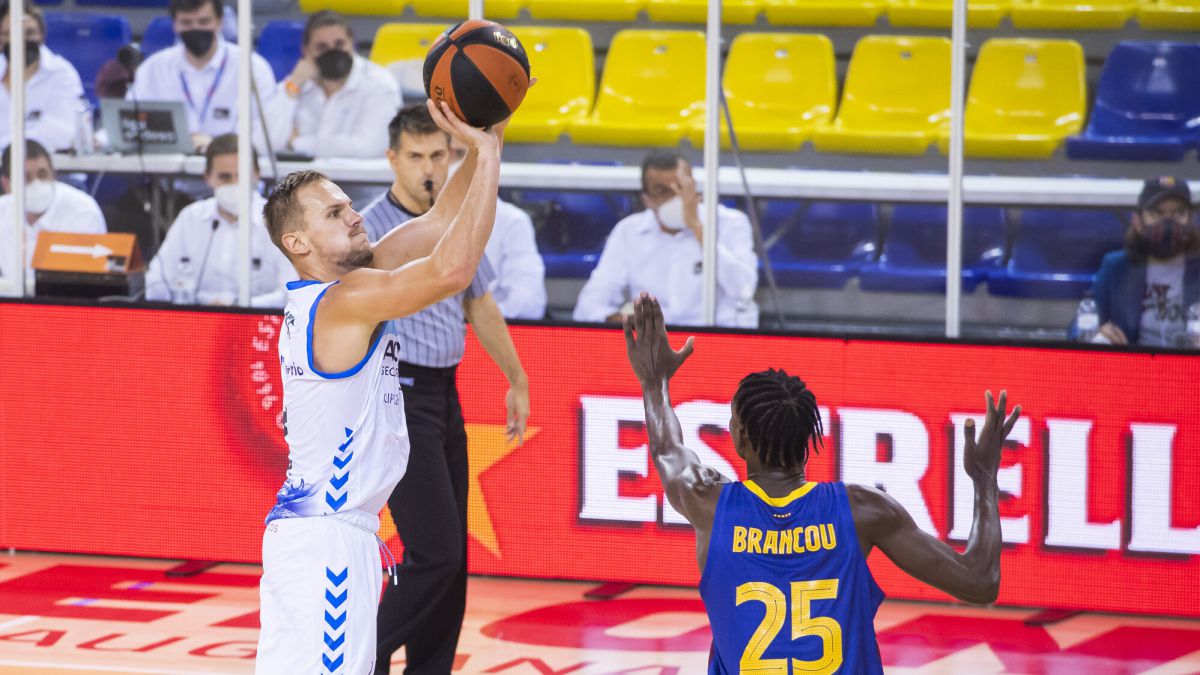 Movistar Estudiantes already has its second signing for next season: Johnny Dee. The American guard (28 years old and 1.83 meters) arrives from Acunsa GBC and has experience in the LEB Oro: three courses between Saenz Horeca Araberri, Coosur Betis and the Basque team itself. With the last two, he achieved promotion from Second to the Endesa League, a competition that has been abandoned for the first time in its 74-year history by schoolboys.
He is a true specialist from the triple. The perimeter is its main quality. In the last five seasons, the Colorado killer (Denver) has always been above 40% correct out of three. In the last one, with Gipuzkoa, it reached 40.2% for an average of 10.6 points. In addition, his pulse does not tremble from the personal: 85.7%. We continue. He scored 20 or more goals in six games last season. His ACB records, 27 points against Baxi Manresa and 6 triples against Retabet Bilbao Basket.
Work very hard day by day "
" I consider myself a player who can shoot and make a lot of 3s. I also pride myself on being a very competitive player and working very hard day by day. I love winning and hope to help build a winning culture this season ", was defined, in words collected by the club, Dee, who arrived in Europe in 2015 to play for Bosnian Siroski. Before landing in Spain in 2017, he spent a year at the Polish Polpharma Starograd Gdanski.
Your experience at LEB Gold will be essential. Students will have to adapt to this unprecedented category for them: "It is a very competitive league. There are many tough battles and it is a lot of fun. I think the fans will like it and they will enjoy it ", he warned. "You already know what the LEB league is, in which it has achieved two promotions," said Pancho Jasen, general manager of the Ramireños. "It is a significant signing for the category. Johny is a player with a very good hand, a killer with a high percentage of shots of three in his entire career, he is going to be a threat to any team. He knows the game and is called to be important in our perimeter ".
"We have very good references about him in terms of the formation of the group, which is something that we are looking at a lot to achieve a solid, compact team with committed people," closed the former Argentine player of his second signing after Javier Beirán .
Student situation
El Estudiantes will announce more signings to complete a squad that will have Jota Cuspinera as coach and Alberto Lorenzo and Iñaki Martín as assistants. Among the possible names, Nacho Martín and Lucas Faggiano. Rubén Domínguez and Héctor Alderete will be part of the first team.
At the exits, the demolition, as expected when descending. Aleksa Avramovic, Alec Brown, Martins Laksa, Ángel Delgado, Nemanja Djrusic, Zeljko Sakic, Aleksandar Cvetkovic, Víctor Artega, Edgar Vicedo and John Roberson were the first. The homegrown players Nacho Arroyo and Dovydas Giedraitis will be next, but on loan to the Lithuanian Canoe and Lietkabelis Panevezys, respectively. Boys from the house like Diego Alderete and Álex Tamayo also closed their stage at the club.
Photos from as.com