De Paul raises the curtain
The Argentine, Atlético's great summer signing, makes his debut at Carranza. Saúl will act as a left-handed central defender. Cádiz reaches its Trophy after three defeats in a row.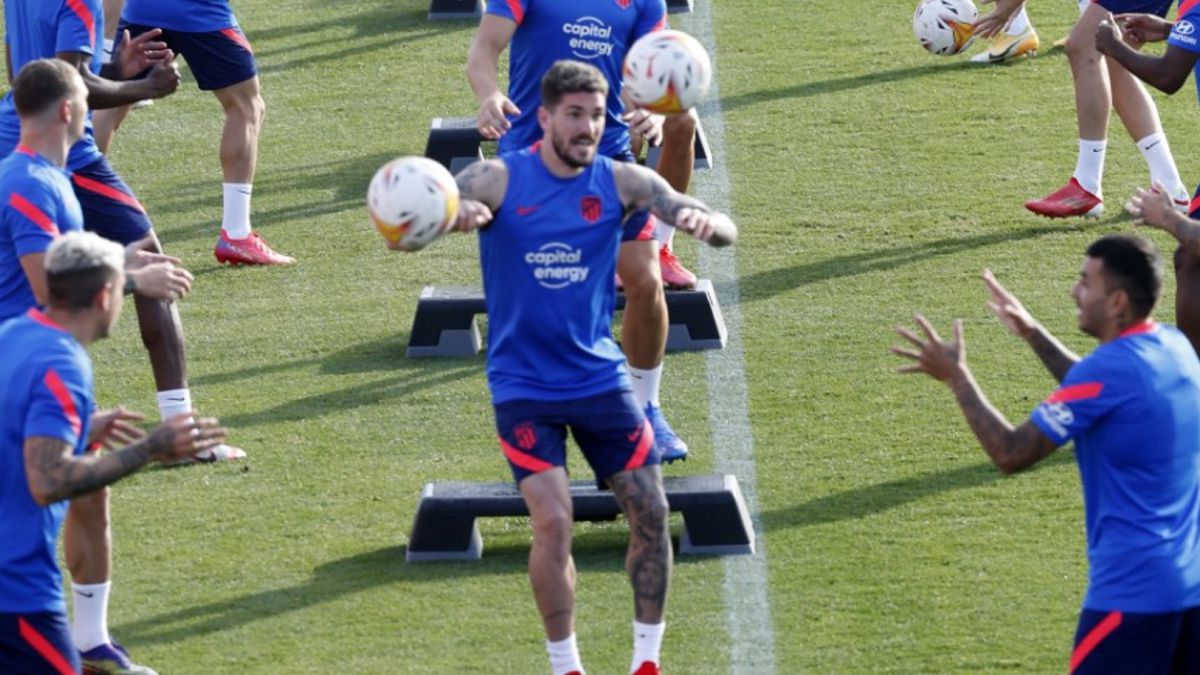 It used to be common when Gabi was around. That photo. With Simeone. Atlético finished training in field 7 of Cerro del Espino and, some days, while the rest left for the changing rooms, El Capi and the coach caught two balls. Two balls on which they sat, alone, in the center of the field to chat. About the team, how things were going, what one expected, what the other saw. A man-to-man talk. A photo that happened again yesterday morning. For 40 '. Only now Gabi was De Paul.
The signing of Atlético in the summer (35 million to Udinese) that shortened his vacation for this: pass the Cholo military as quickly as possible, talk at length with him, know what he wants, what he expects. And it is that with his signing, the Argentine coach has won more than a midfielder. Win a soldier, a projection of his on the lawn, by claw, delivery. He will carry Tiago's 5 on his back, bigger words. He's ready to raise the curtain on his Atleti story. It will be today, at the Carranza Trophy, starting at 8:00 p.m.
In his fourth preseason game, the champion will already be recognizable. The cholitos, tremendously meritorious, give way to the footballers of the first team. Except Garcés and Giuliano, who have earned being in the eleven for attitude, assists and goals, and because Luis Suárez and Correa have just arrived, the others will be the ones that will be in the year. It still mixes footballers who count less (Vrsaljko, Kondogbia) or more (Carrasco, Giménez, Lemar or De Paul himself) along with that unknown: Saúl.
Saúl, as a left-handed central
Because two weeks after LaLiga, Saúl's future remains unclear. It can go out but for the moment it is here, it stays. And, although as a midfielder, no, his two games as a pivot were disaster (Soria and Salzburg), when Cholo dusted off his versatility, he shone again. Saúl showed his best version of the summer as a left-handed winger, in Wolfsburg, and as a left center-back (Hermoso yesterday returned to training, but only did the gym) he will start today against Cádiz. The focus is still on him. Also about a Lemar that, a priori, when everyone is there, it seems that he will be called to fight his place with De Paul. And Nehuén, who, without filling Cholo's eye, has these minutes to show Cholo that he can be his central fifth.
Fill his eye as Osmajic has already done with the Cádiz fans. Of the five signings that the Cervera team has made so far, all free, a real merit, it is not only the one that has worked best, it has also been his goal, four so far this summer. It does not finish carburing the equipment, however. With three defeats in the last duels, against Primeras (Espanyol) and Segundo (Las Palmas, Almería), Cervera expressed it aloud at the press conference yesterday: "The team is not ready to compete." You need extremes like eating and a center back almost as well, and while you wait, try and try. His eleven's are anyone's guess. You win them all. That today he plays at home, today he plays his tournament and he will want to sneak in the photo. The one in which Soldier De Paul is already with Simeone.
Photos from as.com