David Valero: "It was harder to work in the field"
The BH Templo Cafés biker, bronze a month ago in Tokyo, faces the World Cup in Val di Sole (Italy) this Saturday (15:30, Eurosport) with "extra motivation".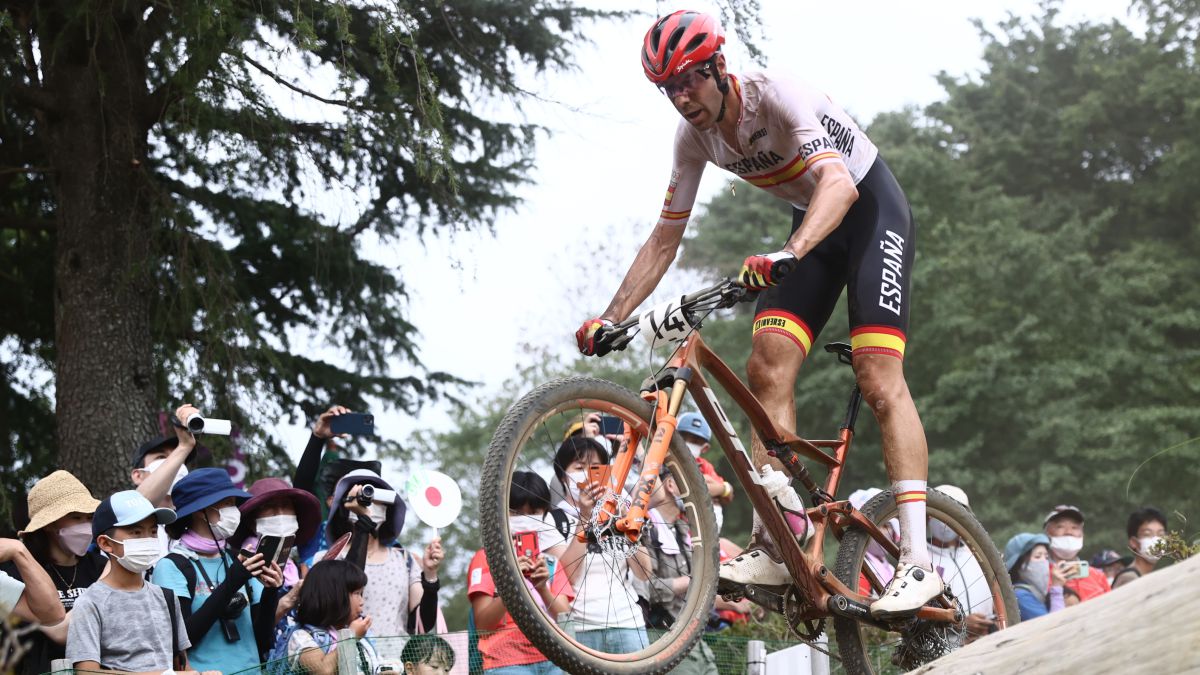 David Valero (Baza, Granada, 32 years old) lived his glory day on July 26 in Tokyo, where he hung the Olympic bronze. A month later, the World Cup arrives in Val di Sole (Italy) where it comes to the fore after its outbreak.
-Carlos Coloma, his 'boss' and bronze in Rio, warned him that an Olympic medal would change his life. Have you already noticed something? -Yes, but the fuss is appreciated for such a result! Being in season I am assimilating it little by little. I have yet to fully savor it.
-At a sporting level, can it be a leap? Is it necessary to count on Valero for this World Cup? Yes, he had not performed at the level he thought he had for a few years. Now they will take me into account more, although in the end we all know each other. Before the Games he had already done good races, fighting for World Cups. Here I do not reach one hundred percent as in Tokyo because I have not stopped for the medal.
-How is the circuit coming? -It's hard, demanding, and I look comfortable, with desire. It is a fighting layout. It will be a very open race, with surprises, because there is no longer a clear dominator. In the European (it was 23rd on August 15), with the celebrations, I did not arrive with the step and it became hard.
-Did you arrive in Tokyo convinced that you could qualify for a medal? -The objective of the team was that. We worked a lot, in altitude, the pre-heat acclimatization ... And it came out great. But in mountain biking, the mechanics, the punctures, and you play it all in an hour and a half have a lot to do with it.
-Then, they used phrases by Luis Aragonés to motivate themselves. What are you getting to the World Cup with now? -Now I have extra motivation! Also calm and confidence in myself because I know that I can achieve great things. It's like going to an exam with everything known 'from pe to pa'.
-What feeling did you get from teaching the shorts to a legend like Nino Schurter, eight times world champion and who finished fourth? -Good! Of the 38 runners, all of them had ever beaten him less. It was a special day. When I hooked him I remembered a 2017 World Cup where he beat me to the sprint and I thought 'I'll give it back to you today!'
-Now we must also manage the pressure because more results are expected ...- That pressure is already on me. I always do my best and I want to be someone on the mountain bike.
-He worked in the fields with his father and told him that he was not going anywhere with the bike. Has he reminded you? -No ... I've been a professional for a long time. That job gave me a discipline, education and perseverance that has served me well. I am lucky to dedicate myself to my hobby and it is not difficult for me to go out to train or travel. I feel lucky. The field is harder and is not valued. My father and his two brothers have a cooperative with olive trees, greenhouses for tomatoes and peppers, cereals and a small calf feedlot, and I spent many hours there.
-What was it like working as a mechanic at Ciclos Montoya? How did he find time to ride? Because until he was 22 years old he did not compete seriously ...- When he was in the field and at six the power went out in winter, he went out with a flashlight. And in the store he took advantage of the noon hours or before opening. And Saturday and Sunday at the top. It's my passion. When they ask me what I do outside the preseason, it's easy: Ride my bike with my colleagues! 444 444
-For how many races have they claimed you already? - (Snorts) I have a very tight schedule, but I will finish at the beginning of October and I am sure that I can attend a march and enjoy success with the people.
-Do we need more teams like the BH Templo Cafés, fully professionalized, to make the competitive leap in Spain? -The support is fundamental. In Spain there are already three professional mountain bike teams and they are at the forefront, but young people may need a little more push.
-There is a real mountain bike fever in Spain, but perhaps it is not reflected in the audiences, at the competition level. What is missing? -There is a lot of popular fans. Who doesn't have an MTB at home? But there is a lack of television broadcasts, knowledge of the evidence. Now Eurosport has come in and it's showing.
-Have you indulged in a whim after the medal? -Almost a month at home with the family! Then I will rest a bit but in 2022 the qualification for Paris 2024 begins and you have to get the batteries.
-Tattoo is not going to be done? -I already got one in Rio! Now I have to give it a spin to 'tune it up' with something cool.THE PREVIEW: WITHOUT PIDCOCK OR VAN DER POEL
Without Mathieu van der Poel, residing wounds after his fall in Tokyo, nor the Olympic champion Tom Pidcock, with the Ineos in La Vuelta, the 'pure' bikers will be protagonists this Saturday (Eurosport and Red Bull TV, 15:30) in Val di Sole, where the Dutchman won the last World Cup in 2019. The Swiss Mathias Flueckiger (silver) and Nino Schurter, the Czech Ondrej Cink, the Brazilian Henrique Avancini or the French Victor Koretzky and Jordan Sarrou will be the rivals for David Valero, Sergio Mantecón, Ismael Esteban and Pablo Rodríguez. Rocío del Alba resigned after her accident in Rio.
Photos from as.com