Cartagena takes advantage of the Zaragoza drought
The Aragonese team, which had more chances, have yet to score this season. Albinegros' first victory thanks to an own goal by Fran Gámez.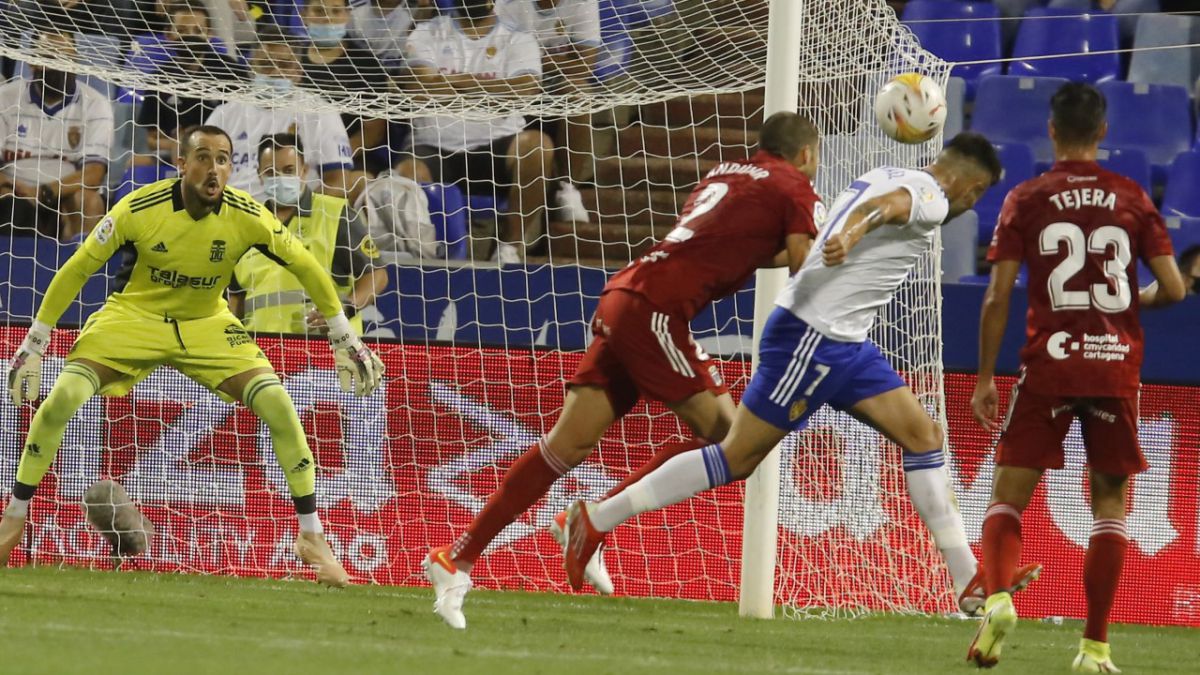 Without a goal there are no victories and sometimes not even draws. Real Zaragoza were better and had more chances than Cartagena, but their lack of aim condemned them once again. The Aragonese, who add one point, have not yet scored this season and that drought was taken advantage of by the Albinegro team to achieve their first victory thanks to an own goal by Fran Gámez.
Zaragoza jumped onto the pitch with four novelties in their line-up, one in the goal, with Cristian Álvarez already recovered, and another three forced by the absence of their three Under-21 internationals, to whom the Royal Spanish Football Federation he prevented later joining the rally. Despite these casualties, the Aragonese came out much more settled, trying to give rhythm to the game and taking over the ball.
In the first minutes, that dominance only resulted in the odd set pieces that did not bring much danger to the goal of Cartagena, which was trying to sleep the game. Far from achieving it, Zaragoza found a highway on its right side and thus came the first chance of the crash. Zapater yielded to Fran Gámez and his center was headed by Narváez, forcing Marc Martínez to stretch to deflect to corner.
Then it was Bermejo who tried his luck from the edge of the area after a good against Zaragoza, but his shot found the goalkeeper, as well as a free-kick from Zapater after half an hour of play. Cartagena, meanwhile, did not put Cristian Álvarez in trouble until the last minutes of the first half. It was after a loss by Eguaras, but Gallar's shot was stopped by the Argentine goalkeeper and Clavería arrived unbalanced in the rebound.
Shortly after the Cartagena winger tried again, but in this case he didn't even find a goal. Eguaras did find it from inside the area just before half-time, but Marc Martínez was well positioned and caught the ball without problems. After the resumption, more of the same, with Zaragoza hovering around the rival area and also the goal, but Jair's header touched the post.
Cartatena responded with a shot from Cayarga that Cristian Álvarez stopped, but the Aragonese team kept trying, although without getting to connect that last pass with the finisher, neither in a center of Chavarría nor in a pass of the death of Fran Gámez after a magnificent cutout. And although it was Zaragoza who deserved the goal, the one who found it was Cartagena. In a lateral foul thrown by Gallar, the ball hit Fran Gámez in the chest and Cristian Álvarez could do nothing so that the ball ended up in the back of the goal.
Juan Ignacio Martínez gave entry to Borja Sainz and Nano Mesa, who made his debut, in search of a draw that he was about to find in a Narváez auction that was stopped by Marc Martínez and in the subsequent rejection, in which he did not get to be successful Borja Sainz. From there, Cartagena stopped the match and it was barely played, even despite the nine-minute extension, in which Fran Gámez once again found no finisher on his umpteenth rise up the right wing.

Photos from as.com