Brais: "I am faithful to Chachismo, I owe a lot to Coudet"
The playmaker praises his coach. He reveals to AS that he was about to not answer Luis Enrique's call in the summer because you don't have his number recorded.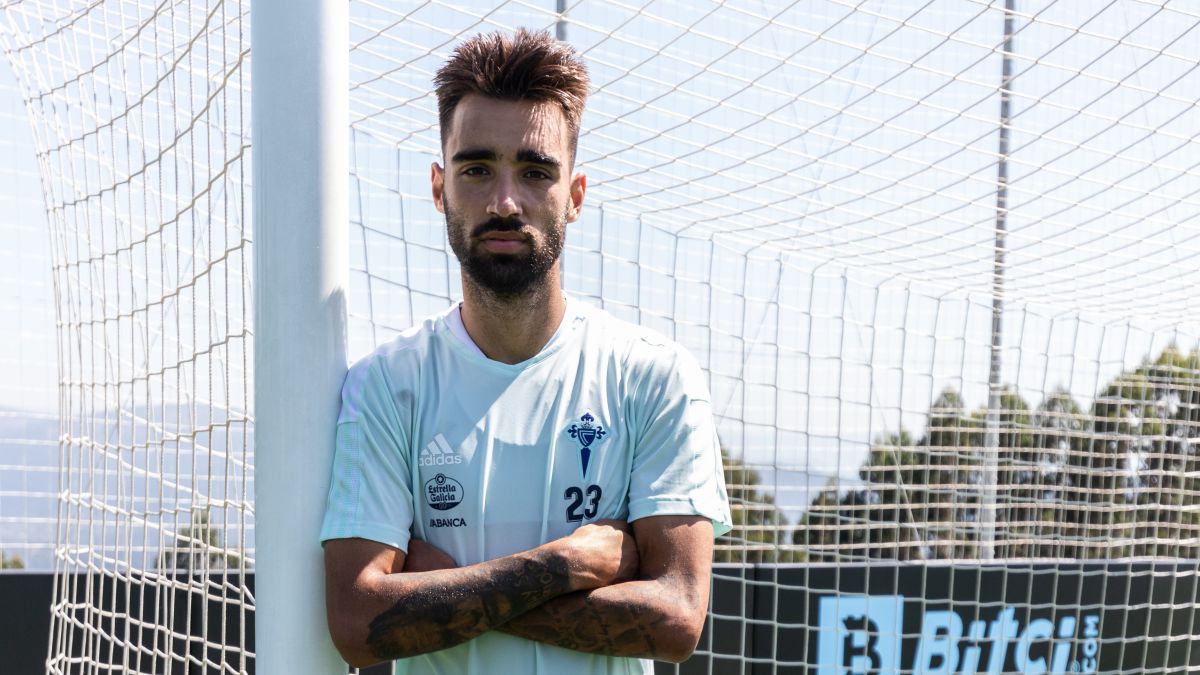 Is the preseason being more physical?
The truth is yes. The team has done a lot of kilometers, especially in the first three weeks. In the first matches the fatigue was noticeable, but in the last one it has already been seen that we are in good shape to face LaLiga.
Do you like to run or do you prefer to touch a lot of the ball?
Man, I prefer the ball, but it is true that you run because you know that it will be good for you for the competition. You have to leave everything because in a month it will help you to start LaLiga in the best way.
Before Wolverhampton they were seen fresh legs
Yes, we noticed that we are very well physically and that is thanks to the preseason work. We do not stop running, we train very well and that in the end is reflected.
To start LaLiga, the champion is their turn. Is it better to catch them now?
In the end you will face them all. I am one of those who thinks that starting the year against a great team can make the year even more exciting.
What are your expectations this year? There is a lot of talk about Europe.
We are going to play each game as if it were the last, as we have done since El Chacho arrived. Later we will see how far we can go, but above all we have to fight and enjoy each game as if it were the last.
Looking at the rest of the squads, where do you place Celta?
We have great players and I think we will be fighting to be at the top, but then football takes a lot of turns and anything can happen.
Aspas revealed the other day that Coudet told him about getting a title on his birthday card. Do you see it possible?
It is always nice to think of a title and to be able to be engraved in the history of this club. I hope it happens. If it is not this year, let it be in the following years, but we have to have that mentality of being ambitious and not setting limits.
The team has changed a lot with Coudet. What has it contributed?
I would emphasize that it has given us character and a lot of confidence to people who were going through a bad time, such as my case or that of other colleagues. He entered the locker room with simplicity, being close and hitting hard.
You were one of those who improved the most with Chacho.
Yes, I owe a lot to Coudet. I was going through a bad time, I had been in a rut for a long time and thanks to him, to his confidence, I was able to get out of there.
I imagine then that you will be one of the faithful to Chachismo.
I certainly think I owe you a lot.
Are you more confident now?
Fully. From the first day he arrived, he spoke with me and made things clear to me. He told me what he thought of me and that a coach shows you that confidence from the first moment, that you see that he knows you, it is key.
What exactly did he say?
It was very simple and very close. He told me that he knew me, that he knew what I could give and that he was going to help me. It doesn't take more to notice that trust or that closeness. There is that feeling, that good relationship and from there things were shot. When you play good games, it's easier, but knowing that when you don't have a good game, you have the confidence of the coach and he asks you to continue doing the same even if you fail, gives you even more confidence.
He also proved it with facts.
It is clear that words can be blown away by the wind, but he has shown that he trusts me and the bet has turned out well, so we are all happy.
You always played more in the center in lower categories, but now you always play on the right. Is it already your favorite site or is it still tending to the middle?
In the end I have the freedom to move more or less wherever I want. It is true that I start from the right, but since we play a bit with the disorder in attack, I feel comfortable.
What is planned to improve this year?
Everything. I have a lot of room for improvement in all aspects and I plan to continue growing as a player. I focus on playing, enjoying and making things work out.
Is the fact that everyone knows each other so well, especially those from above, is it noticeable in the field?
Yes, in the end you have that chemistry that you already know how each one is going to move. You know what they think and they know what you think. It's all a lot easier.
Who do you understand better with?
I have been playing on the right with Hugo Mallo and with Aspas in front since I came to the first team, there are many games and many training sessions and it shows. I also understand myself very well with Santi Mina because we know each other both on and off the pitch, we are great friends and we know what we think.
Tell me a little about the history of the call of the National Team in summer. Who called you and where were you?
I was in my hotel room in Mykonos and I received a call from a Spanish number that was not recorded on it. I don't usually pick up the phone when I'm on vacation and I don't know the number, but that day I picked it up and it was Luis Enrique. He told me about everything that had happened with Busquets and his positive and asked me if I was willing to go to train, obviously not guaranteeing anything, knowing that if nothing happened, the summoned would be the ones who were there. I did not doubt it at any time, in an opportunity like this you have to be there and try to take advantage of it.
Come on, if you don't get to catch it ...
I've thought about it, but I guess this is destiny too. You take a number that you do not have recorded and this happens.
You have already recorded it, right?
Yes, yes. Don't let this happen again and don't take it (laughs) .
Was it ever seen at the European Championship?
I didn't want to think about it too much either. He knew what he was doing in Madrid, that he was training in case another teammate tested positive. It is not pleasant to be in that situation because in the end it is the health of your teammates, it is not a technical aspect, but if the coach decided that those should go, the logical and beautiful thing is that they go. I wish I could have gone, but I think it can happen in other situations and it is better if everyone gave negative and had no problems.
What is clear is that he was in the list and was left out for very little.
Yes, that is demonstrated by Luis Enrique with that call for the parallel bubble. I am very happy because the year I did is valued.
Apart from Coudet, is Luis Enrique another important coach in your career?
Well, quite a bit. He is the coach who made me debut with the National Team and I will never, never forget those days, that match, that debut ... I will always have it saved.
He was also in the pre-list of the Games and in the end he did not enter. Did you have the dream of the Olympiad?
The truth is that yes, I had the objective of going to those Olympics because it is a competition that you can go to once in your life, since soccer is different from other sports. I would have loved to go, but the coach decided that others had to go and we have to respect him.
He was able to go to both competitions and in the end he did not go to either. Is it a bittersweet sensation?
The European Championship was more of a dream, but the list of the Games left me more touched. I had set it as a goal, I was very excited and it couldn't be.

Photos from as.com