Benjamin King wins the sixth stage and Marque maintains the lead
The American has won the sixth stage, while Alejandro Marque recovers the yellow jersey due to cases of COVID-19 in the leading team.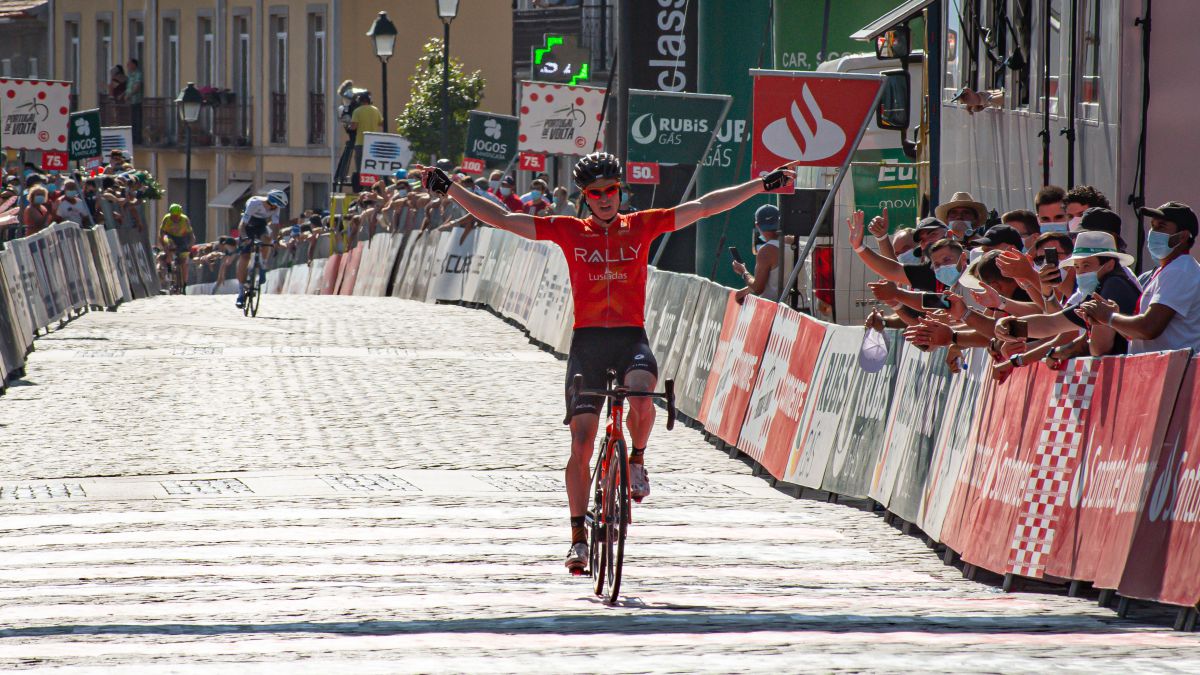 The American cyclist Benjamin King raised his arms this Wednesday in the Volta to Portugal after being the strongest of the escape that marked the sixth stage, in which the Spanish Alejandro Marque managed to keep the yellow jersey, which he had recovered before the start by the abandonment of the leader
For the second day in a row in the "Grandíssima", the stage was marked by a numerous escape that managed to open a gap with the peloton, which reached more than eight minutes.
The group of escapees became fragmented in the last kilometers with several attacks and King, who already won two stages of the Vuelta a España in 2018, proved to be the strongest and managed to reach the Fafe finish line first.
From behind came Alistair MacKellar (Israel Cycling Academy), 9 seconds behind; Tom Wirtgen (Bingoal Pauwels Sauces WB), 15, and Colombian Juan Diego Alba (Movistar), 20 seconds.
The stage, of 182.4 kilometers between Viana do Castelo and Fafe, was preceded by another abandonment due to a covid outbreak, that of Radio Popular-Boavista, Daniel Freitas' team, who yesterday had stolen his yellow "camisole" to Dial With this setback - it is the third team to leave completely due to the coronavirus, to which are added loose runners from other formations - Marque took the start again this Wednesday dressed in yellow.
The team from Pontevedra, the Atum General / Tavira / Maria Nova Hotel, is also depleted: it lost two runners due to the covid and its leader, the Galician Gustavo Veloso, also suffered a fall on Sunday and is not in the best condition physical
With a flight that did not represent a danger for Marque's leadership, Tavira did not want to waste forces and the Spaniard entered, with the peloton, more than 8 minutes from the winner of the stage.
Enough to stay at the top of the rankings, 5 seconds ahead of the winner of the 2020 special edition, Amaro Antunes (W52-FC Porto), and 25 over Frederico Figueiredo (Efapel) .
Two Latin Americans remain among the top positions in the general, Uruguayan Mauricio Moreira (Efapel), fourth at 1:01, and Puerto Rican Abner González (Movistar), fifth at 1: 04.
The Volta a Portugal continues this Thursday with the seventh stage, the longest of this race, with 193.2 kilometers between Felgueiras and Bragança.
The 82nd edition of the Volta a Portugal has a prologue and ten stages and will finish with a time of 20 kilometers in Viseu on August 15.

Photos from as.com