Bayat: "When I'm on the pitch I forget the Taliban terror"
The Afghan athlete, fled her country due to repression, has settled in Bilbao and has a proposal from Bidaideak to play for the Biscayan wheelchair basketball team.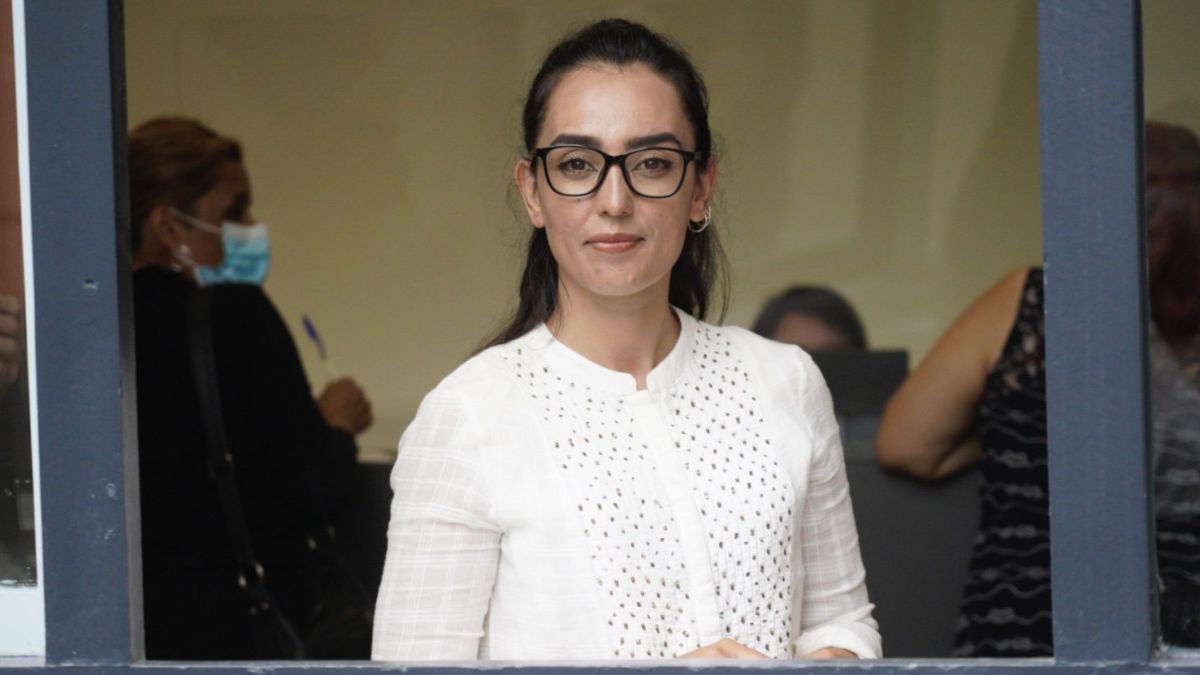 Nilofar Bayat and her husband Ramish make their new life in Bilbao. After escaping the Taliban horror in Afghanistan, they try to rebuild their existence in the Biscayan capital, where they have received an offer to play wheelchair basketball at the Bidaideak. They live in a CEAR (Spanish Commission for Refugee Aid) flat. The location of the house cannot be revealed, but it is known that it is in an uptown neighborhood in the capital of Biscay, where the view is lost on the horizon. A border in which your beloved country may be found, now destroyed by terror. "This city is very beautiful, there are many mountains and the green dominates, but the best thing is the warmth of its people," the activist told As. Nine Afghan refugees like them have arrived in the Basque Country. In total, the Basque Government finances, through organizations such as CEAR or the Red Cross, 516 places for refugees, of which 160 are currently free, although not all of them will necessarily be occupied by Afghan refugees.
It has been many days of tension, a whirlwind of events.
Yes, we hardly had time to rest a bit and think about everything that has happened. Now my husband and I are fine, a little misplaced, but happy to have been able to leave Afghanistan and to be in this house in Bilbao, we like it very much and we take the opportunity to thank all the help they are giving us.
It must be very difficult to assimilate that four days ago they feared for their lives and now they are happily settled more than six thousand kilometers away in a country about which they hardly know anything.
Imagine. Never in my life had I gone through something like this, fear paralyzes you. It was chaos, we were trying to escape the Taliban. Now I feel immense relief. Being able to walk without fear, express yourself freely and guess a new future is like being born again, I feel like I have bought a life full of hope. But you don't forget the loved ones you left there.
How did you experience those harrowing hours of departure?
Antonio [Pampliega] got the papers to leave, but the airport was a mess, it was dangerous to appear there. You were entering a powder keg. The Taliban shoot all the time to scare everyone who appears there. They beat me and my husband, we feared the worst. Our luggage was taken from us and my husband was in great pain in his leg. You note that everything can end there. The German soldiers let us go inside and wanted to take us to their country. In the end they found us from the Embassy of Spain, we preferred that option because they welcomed us into a basketball team. We were exhausted by tension, not sleeping two nights or being able to put anything in our mouths. The second day we were able to fly and the nightmare is over.
When the plane took off he would feel the greatest relief of his life ...
Imagine! You leave your country, your family, your friends behind ... and you embark on the unknown, but you know that it will be better safe, because you come out of hell. My sister is an activist like me, she helps street children and now I fear the worst. Life in Afghanistan is worthless, the Taliban go past the house without mercy, it is a tragedy. I spoke to my sister yesterday to see if I could get out, and she told me that the Taliban had killed eight people at the airport.
His bravery has moved the world. Do you feel that your message can change the course of history?
I do not know if it is so bad, there are many videos of me criticizing the Taliban. I am the captain of the wheelchair basketball team and I know that I go to more places than many women who do not have that voice. The Taliban were going to kill me, that is very clear to me. His coming to power is a catastrophe. We breathed because twenty years ago they had disappeared from power and the country was advancing thanks to that absence. We women were able to raise our heads a little. But everything fell apart. In this return to the past, I promised myself that I would not participate, I was not willing to experience the horror of the Taliban ever again.
Did you rush to leave the United States?
They are political questions, both the United States and the rest of the countries left overnight and left us to our fate. We saw ourselves as insignificant to the world. The Taliban are advancing at full speed and they reached Kabul very fast, no one expected them to take so little time. We had a strong army, but they came to the government too easy, suddenly we were faced with this unexpected situation.
What would you ask the international community?
I would ask the United Nations (UN) from here not to leave Afghanistan alone, that my compatriots need international help, to imagine what it is like to go back in time 20 years ago. It is sad to see how other countries are moving forward while Afghanistan is only going backwards. I am here recounting my experience, but there are thousands and thousands of Afghans who have died in the attempt and need the collaboration of the world.
What future awaits women in your country?
Women and girls are erased from the public sphere. It's hell, now the Taliban try to make up their methods, but they are worse than before, more cruel. Afghanistan's dark days are coming back. There is no future for women.
Basketball opened that door to hope.
It's part of my life. I played basketball with total freedom, my husband did too, I studied and graduated in Law… I felt that all that went to the garbage can. So many years erased at once. It's not going to be easy to continue with basketball, but I'm not going to give it up. When I am on the pitch, I forget what is happening, the Taliban terror. The option to sign for Bidaideak has arrived and I will accept your offer as soon as possible. I know that Albacete and Melilla were also interested, and in other places. Basketball gave me that new life that I dreamed of. He has pulled me out of the clutches of terror. I know it is a more professional team than the one I was in, I will help them as much as I can. I am excited to continue my career. But I also want to work, I will not be a burden to anyone, I will not stay at home waiting for subsidies from this country, I will try to be useful, to give back everything they are giving me. In Afghanistan I supported my family. My husband will also be able to train, I celebrate it.
He was on the verge of going to the Tokyo Paralympic Games, right?
Yes, now I dream of being with Afghanistan in Paris, living it with my companions. It would be something very positive, that everything has been fixed in these three years that remain.
Do you prefer to even remember the episode that left you in a wheelchair?
I am strong, I have it assimilated. I was a girl and a missile hit our home in the civil war in 1992. The Red Cross did not separate from me throughout the treatment. One of my brothers died, and my father and I were injured. It affected my spinal cord. Since then I can't walk normally, it's hard.
Do you think that in the future you will be able to return to your country?
Hopefully, but now I don't imagine it will be short-term. I think I am the proof of the situation there. There is no future, no hope, and nothing to return for. When they arrived at my house they destroyed everything and I was in a panic for myself and my family. The call from Spain was a blessing.
Has the journalist Antonio Pampliega been a bit like the guardian angel?
You have saved my life and my husband's. He has moved everything he can to get us out of there. And now he's trying other people trying to run away.
What else do you want to point out?
That life is wonderful, that we cling to it and that I don't want to be an example of anything, just a small grain of sand to shout 'freedom'. And I thank Spain for their generosity.
Photos from as.com