Bayat and her husband arrive in Bilbao and are welcomed by the Bidaideak
"You are already at home," says the Biscayan club, which has been proclaimed League champion and proposes the signing of the lawyer and captain of the Afghan Paralympic basketball team.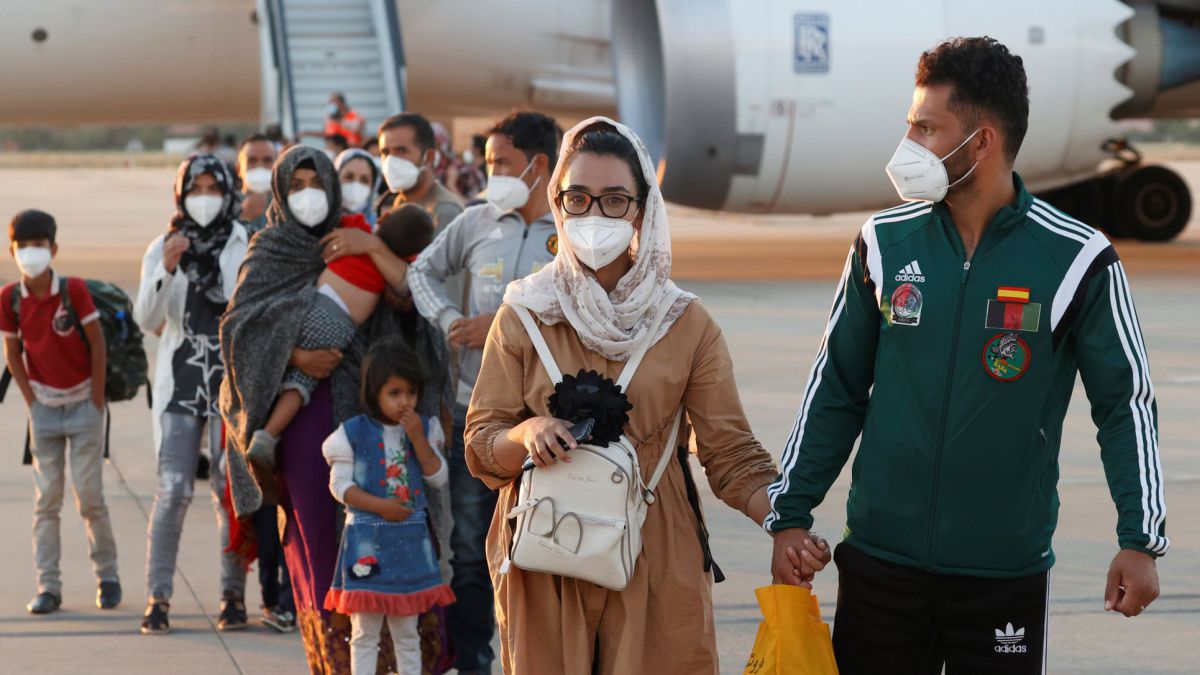 Nilofar Bayat, lawyer and captain of the Afghan Paralympic basketball team, and her husband Ramish, arrived in Bilbao this Saturday night, where they will begin their regularization process and will establish their residence, albeit provisionally, as reported by the Bidaideak Bilbao BSR, team that both could join next week. The Bilbao club has sent them a letter with a clear message: 'Ongi etorri (' welcome ') to our field.' '
Bayat, who was evacuated with her husband on a Spanish plane, asked for help on social media to leave Kabul in the face of the Taliban taking over the city, and the Bilbao club offered to welcome her into their team.After landing first in Madrid, last night she traveled to the capital of Biscay, together with her husband Ramish. The Bidaideak Bilbao BSR has sent you a communication in which they welcome you, with an 'ongi etorri'. "You are already at home," he assures.
In addition, he explains to them that, "in the Basque language 'ongi etorri' has a deeper meaning than a 'welcome' or a 'welcome'". "It is a proclamation of sincere empathy towards those who visit us, an expressed wish that their stay with us be pleasant and prosperous," he added.
The Bilbao club transmits the "symbolic relevance" that it entails. "We use it so that people who have been absent from their homes for some time, feel the warmth of the reunion. In your case, it also has this deep flavor. Although a week ago we did not know you, not even because of your participation in the selections of wheelchair basketball from your country, from the same moment that your anguished SOS reached us through Antonio Pampliega, we felt you were missing ", he assures.
In this sense, he points out that his wish was that "this predicted horror would be left out" of the lives of Nilofal and Ramish "shortly", remaining as "an anecdote from the past". "We live every minute of your transfer to the airport, of your waiting in it, of your looking for a plane to get out of the horror, with the anguish that impotence generates. We knew that the Spanish government had mobilized, we knew that you were on the lists of expatriates, but we also knew that in war situations everything is volatile ", he points out.For this reason, he asserts that the members of the Bilbao team experienced "impatiently the lack of news" and jumped "with emotion when, finally", Bayat told them that they were already on an aircraft heading to Madrid.
"Then, calmer, we lived your stay at the Torrejón facilities and the decision to come to Bilbao. Now you are among us. And like someone who recovers someone after missing them for a long time, we say 'ongi etorri' to our city, our Bizkaia, Euskadi, to a space that we hope you will end up making yours, that you feel it as your own, even though you know that you are far from your country ", the letter continues.
Bidaideak Bilbao BSR expresses its confidence that this is the place where they can resume their vital projects, "the place from where they can open their eyes to the world about the reality of Afghanistan", the space from which they can "continue to claim human rights" .
"And if you want, too, where you can continue practicing your favorite sport. We know well that it is not by far the most important thing, that you have a hundred things to fix before in your lives, but we also give you the 'ongi etorri '. Know, in any case, that although one day you will get to compete with our shirt, put on you will be everyone's. Surely no one will be your rival, "he stresses.
In his opinion, then, it will not matter if they score points in favor of Bidaideak "because your baskets are different and everyone, regardless of the team, we are sure, will applaud you for what you already represent: the voices of dignity and of the struggle for the rights of women and persons with disabilities ".
"And, in this, if we want you to be champions. We, know it well, we will accompany you in whatever you need us, we are bidaideak, which in our language means traveling companions. We now open the doors of our house wide for you without knowing you, "he concludes.
Photos from as.com