Barcelona approved and suspended: the roar of Memphis was left in a meow
The Dutch forward showed his face, and was even close to scoring, but neither Griezmann nor some teammates were up to the task. Bad match for Alba.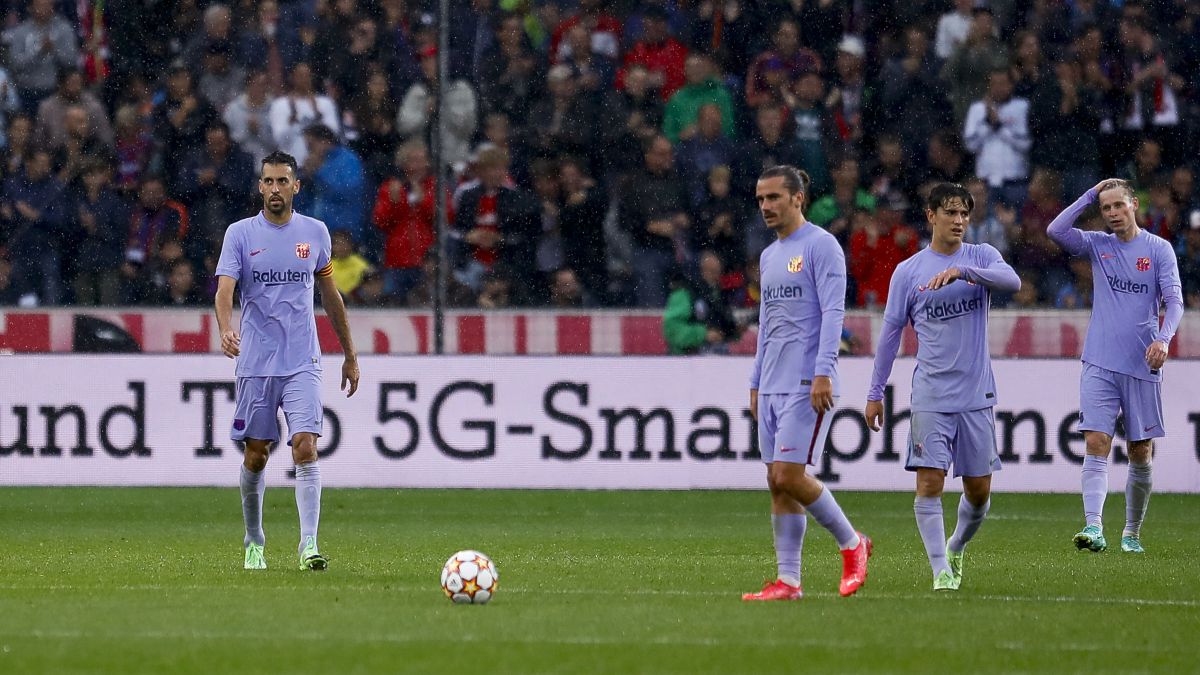 Net: The Brazilian goalkeeper is not Ter Stegen. From this premise it is necessary to evaluate their performance, which in general was very bad. Not only did he make the statue in the first goal, although it is true that De Jong slightly deflects Sucic's ball, but he was lucky that Okafur urgently needs to go to the eye doctor because under normal conditions, the goal would have gone home with a win. of scandal. Even with his feet he made unforgivable mistakes. The feelings for this start of the season, with the German goalkeeper still recovering from an operation on his right knee, are not at all promising.
Araújo: The Uruguayan was the only one in defense to show his face and put up with the guy. While his teammates were blurring as the game progresses, the central stood out to try to reduce all the waterways. Also in each set piece it seemed the most dangerous option. On a Memphis pass, he came close to scoring with a header.
De Jong: Koeman should be told to stop pestering his compatriot, delaying his position. The Dutchman does not like to play so far from the rival area nor does he offer his full potential playing as a third center-back. A somewhat irresponsible way to lose a great player.
Lenglet: Demanding dates often expose the Frenchman. Either because of his attitude, character or languor, but he is usually portrayed. Against Salzburg he was no exception. He had obvious marking and concentration problems, but it wasn't the worst by any means. He had a great chance early in the game with a clear header that went wide.
Dest: Good game from the right back. Within the accumulation of mistakes and errors, he was one of the least committed, even saving a goal on the goal line. In any case, as we say in Spain, on the planet of the blind, the one-eyed man is king.
Sergio Busquets: He received so many sticks in the first minutes that Badia's ended up being more attentive to not being injured than playing as he knows. Overwhelmed on more than one occasion by the suffocating rival pressure.
Nico: One of the few who were saved from the general rout. It is true that he made some mistakes and lost balls in conflict zones, but his talent and desire make up for any lack. He moves well between the lines, always plays with his head high and has the strength to withstand the push of the marker. There is a player to enjoy for many years.
Gavi: Another who can leave Salzburg with his head held high. He has poise, dribbling, sacrifice and many, but that much desire. Another thing is that one day things turn out well and others worse. This Wednesday was a bit uneven, but with more green shoots than dark spaces.
Alba: His match was disastrous. Bad in attack but worse in defense. Thick, failing, without resources, outdated and with major errors. Not only did he never get along with Gavi or Memphis in the offensive phase, but he also made two errors in unforced passes that could cost the team dearly, especially one for Neto, which is to put his hands at his head. He has to improve a lot if he wants to get to the Gamper in conditions and especially to the premiere of LaLiga.
Memphis: Luckily this Dutchman has arrived to put some order in a team that often moves on the razor's edge. He continued to demonstrate his enormous abilities and great talent, but this time he had few partners willing to follow him in battle. He had a one-on-one with the goalkeeper, after getting rid of his marker, but sent the ball slightly deflected to the far post. He lasted ninety minutes on the field.
Griezmann: Bad game for the French. This time there was neither chemistry nor physics with Memphis. We do not know if the downpour that fell during the game ended up deactivating him, but his game was more than disappointing. He neither participated in the attacking game nor did he hardly press. With parties like this, he is knocking on the door of a transfer and he has to be careful because the current president's pulse does not tremble when making decisions.
CHANGES:
Sergi Roberto: A lot of heart, but sometimes, and perhaps too many already, little head.
Comas: The center-back jumped onto the field at a difficult moment, with the team failing, but he held on.
Braithwaite: Scored a rebound goal off Dest's shot. Well, congratulations.
Balde: He came out in the second half and in an instant he already left his hallmark with a great shot from outside the area that Mantl cleared in extremis.
Demir: Whistled throughout the game, he was seen wanting revenge. He comes from Rapid Vienna, the great rival of RB Salzburg in the Austrian league.
Umtiti: He was not injured. That is the best news with a game where a real waterspout was falling.
Manaj: Had little time to settle.
Riqui Puig: As usual in Matadepera, when it comes out it is a reagent, although this time it drowned before the rival gale.
Photos from as.com