Munuera Montero's arbitration is striking, beyond his extensions of the record in Vigo: 9 rojiblancas fouls, five yellows and one red. Celta, 11 and four yellows.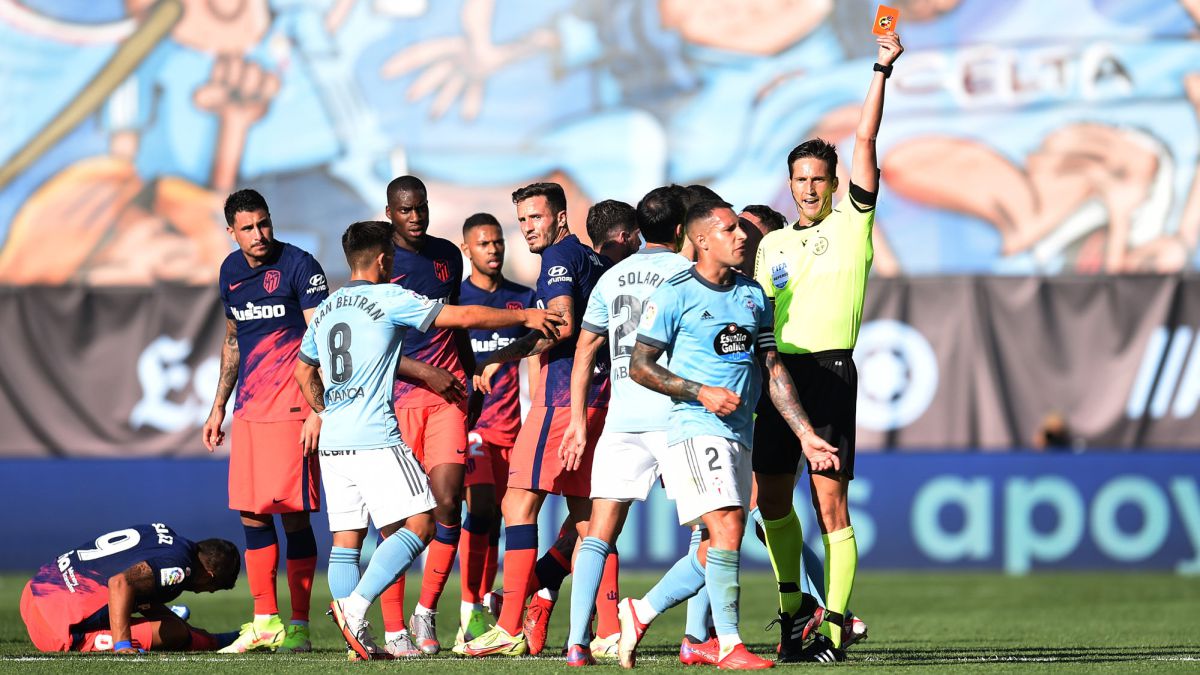 Ni Ramón de la Cruz would have written a better farce than the one Munuera Montero has been writing for three days with the Celta-Atlético minutes. Because yes, the game was played three days ago, but it doesn't matter, Munuera Montero continued writing the minutes as if it were a series with several seasons ahead. Not George R. Martin. Because Munuera Montero took out the pen and, yesterday, suddenly, added to his report the reason why José María Giménez, the second rojiblanco, saw the yellow in minute 98. "Remain standing in his technical area, after having been advised to sit down. "
Curious, because Giménez was one of the rojiblancos footballers who completed the game, the more than 100 minutes that it was played, after a striking addition of seven, and sit down, of course. Shortly after the referee, perhaps alerted by the surrealism of his addition, he took the pen again while he hit Control + Z. The yellow to Giménez would not disappear but it would change the reason for his card. Now "for protesting" .
Disparity of punishments between Atleti and Celta
Nothing, by the way, from the finger in the eye of Aspas to Hermoso. Something striking and that puts Atlético on alert. First day of the League and already haunted by the cards. It was a constant last season, in which he was proclaimed champion, despite this. A striking load of cards that he felt again on his shirt on Sunday in Balaídos. Atlético committed nine fouls, Celta eleven.
Munuera Montero punished the first with five yellows and a direct red. The second, with four yellow cards, a double for Mallo. And we no longer talk about that penalty called Llorente for a hand that the day before, being almost identical, Lucas Vázquez was not called, which, according to the referees, with a public appearance and several private ones, did not it would be a penalty. Or for Atleti yes? What was written, nor Ramón de la Cruz.
Photos from as.com