Approved and suspended of Real Madrid against Betis
Benzema is intoned after the break and assists Carvajal with class. Bale does not appear. Vinicius puts an edge and justifies his ownership.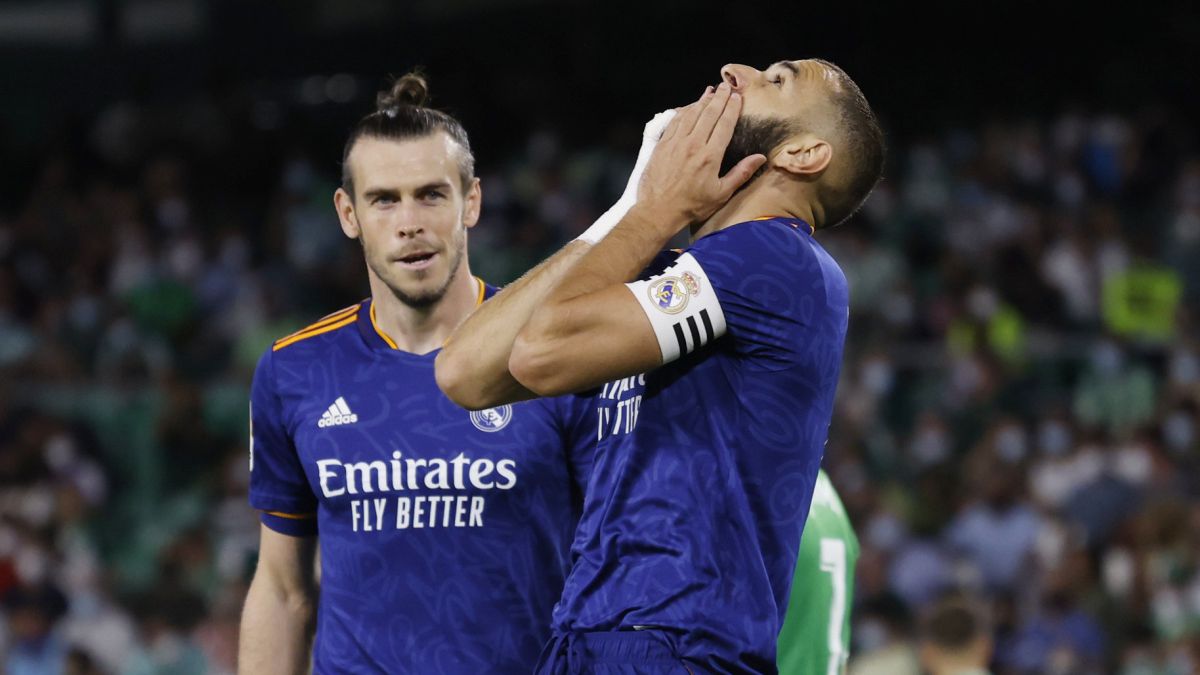 Real Madrid won at Betis (0-1) with a goal from Carvajal and added seven points out of nine at the start of the season, after three away games. Vinicius returned to leave great details, although he was unmarked, while Bale was a starter, but it was as if he did not play. While waiting for Mbappé, the Brazilian player justifies himself.
Courtois: He had some work in the first half, especially in a foul in which Fekir tried to surprise him by hitting the near post, but the Belgian reacted well. Something worse was then in a centered shot by Juanmi in which he cleared the center, causing fear in the rear. In the second half, Betis tried him from afar, but always very focused, except in the last action in which he corrected very well to close Betis's foreseeable draw.
Carvajal: at Levante he seemed to come back in great shape, but in Seville the seams showed. He lacks rhythm after a year in which he could barely play due to injuries. Vague with the ball, yet he was able to score before the Vaseline break, in a center-kick that Rui Silva cleared with effort. He improved after the break and found the prize scoring the 0-1, with a great volley with the right coming from behind, after Benzema's center. The left-back game ended after Miguel Gutiérrez left.
Militao: much better than at Levante, very fast to correct and to get the ball out while driving. He tried his luck with a volley from the front that came out centered, but carried poison. In the last action of the duel he stumbled and almost ended in a draw for Betis; he has a lot to thank Courtois the Brazilian for.
Praise: he is seen less as a center-back than as a full-back, although that's what it is all about, going as unnoticed as possible. It has a physical point above the rest and it shows. He made a serious mistake in the back that almost ended on a clear occasion for Betis, fortunately for him Miguel Gutiérrez intercepted the final pass and started the play from 0-1.
Miguel Gutiérrez: started the game with a lot of personality and without nerves, especially with the ball at his feet. It does not burn as one might expect from a boy with hardly any experience. He took several hard tackles in the first half, especially an elbow from Canales that could deserve more than one yellow. He saved a ball with which Betis stayed hand in hand with Courtois, after which he started the play that ended at 0-1. He left in 83 ', exhausted and somewhat bruised, giving entry to Rodrygo.
Valverde: appearing a lot in drives on the right, but without giving rise to the white game in possession. When the game speeds up, he is more comfortable; when you pause, you see some shortcomings. After the break and, above all, after the 0-1, he helped a lot to give Madrid a boost to hold the score.
Casemiro: the season has started slowly, as it usually happens; It is a diesel engine, when it gains cruising speed it will once again hold the white midfield by itself. He left a curious image with an accidental entry on Hernández Hernández, ending the two on the ground laughing. In the final section he gained weight in the duel with interesting drives through the center, pulling power.
Isco: much worse than in Valencia, where he gave a great level. In Seville he got too entangled in long drives without a prize and had to appear to unblock before the high pressure of Betis. He tried the shot from the front, with no luck. He left in 66 'for Asensio to enter.
Bale: He tiptoed through the first part, hardly showing himself. In minute 52 'he served an excellent center to Benzema, in an action canceled for offside. Then he repeated another good center and outside. Quality drops that did not justify a poor Welsh match. He left in 66 'for Lucas Vázquez to enter.
Benzema: He had the opportunity to facilitate the game for Madrid after five minutes, with a free ball after Vinicius's play that he sent out, by centimeters. It was clear and he knew it, he chewed on it for a while. He does not walk with the spark of his best moments, but nevertheless he gives a looseness to the Madrid attack that is gold. It was intoned a lot after the break, starting with two good headers, one of them ending in a goal, although both actions were canceled for offside. He assisted Carvajal to make it 0-1, with a great and precise center.
Vinicius: started the game as the past ended: flying. He played a game down the left to then serve a perfect ball to Benzema that the Frenchman ruined. Then it was participatory, although too individualistic; he needs to learn the right moments to damage with his dribbling, but while it is the most different thing that Madrid has at the top. He left an action in the Betis area, breaking two defenders with a short turn, which lifted the stands. He fought with faith a ball that was leaving and with this he made it possible for Madrid to score the 0-1. He justified his ownership. He left the site to Hazard at 78'.
Asensio: entered in 66 'for Isco. He had the 0-2 with a counterattack in which he finished off narrowly. He tried again at the edge of the end, the long shot is undoubtedly his best weapon.
Lucas Vázquez: came in at 66 'for Bale. He returned to his role as a far right and got up with danger.
Hazard: entered in 78 'for Vinicius. His first action was to receive a yellow for delaying a corner kick. Then he connected with Benzema and released a left foot to the center, without aim.
Rodrygo: entered in 83 'for Miguel Gutiérrez. Few minutes, but very good disposition.
Photos from as.com