Antonio García will honor Adrián Campos at Le Mans
The Madrid rider will wear a helmet in honor of his mentor and will fight for his fourth victory during what will be his 15th endurance race.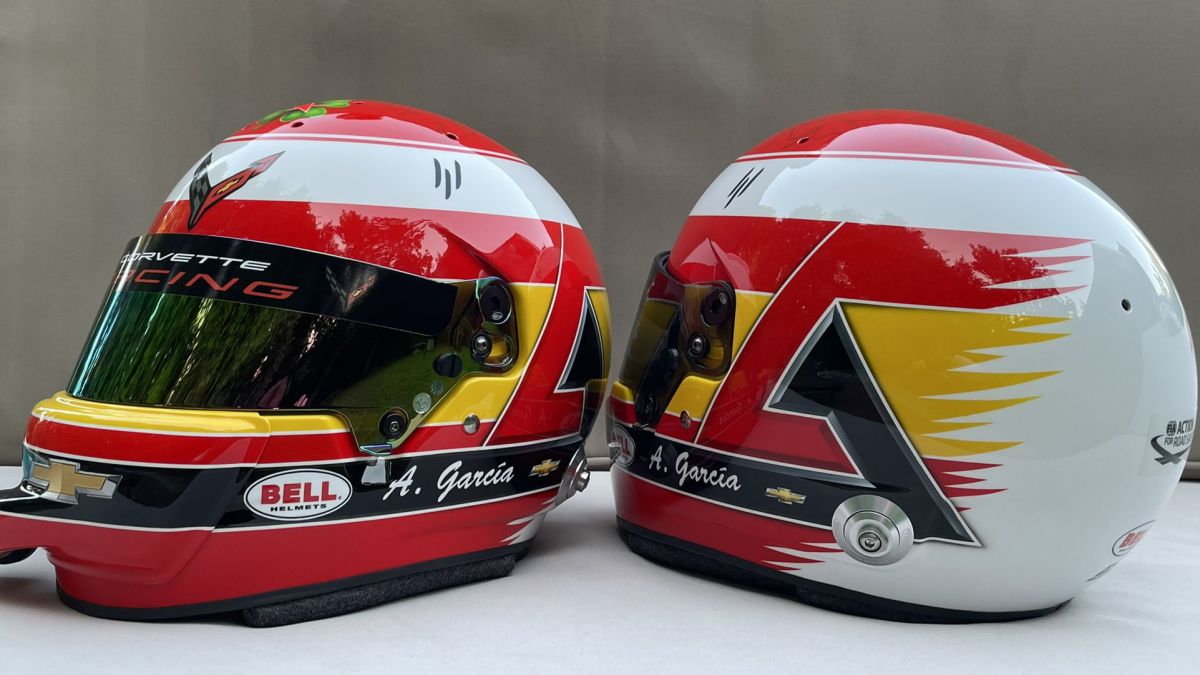 Antonio Garcia experienced a surreal victory at the 24 Hours of Daytona earlier this year. His car, shared with Jordan Taylor and Nicky Catsburg, crossed the finish line as first classified, but the Spaniard could not stay on the track. García had tested positive for Covid-19 and could not be at the celebration, although it was later a false positive.
Now, the Madrilenian confirmed the return of Corvette Racing at 24 hours of Le Mans. He could not be at last year's appointment due to strong restrictions due to the pandemic. The three-time Le Mans and Daytona winner will take advantage of the most prestigious event of the WEC to honor his mentor Adrián Campos, through a design on his helmet.
In 'Twitter' he gave the news, where he also commented that the idea has been agreed with Adrián Campos Jr, the first-born of Alcira's. In addition, Lucas, the third of Adrián's children, suggested that he wear the same design as his father in his last participation in Le Mans 1997 (race in which he retired from motorsport), but García preferred his idea that has been shaped by the Artistic Airbrush Study, 'Aerodiseño'.
Adrián Campos was a great influence in his life
Covid-19 has taken away many of our loved ones, Antonio García had two losses due to the pandemic. First it was his grandfather, and then one of his great mentors in his life, Adrián Campos. The Alcireño was vital in Madrid's early years in professional motorsports.
"I met him at the national awards ceremony, and after he retired from racing in 1997, that's when he started creating his own team, Campos Racing. I was his first driver in '98, competing in Formula Nissan, or Euro Open championship ", he recalled on the American web portal 'Motorsport.com'.
"He took care of me. After a while, I took care of my own business, but Adrián was ... my father in racing! Basically, I didn't make any decisions without talking to him first, even if the final decision was mine. It was a very special relationship. " The loss of Adrián was very hard for the Madrid native: "Since 2015, I joined Campos Racing as a shareholder, so I'm part of the team even now. So losing him in January was a huge loss for me, and obviously a giant loss for me. his children. He really was a good man. "
His tribute at Le Mans will be through his helmet. A helmet that combines its elegant and simple decoration with the simple design of Campos: red top, white band and a slightly stylized Spanish flag on the sides.
"I think it turned out quite well and quite evident: the sides are basically my helmet design over Adrian's. I really like this combination." The Madrilenian claimed that wearing his mentor's features will not add any pressure: "I think it will just be very special. Daytona was very emotional because I was driving there just two days after his death, and I spoke with him almost the same day. he talked about how happy he was that I was racing there, and he wondered what the chances were that we would win the race, etc. "
"It will bring me a lot of emotions in my first runs at Le Mans, knowing that somehow I am taking him down the track where he retired from racing in 1997", concluded the Spanish rider. García's action has been applauded by Álex Palou, Indycar driver, who also comes from the Campos factory.
Photos from as.com