And now PSG for Cristiano
Al-Khelaïfi assumes that Kylian will not renew, but will not let him go to Madrid until 2022. The replacement will be Cristiano, who will also be free next season.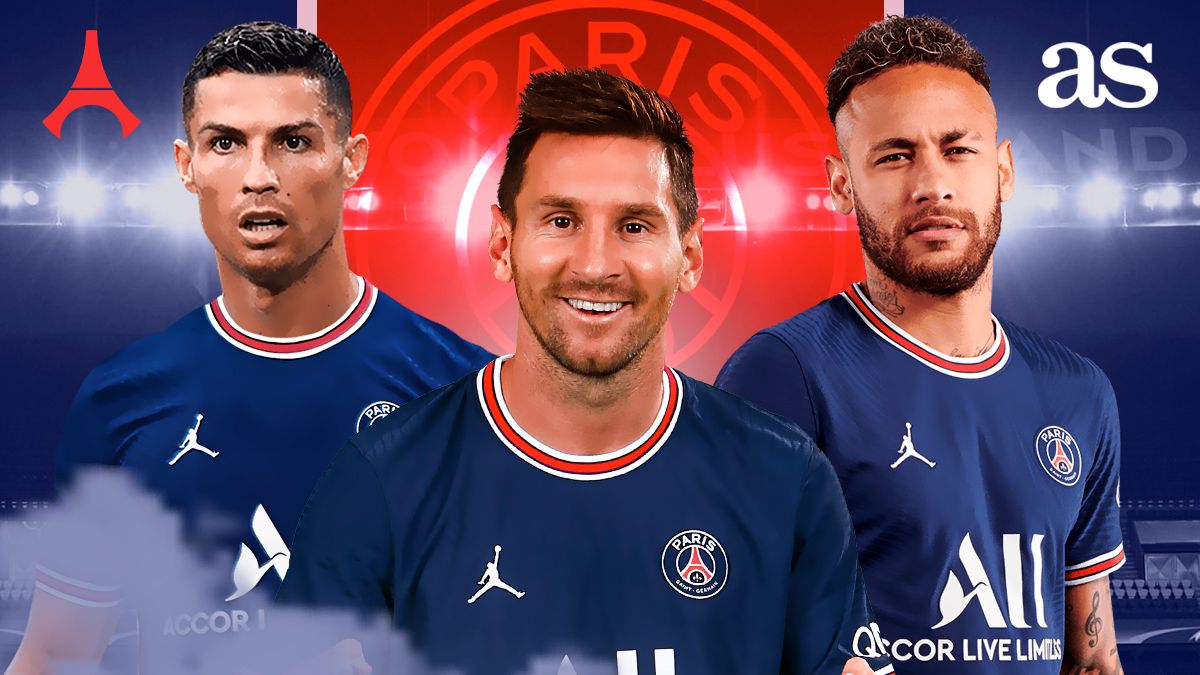 The galactic and universal dream of Al-Khelaïfi with his PSG has no limits. After the bombshell of the summer starring in recent days after surprisingly achieving the signing of Messi when everyone considered him renewed (or signed) with Barça, now it turns out that the Parisian sheikh has not only decided not to sell Mbappé to Madrid this summer (It is not a question of money), but already has prepared the relief of Kylian for the next season. The French player will end his contract there and will be free to finally sign for the white club, since he still does not renew his commitment to PSG (ends in 2022).
According to AS, PSG has assumed Mbappé's departure to the Bernabéu at the end of the next season, totally free. They know that the kid has very clear ideas about his stagnant renovation and nothing will change his mind. But in exchange, PSG will hire Cristiano Ronaldo, who will also be free to leave Juventus on June 30, 2022. Conclusion: PSG will exchange one card for another at zero cost at the transfer level. He will not get a euro from Madrid, but he already has a gold substitute and for the same cost. Gathering Messi, Neymar and Cristiano, the podium of the Ballon d'Or in 2015, would be the ultimate. Messi won that edition with 41.3% of the votes counted, Cristiano was second with 27.7% and Neymar finished third with 7.8%. Al-Khelaïfi always wanted to reunite the three of them in Paris and once Messi is closed, he has it closer and closer. Jorge Mendes, Cristiano's agent, is already aware of everything. And Cristiano would have an extra motivation. He would arrive in Paris at the age of 37 and sign for two more, just to leave him at 39, which is the age at which he is considering taking a step aside or going to less demanding football, such as the USA or Qatar. In addition, if Cristiano leaves the same door that Mbappé leaves, in the Parque de los Príncipes almost nobody would be annoyed. PSG's galactic project is unleashed and is very reminiscent of the galactic one that Florentino Pérez built in Madrid between 2000 and 2004.
But let's go back to Mbappé. Al-Khelaïfi has the floor and used it with the sharp point in Messi's presentation ceremony: "Mbappé wanted a competitive team and he already has it. He has no excuses ". The last three words sounded like a threat, nothing veiled, towards the French player. In the noble floor of Real Madrid, this reaction from the president of PSG was taken with ease, since it is already known that in the roadmap for the signing of Kylian towards the Bernabéu, Florentino will not find a single green traffic light.
The position of PSG is to pressure Mbappé to forget his Madrid dream and wear him down with these kinds of phrases, which put him even more against that PSG fans that are clearly devoted to Messi since his tumultuous arrival in Paris.
In Madrid they are calm: "Kylian is a kid with a well furnished head and he will not change his decision due to public pressure and coercion from Al-Khelaïfi. We remain calm with him." Indeed, Mbappé has talked about everything with his family and his decision to sign for Madrid is unquestionable, whether this summer if PSG finally opens its hand to negotiate (something highly unlikely, given what has been seen) or waits for the season to advance and thus from next January 1 he will be able to freely close his contract with Madrid to land at the new Bernabéu in the summer of 2022. Therefore, if Al-Khelaïfi wanted to dissuade Mbappé with his phrases or intimidate Madrid with that threat to retain him in Paris anyway, he has not achieved the objective. Both Madrid and Mbappé know that in the end they will unite their destinies. Privately they have already said "yes, I do." Sometimes a word is worth more than a 200-page contract. Florentino is being cautious and knows that between now and August 31 things will happen and that Mbappé will slip some more message. But Mbappé will come to Madrid for sure. And through that door, Cristiano will arrive in Paris ...
Mbappé is silent
"Mbappé said: I want a great team. Right now, he has a great team, one of the best in the world. He has everything to continue here. I told him, he has no excuses to leave." It was Al-Khelaïfi's phrase about the non-renewal of Mbappé that sounded like a cold war between both parties. In addition, the PSG President continued with his lecture at Le Parisien that sounded like trying to build a silver bridge that is actually broken: "I will never talk about the negotiations with Mbappé and his family. It's one thing between us. Kylian is happy of Messi's arrival ".
"Some media look for problems, but there are none." The proof that the positions of both are not close is the silence of Mbappé on the arrival of Messi. Neymar celebrated it on his social networks ("Back together", "we are back together") but Kylian has kept a silence that has sounded intentional and strategic. The last thing Kylian posted on his Instagram was a photo at Disneyland Paris next to the Iron Man showcase. Three come out. Curiously, PSG also made a podium to celebrate the arrival of Messi, but put the Argentine in the center, leaving Mbappé aside. This is how the 22-year-old French feels. He has seen how every year he loses hierarchy at PSG, just the one he would win if he reaches Real Madrid ... 444 444

Photos from as.com