"Fernando Alonso is the guy you want to go to dinner with"
Laurent Rossi, CEO of Alpine, speaks with AS after confirming the Asturian in the 2022 car: "Right now he is in his twenties in mind and body."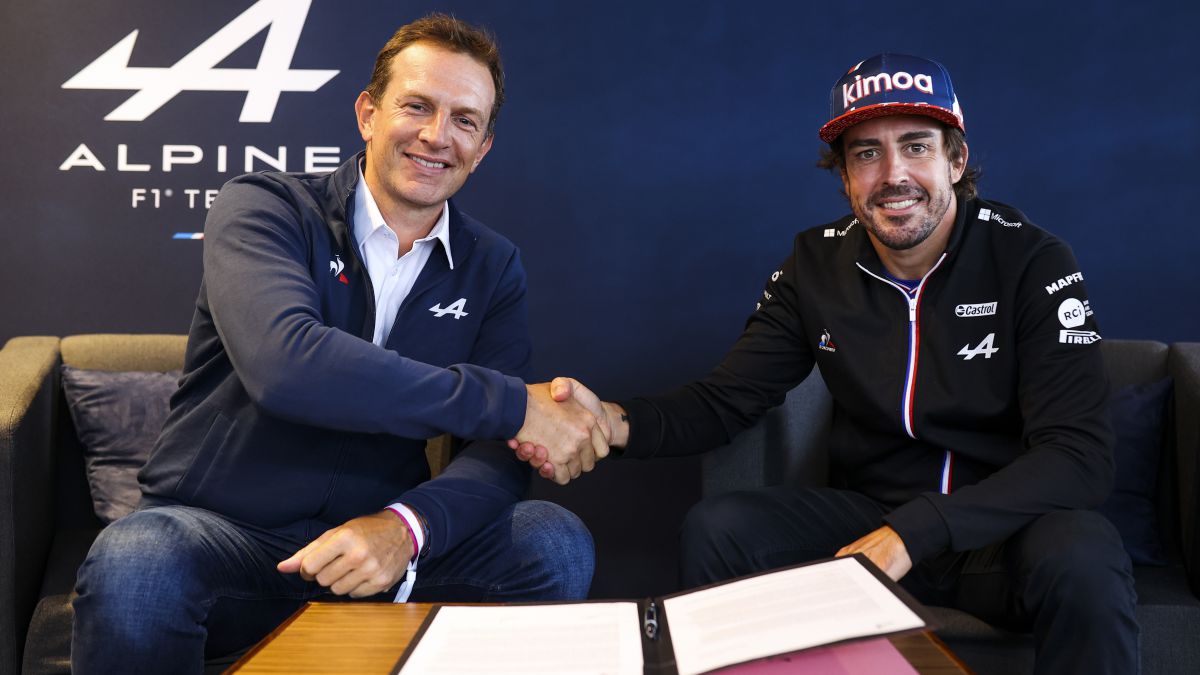 Laurent Rossi (France, 1975) declares himself in love with football, "his favorite sport", and a fan of Bastia, the club in his city. "But when you have a team like that you need a big one, which in my case is PSG and Real Madrid. That's why Mbappé generates mixed feelings in me," the Alpine CEO humorously confesses in a conversation with AS and Marca, after the confirmation of Fernando Alonso in the car of 2022.
— Why does Alonso 'renew' only one season?
— Because it was a one-year plus one-year contract, and we activated that additional year. There was no point in renegotiating the contract (and lengthening it), but we thought it was important to communicate it because people believed that it was a two-year agreement. If you don't say anything, it's weird, and we say it. It was not very surprising because he is performing well and the conversation was quick. Next year, we'll have another conversation.
— Who has to convince whom for Alonso to continue from 2023 onwards?
— Both. When you have a champion like Fernando, who showed in Baku, on the sprint or in Budapest, that he is one of the best drivers of the moment and in sport, you really owe him a good car. And vice versa, if we have a good car and a good team under the new rules, he must maintain himself at the highest level. It is normal for him to hesitate, it is a physiological question, if you want to say it like that. You cannot maintain that level for your entire life, even if you do your best. Right now he is in his twenties in body and mind, he performs perfectly. If it continues, we continue. If it doesn't work out, we won't do that extra ugly year. Fernando belongs to the family and the history of Renault, he wrote the most beautiful pages of our book and we owe each other excellence. That is why he himself signed a contract from year to year, I was not in that contract but I understand it. This champion deserves the best of the best and this year he is also writing a good page in his legend. We've talked a lot about this and trust is mutual.
— So, it is still one by one…
— For now, yes. If next year everything is incredible and you want to continue in the project, maybe we will sign something different. But we are not at that point. Nobody knew what the level of Alonso would be after the withdrawal, it is normal. Next year, we will see. It could be a 'plus one', or maybe two years, why not? The time will come.
— Back at PSG, was signing Alonso like signing Messi?
— Yes, in a way, yes, in fact this time we decided to advertise it in the way of football, with the jersey, because we both like it. He is a fantastic athlete who is near the end of his career but can still contribute a lot to the team he joins. Messi will also make PSG better, in many ways, I think.
— You come from the business world, what does Fernando mean as a marketing platform to build the Alpine brand?
— There are several dimensions. First, it has a huge fan base that is now associated with Alpine. That potentially triggers a lot of curiosity around the brand and our cars. We have not measured it yet, it is six months from the launch. We noticed the positive effect of F1, but it is more difficult to measure that of Fernando, we will do it at some point. Also, as you mention I am a businessman and Fernando attracts a lot of sponsors, because they are interested in his fan base. He is a fantastic athlete to be associated with, like Messi, Djokovic, Nadal and others. It makes sense to have him, because conversations with sponsors are easier that way. They know they will have a fantastic ambassador.
— What is it like to work with him?
— I had been told many things about him before arriving. I don't know if it's because he's getting older, or more mature, or because he connects with me, or because they were bullshit, and I'm sorry to say it like that… but Fernando is incredibly easy to work with. We think the same, we demand excellence but we work very hard for it, with discipline. As a person, I've had countless laughs, this guy is so funny… I've laughed for days at how he tells the story of his bike accident. I imagined him distant, like a great champion, and it turns out he's the guy you want to go to dinner with. You won't drink the wine and you laugh like you're drunk.
— What do you expect from the car and engine of 2022?
— I am an engine engineer and I can say that this is not acceptable, I do not like not having the best engine and Renault has been in F1 for 45 years, always, as an engine supplier. It is not acceptable not to have a good power unit with that condition. There is work to be done. The engine freezes up next year and we are in a race against time. And on the car, we have reached the limit with this car, which has been good in general, and we must take another step.
— Where to?
— To the first place on the podium. To the victories and the title. But it's a three-year, one-hundred-race plan. We will not be champions in 2024 or 2025 from fifth place in constructors.
— Will Ocon and Alonso win races in 2022?
— First we have to fight for it. Horner has been wanting to be the first for seven years, and surely he has done everything he could, you do not decide if you finish first but you strive to progress. This year we defend fifth place, next year we want to do better and maybe be on the podiums. If we don't win, am I disappointing? If we do podium in all races I will be very happy, for sure.
— It is a big challenge…
— It is a difficult challenge, but it is not critical. The goal for me is to reach profitability in 2024 or 2025, that's the horizon, for the Alpine business unit. That means that the income from selling Alpine cars, from sponsorships in F1 and in other sports covers the investment in the sport, but also generates profits. Then we will be adults within the Renault Group, not adolescents. It's good to win every year, but if we are second or third and we sell a lot of cars, the goal is met. And it is much more difficult, we have to build a brand, multiply it by five, add three new cars that have to be very good together with a car that already is in a challenging industry. They are very important decisions, the competitiveness is very high with some forty brands. F1 is exciting, but it is not the most critical thing I have to do. It's important to get it right, but the challenge is bigger than F1.
Photos from as.com