Albés: "We played a game to score points"
The Lugo coach positively valued the performance of his footballers, whom he congratulated for their effort, despite not being able to get a bigger booty.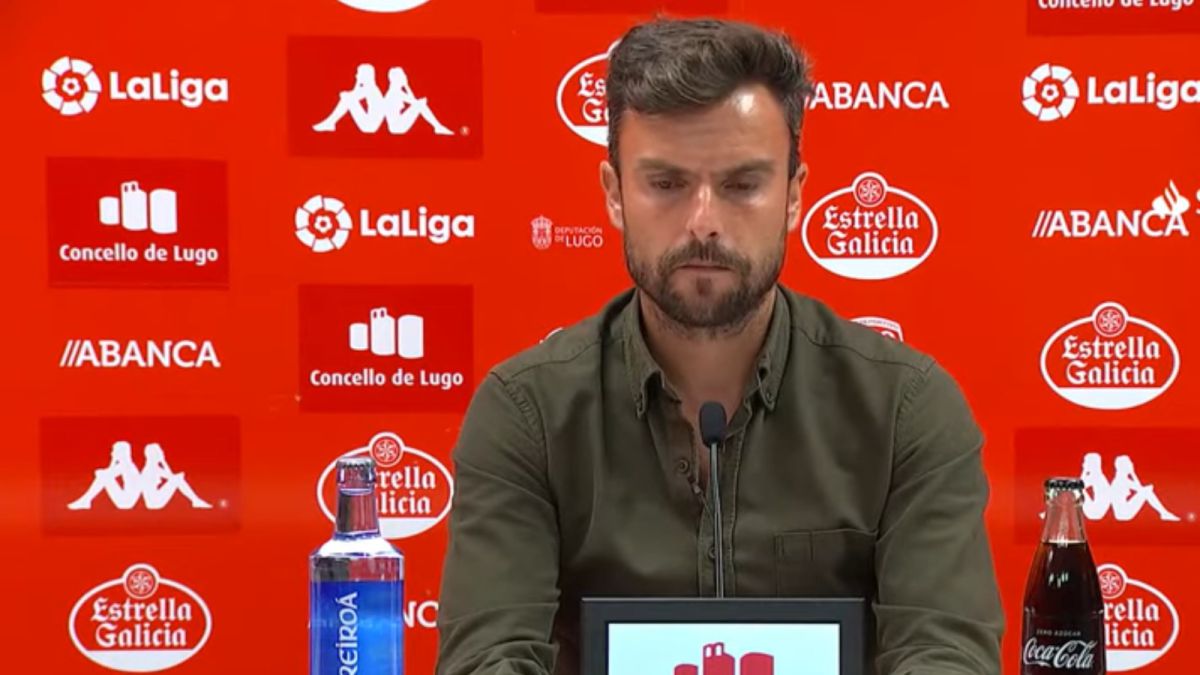 Rubén Albés positively valued the performance of his Lugo against Real Valladolid, understanding that they played a game "good enough to score points", and acknowledged leaving Anxo Carro "screwed up" due to the impossibility of doing so, thanks to the lack of success they had even before the controversial actions of the meeting.
What is your assessment of the meeting?
I think we're screwed because I think we've played a good enough game to score points, for sure, and also because I think people have given themselves 200% to a rival like Real Valladolid, which goes without saying the level he has, but we have not had enough success to score, avoid especially the second goal and score. Even so, if my team loses, let it be like this, against them and also doing what we have done, which I think is important.
Why weren't Gerard Valentín and Manu Barreiro headlines?
Manu Barreiro only trained on the last day and alone he was smart enough to know that we cannot risk a footballer of his level, and also Joselu is a good striker and has been doing things well. The Gerard Valentín thing is related to a game plan that we thought we were going to take advantage of more in the second half, and I think that has been the case, but without the success of the occasions.
How did you see the penalty? How did you feel about arbitration?
The penalty is football, we do not know what would have happened if he had put it, but before we had a ball that we did not contact in a small area practically alone. Eleven against eleven we were already very good, it was not only the result of the expulsion. I think we had minimized the rival, but it is clear that, when you play against a team like Real Valladolid, the chances of being penalized when the very good ones fall are many. I have not been able to see the controversial actions repeated; I think the penalty is clear, because the arm is excessively high and the ball goes to goal, but I have not been able to see the expulsion.
Pacheta said that they had managed to tie them ...
To be honest, I think it is Lugo who has to tie up Valladolid, not the other way around. Their players have done an enormous job and their centrals have dominated the area in an incredible way. I think that before the expulsion we were being better, and I think that the public has also felt that way. Occasionally they tell me, the rival tells me ... and that opinion will not be changed by anyone.
Does the second goal hurt?
The second goal is a mix between his talent and our desire to draw, which makes us make those mistakes. But I repeat that, if I fall, I want to do it like that, giving ourselves until the end, looking for the goal until the end ... I can't do anything other than congratulate the footballers. What more would they want done than to have scored a goal on the occasions we've had.
Are you expecting something in the remainder of the market?
We are very 'pelaos', so it could be that something arrived, but in very specific parameters that I cannot say. It is ruled out that an extreme arrives and only someone will arrive on the side in very specific conditions that allow us to do so.

Photos from as.com