5 stars for Madrid at € 0
The white team is so satisfied with the Alaba operation that they have several more goals for the summer of 2022, all ending their contract then.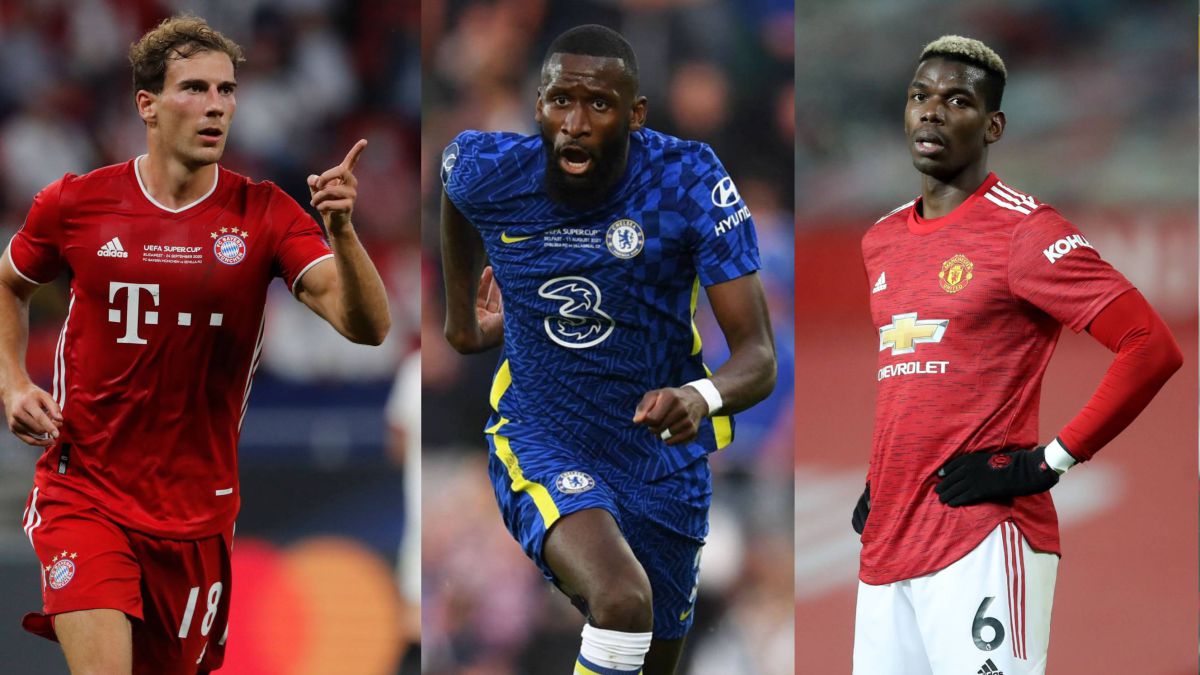 Real Madrid is signing a sober and content summer transfer market, with only one incorporation (David Alaba, at zero cost) and several exits between sales (Varane, to United for 50 million), contracts ended (Ramos, to PSG) and transfers (Kubo, to Mallorca, and Brahim, to Milan). Until the end of the market (on August 31), Madrid is betting everything to bring Mbappé, as long as PSG agrees to negotiate.
Y, looking at the long term, the club hopes to be able to repeat the tactic it has followed with Alaba: wait for his contract with Bayern to end, negotiating a good salary with him beforehand, thanks to not having to pay a transfer. From that perspective, four players are on the white agenda for the summer of 2022: Rüdiger, Goretzka, Pogba and Camavinga. All end their contract in the next month of June and have not renewed at the moment. Obviously, their arrivals would also require strong transfer bonuses, but always lower than the cost of their hypothetical transfers. With them, Real Madrid hopes to build a future Premium team, but at low cost.
Goretzka
It has already been published in Germany that Real Madrid has transferred its interest in him to the Bayern midfielder's environment if he does not finally renew with the Bavarian team. Last June it turned out that Goretzka had rejected the first renewal offer that Bayern had offered him and that the positions were very far away, with the player wanting to pocket about ten million net per season. Bayern, an example of contention and solvent management for years, has already responded that it will not reach those figures and today everyone in Germany is betting that Goretzka will leave Munich in 2022. For Madrid it is an opportunity to renew their midfield, increasingly older: Modric is close to 36, Kroos is 31, Casemiro 29 ... At 26, Goretzka is in his maturity and was already essential for Bayern to win the 2019-20 Champions League . Its current value on Transfermarkt is 70 million.
Rüdiger
AS already revealed on August 12 that Madrid is very attentive to the situation of the German defender. Last year, his bad relationship with Lampard was close to making him leave Chelsea: he was a regular substitute until the cessation of the blue legend and he acknowledged that he had two clubs behind, one of them PSG. However, the arrival of Tuchel set the stage for the center-back, who regained his position and was important in that defensive strength that led Chelsea to the 2020-21 Champions League. However, his renewal remains stranded and Madrid thinks of him as a solution for the present and the future together with Alaba, Militao and Nacho. Its market value is currently € 28 million.
Pogba
An old dream of Madrid, especially Zidane, who requested his signing in the summer of 2019; the club did their best, but United refused to sell. His time with the English team has been irregular, he lost a lot of weight in the Mourinho stage and has refused to extend his contract. In England they take it for granted that in 2022 he will take his suitcases to Madrid, a club that has always interested him. Despite the fact that Zidane is no longer at the club, Madrid will study the option if he arrives, due to the unquestionable quality of the player and his economic impact at the level of sponsorships and marketing, one of the most powerful in the world. That his agent is Mino Raiola does not play in his favor, as he has always maintained a tight and distant relationship with Real Madrid. Its market value, 60 million.
Camavinga
At 18 years old, the French midfielder is very fond of Madrid. His signing was already studied last summer, but Rennes were asking too much (around 100 million). If in 2022 he can arrive for free, Madrid will bet heavily so that his next destination is the capital of Spain. However, PSG is after him and could make an offer this summer. His agent is Jonathan Barnett, the same as Bale, who has a good relationship with Madrid. Its value is 55 million.
Mbappé
It is the safest option that the club handles. The idea of Madrid is to bring it now, but if PSG does not sell, it knows that it will arrive for free in 2022.
Photos from as.com