Xabi Alonso will have 30 players on Sanse's return to work
Pokorny will be the main novelty at the beginning of the preseason of the Real Sociedad subsidiary this Monday to prepare his return to Second.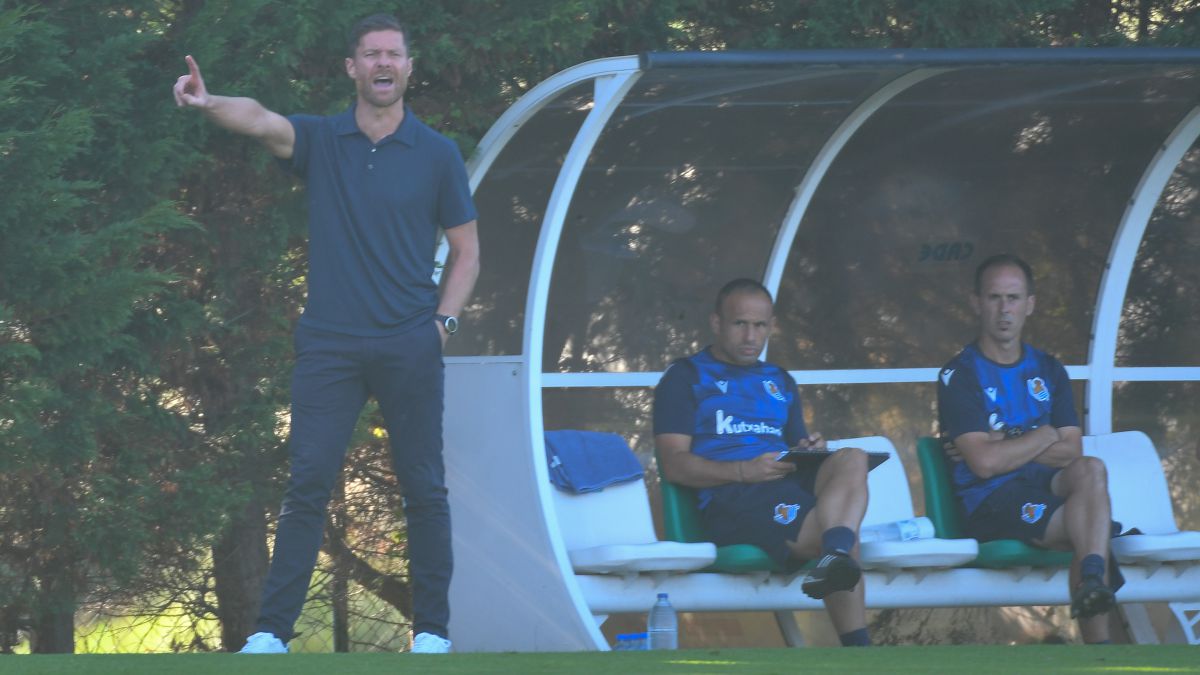 Xabi Alonso will have up to 30 players this Monday at the beginning of the preseason of the Real Sociedad subsidiary, which is getting down to work to prepare in the best possible conditions for the challenge posed by his return to the Second Division this next season. The Toulouse coach will have to discard players from the quarry who start testing with Sanse, looking for an opportunity, but who will later end up playing during the campaign in the realistic third team, in Sergio Francisco's Real C. Slovakian pivot Peter Pokorny will be the main novelty at the start of Sanse's training sessions, being for now the only Real signing to reinforce his affiliate for their participation in the silver category. But it will not be the only notable novelty.
Because there will be two players who will also stand out from the rest in a totally logical way. They are Roberto López and Luca Sangalli, who had already taken the step of belonging to the first team for all purposes; but for different reasons the club has proposed that they take a step back to accelerate towards their definitive consolidation in the First division team. With Roberto López there has been a change of cards with Robert Navarro, whose last season in the subsidiary has earned him an opportunity in the First Division, so the club promoted him to the first team with Imanol Alguacil (also because he had agreed to do so with the environment of the Catalan player). Roberto López needs minutes of play to continue his projection after a year in the first team with a deficit of opportunities. The club understands that being one of the Sanse leaders in the Second Division will be good for its growth.The template for Segunda
Y in the case of Luca Sangalli the reason is very different. Because after more than a year seriously injured without having played at all, and almost not being able to train, it is understood that the best thing for his return to competition is to do it in the Second Division, and thus the subsidiary will take advantage of his experience so that have more ground within a very young and inexperienced team in professional football. It will be a joy to see him train and play after so long of dark individual work in the gym to recover. They will not be the only players with experience in professional football that Xabi Alonso will have. He will also have at his command Alex Sola, who already played in Second with Numancia, but who a year ago had a serious knee injury from which he has already recovered. And also to Näis Djouahra, who has stood out this last season at Mirandes in Second. He returns after his loan and Febe is a differential player in the Realistic branch team.
Xabi Alonso will have to form a squad that will have the important loss of central Jon Pacheco, who rises to the first team with Imanol; but that it will have other footballers who are close to Primera, such as González de Zárate Turrientes, Marrero, Zubiaurre, Lobete and Arambarri. The players that Xabi Alonso will have are: Marrero, Zubiaurre, Ortega, Fraga, Zoilo, Arambarri, Carbonell, Sola, Rodríguez, Ezkurdia, Blasco, Cantero, González de Zárate, Kortajarena, Magunazelaia, Roberto López, Ander Martín, Sangalli, Gorrotxategi, Turrientes, Pokorny, Nais, Aldasoro, Olasagasti, Alkain, Garrido, Martón, Karrikaburu, Martínez Losa and Lobete. All these players are scheduled to start training this Monday from 10:00 a.m. at the Z6 field in Zubieta.
Photos from as.com