"I will contribute work and win, goal passes, goals, dribbles ..."
The 20-year-old Brazilian will pick up Vitolo's number. He offered his first impressions as a rojiblanco about the stadium, Simeone and his new club.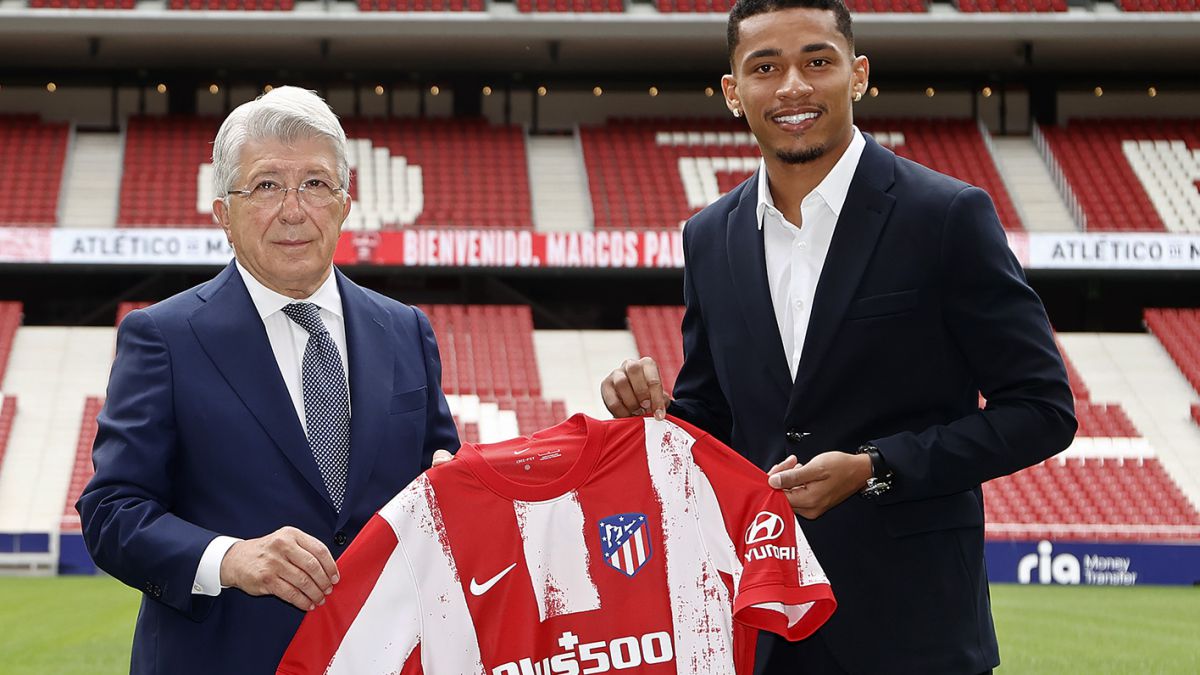 Marcos Paulo enjoys his first hours as an Atlético footballer. This Monday he was announced as a new rojiblanco player after passing the medical examination and now it is his turn to learn more details about his new adventure. The Brazilian - with a Portuguese passport - has visited the Wanda Metropolitano and there the president, Enrique Cerezo, has presented him with the shirt with what will be his number: the 20th that Vitolo leaves.
In fact, the plan is for Marcos Paulo to not only inherit his number, but to occupy the gap left by the canary's departure in the squad. To do this, he will try to convince Simeone from tomorrow, the start day of the preseason. The attacker will be one of the few footballers in the first team to start working and will have his chance to show what he has. For what may happen, some First teams have asked for him for a loan.
Marcos Paulo offered his first impressions through the club: "I am very happy. I am fulfilling a dream to be able to be in one of the greatest teams in the world. It is a feeling that I cannot explain and I hope I can help Atlético de Madrid a lot. I was at Fluminense and there were several teams interested in my work and my contract was about to end. There was a game against Athletico Paranaense and my agent told me that there were possibilities that Atleti would come and talk to us. The game worked out for me. very good, I scored two goals and we had the conversation and I was very happy. "
The footballer is already thinking about his arrival at Atlético. "Now I have to work. It has been difficult, because I stood there for a while, but I am working hard to get here and help a lot. I have seen all the struggle of the team, the strength of the squad and I am very happy to be part of This group. As I said, it is one of the greatest in the world and it is a team that fights to the end, a winning team and I hope it continues like this and I can help too. "
Marcos Paulo also had words for Simeone: "Everyone knows Simeone, as a player and as a coach. I really want to work with him. He is a very important figure in the world of football and I hope to learn a lot here. I am very young and I come here to learn a lot and I hope to learn with him. " The young footballer referred to the Wanda Metropolitano, his new fiefdom. "The stadium is very beautiful. I watched on TV and today I could see it up close. It is a very beautiful stadium. I hope that, with the return of the fans, after going through these difficult times ... now being able to play here will be very good. " Finally, the new Atlético player said that "I will contribute work and a lot of desire, goal passes, goals, dribbles and always wanting to help the team in a way that benefits everyone."

Photos from as.com