When Giannis Antetokounmpo was signed by Zaragoza
The now NBA champion had an agreement with Basket Zaragoza in 2013, but the Greek bet on his career in the United States and did not play in the ACB.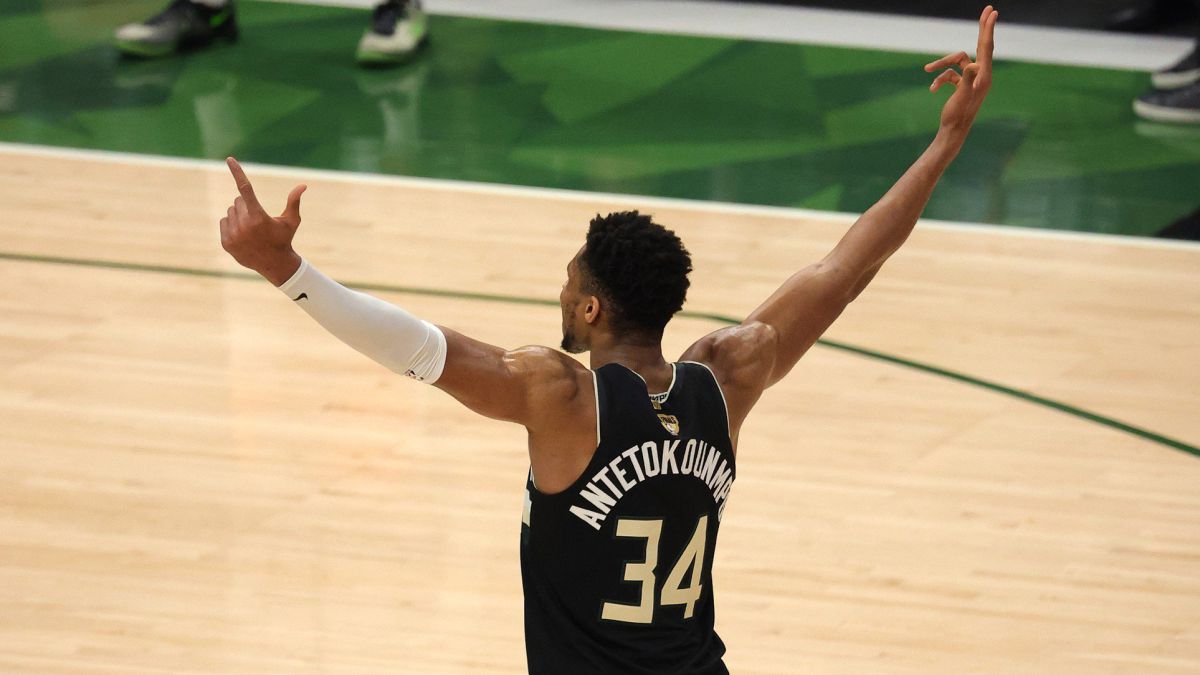 Giannis Antetokounmpo can play in Zaragoza. You have to travel to its origins, as so often when referring to your career, to find out. Specifically, to 2012 and 2013. The superstar improved everything he could and more in Milwaukee, winning two MVPs and winning the NBA title with 26 years, but he could have tried in the capital of Aragon almost a decade ago. He bet on himself and won, boy did he win. You have to wear that winter from which documents as impressive as this one came out, the young Giannis and a surname that at that time was written Adetokunbo.
The late José Luis Abós was the soul of that CAI Zaragoza. It is not the classic, because that club was dissolved, but it did have the same commercial name. The Prince Felipe team was led in the offices by Willy Villar, now in Gran Canaria. In October 2012 Villar received a video with low definition in which the player and Abós and he took a week to get to Athens to see him live. He was in the second Greek division, in the Filathlitikos.
"He began to do a bounce exercise between cones and I, seeing him, I thought that, with that height, that must be a joke. It even crossed my mind that he was perhaps an exhibition basketball player, the kind that comes out in internet videos juggling but then they don't know how to do anything in a five-on-five. But as soon as I saw him play the next day, I took that idea out of my head: during the game I knew how to do everything, "he said in Gigantes From Basket when explaining the story a couple of years later.
They wanted him as a base despite the fact that in the press release with which they presented the agreement they already gave him 2.06 meters. That clever expedition to Greece was worth the international knowledge of Antetokounmpo, there Adetocunbo, and everyone realized what was in him. They were signed four seasons of federative rights, although they stayed in the middle in practice when the NBA knocked on the door.
In Movistar + he recalled a few months ago how the meeting with Villar was: "I was extremely nervous. There is a story behind that. I remember that, when they told me he was coming to see me, I went to take some shots in the morning before playing against the Panathinaikos subsidiary. He was there and I was tremendously nervous. My mother was too. I thought I would only have to take a few shots for basket and then I could go home to play the game, but he forced me to do some training full for an hour and a half. There I was already very tired. But I was still nervous about the game because I knew that it was something that could change my life forever and that it could be an opportunity for my whole family. I remember that I crushed them. I gave my all and was the best on the court. I was everywhere: helping my teammates, creating a game, bouncing, etc. The next two days I bit my nails, waiting until my agent's call came. and he told me that Zaragoza wanted me to move there with my family to play for the next four years. I was very happy to go there, but I never did. A few months later, the Bucks chose me and you know how that story ended: with me in the NBA. "
Villar has admitted on several occasions that he was surprised that no one else cared. He risked € 200,000 with the kid and ended up taking a 300,000 profit when the Bucks arrived the following summer. They signed the contract the day after Giannis turned 18. The player stayed the remainder of the season in Greece and that was what prevented us from seeing him in the ACB because the occasion never presented itself, it was in the past.
A young man without quality training, playing in a category of not much level, was planted in number 15 of the 2013 Draft, of which the quasi-disappeared Anthony Bennett was number one and where Len, Muhammad or Carter-Williams achieved a better position. And Giannis saw that it was time, despite the voices that told him no and what could await him at the CAI. A herculean body was forged until he came to dominate by brute force in a league, the NBA, where the physical is the bread with which to eat.
Giannis not only had that link with Spain, he was also able to play with the National Team. They offered it to him through his agent and he came to value it. He only wanted a passport to ensure the tranquility of his family, of Nigerian origin but Greek life. He decided on the country in which they lived and with it he competes at the international level, like his brothers.
The sports director revealed that Anteto's agent sent him a message on draft night: "From Giannis, thank you for putting me in the world."

Photos from as.com