"I want to achieve the same goal in Leganés as in Norwich"
Quintillà has been presented as the signing of Leganés, slipping that he only thinks of promoting, but without mentioning the word promotion.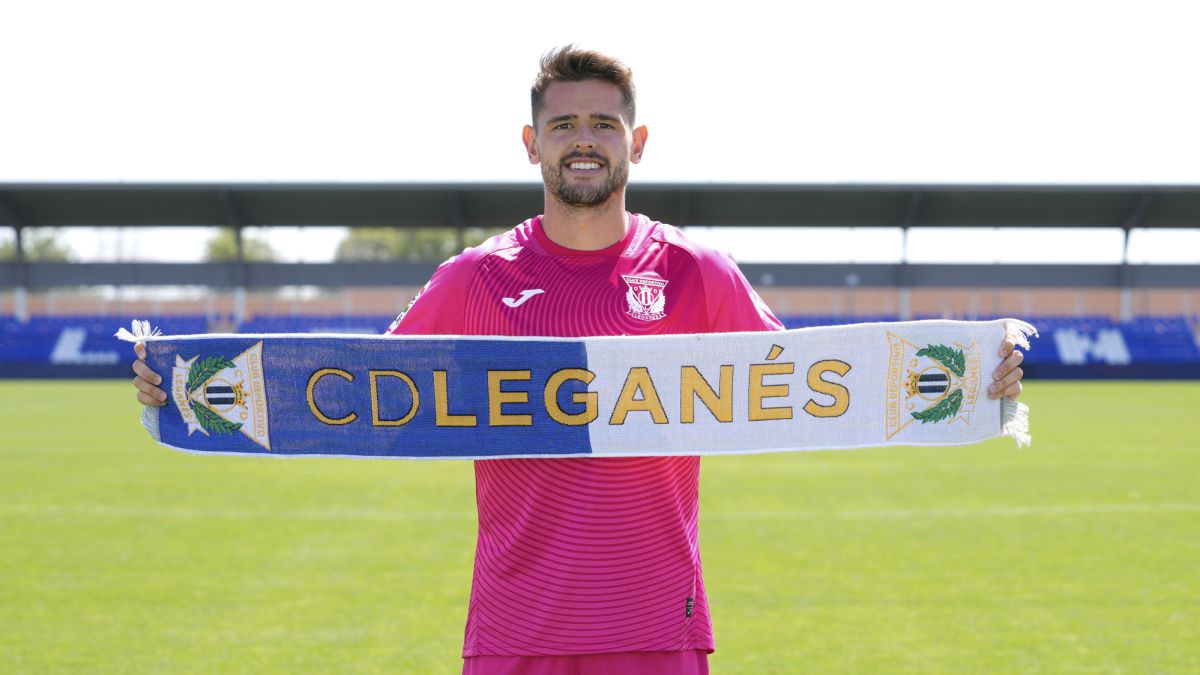 It was the first in a scenario that seemed forgotten. As if it were from another time. From another life. The presentation of Xavi Quintillà, (for now) the only signing of Leganés for the 2021-2022 season was reminiscent of times gone by. With journalists (few) in the press room and fans (few) waiting in the stands to greet him. A return to normalcy that this left-back breastfed in the Barça quarry and relaunched with that of Villarreal wants to take to a higher level. The one to return Leganés to First.
In his simple but direct speech, he has repeated on several occasions that he is "clear" about his objective. "I already know this situation from last year, I already lived it with Norwich," he commented in reference to his time in the Championship, the English Second, where he achieved promotion to the Premier last season. "Here, as there, there is a clear objective that I want to fulfill. I'm excited ", he commented sliding that going up is the only way for Leganés, but without mentioning the word" promotion "throughout the appearance. As if the desire to ascend, to mention it, were spectacled.
"From the note the ambition is clear"
But among those present and those who have seen the press conference live on the YouTube channel of Leganés, it was palpable that this young 24-year-old defender from ilerdense wants to upload. Yes or yes. "The championship will be long," he warned. For now, in this adaptation they are making it easy for a coaching staff and squad that already knew that "they would treat me well" .
"When I spoke with Txema [Indias, sports director], as with the teammates I already knew, they all told me what group there was (…) You can tell that Leganés is a family. (…) There is a lot of ambition. There is a desire to achieve the objectives. From the inside I see it clear. You can tell from the first training sessions ", he repeated without mentioning the word ascent, although letting it float in the environment.
Having recovered from the physical problems he suffered last season ("I played the final stretch of the season, it was good for me and I feel good"), Quintillà has insisted that he did not want to listen to offers as soon as he learned of Leganés' interest.
"Both my agents and I, when we received the call from Leganés, we did not want to hear other calls. It is a superior club. Top-notch. I come to compete and play the maximum. It is an immense pride to wear this shirt ", he continued resoundingly before defining himself as a full-back who wants to contribute everything:" Everything that is to achieve objectives: assistant, scorer, defense ... everything will be welcome ", has settled the debate on whether it is considered more attacking than defensive.
With an audience and a red shirt
"His predisposition has been excellent from the first moment", a Txema Indias has insisted on his left, who has confessed that he had his eye on him when, in Butarque, "we suffered it with Villarreal. In some play he caused us a goal against ", has evoked the sports director.
Indias, before starting the presentation, wanted to remember the outgoing Rubén Pérez and Iván Cuéllar, "emblems of Leganés and great captains. I think we have to thank them for helping us throughout this journey, each with five and four seasons, to grow. I want to thank you for your dedication and wish you good luck in the future ", he repeated.
Minutes later, Quintillà put on his new shirt and greeted a couple of kids present at ID Butarque to attend this first face-to-face presentation in more than a year and a half. Act in which, by the way, the player has not donned the blue and white jersey, but the third kit, the red one, the only one that the club has released at the moment. Also in that it has been a different event. As from another life.
Photos from as.com