Vitolo and Diego Costa, signings marked by the FIFA sanction
The canary heads to Getafe after failing to explode in his three and a half years at Atlético. The striker did not have a good last stage either.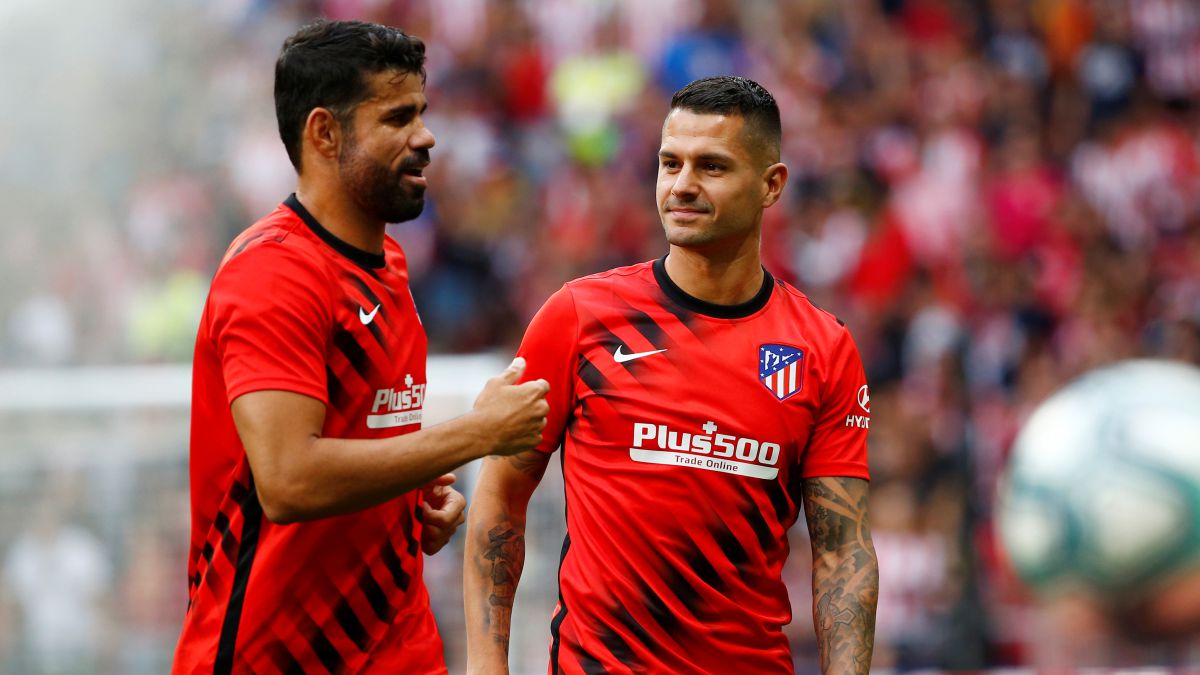 It is often said that what starts badly ends badly. In Vitolo's case, his time at Atlético has been constantly marked by the feeling of never fully exploiting his potential, and, when he was closer, suffering some setback in the form of injury.The canary will head to Getafe, which has already announced the beginning of the agreement for his loan, and will play his last year of contract at Atlético on loan. Says goodbye as League champion and centenary (he reached 101 mattress matches), but with only 456 minutes played in his last year, the twentieth footballer on Simeone's list. Vitolo signed for Atlético in the summer of 2017, a high-profile incorporation of an international footballer, who was going through his best moment at Sevilla and much to Cholo's taste.However, his signing was involved in controversy. Atlético decided to pay its clause after Pepe Castro, Sevilla's president, announced an agreement for its renewal. But, beyond the commotion, Atlético continued to face a FIFA sanction that prohibited it from registering footballers for the second consecutive window. Finally, the canary went on loan to Las Palmas, his home club and at that time in the First Division, until he was able to wear the red-and-white jacket. That same summer of 2017 there would be another soap opera, with Diego Costa in rebellion to leave Chelsea, wearing the Atlético shirt set aside in Brazil and signing his return in September without being able to debut until January.
Two huge signings that have ended up going out the back door, with injuries as great setbacks and that have not managed to turn around the difficulties on arrival. In the case of Costa, he has been without a team since he terminated his contract in December, although his second league as a mattress player has added to his record this year. And with Vitolo's goodbye, Atlético will close the two operations of the summer of 2017 that did not meet the expectations generated and that did not yield what was expected due to the economic outlay generated.
Vitolo has gone from more to less in his rojiblanco stage. In his first half season he scored three goals, he was appearing in Simeone's starting schemes and carved a hole in his side until he suffered an injury that separated him from the Europa League final when he had many options to be in the eleven. In his first full campaign he began assisting Koke in the European Super Cup, he participated in 28 games, 1,089 minutes and was left with a single goal in the Cup very scarce for his talent. And, after a little more prominence in the 2019-20 academic year, mainly at the beginning of the season with two very valuable goals in the League (he would get the third, giving the victory against Valladolid), Vitolo ended up playing 35 games and adding 1,483 minutes.
His last course was without a doubt the least relevant in his career, only required with the scoreboard against and with casualties concentrating on the attack front. That has led Vitolo to ask the club to leave, look for those minutes elsewhere, and these will arrive a few kilometers from the Wanda Metropolitano, in a Getafe that will take over a part of the high profile of the canary, one of its great impediments market after market to get out of Atlético. With 31 years, Vitolo says goodbye and Simeone will cover his absence on the attack front with a new piece, where the signing of Marcos Paulo, closed since January but not yet officially announced, has won points to stay if he manages to convince the coach during the preseason.
Photos from as.com