Valencia Basket: "We expect a very competitive Madrid Open"
Valencia Basket is the first ACB and Endesa Women's League club to bet on 3x3 with teams from both categories.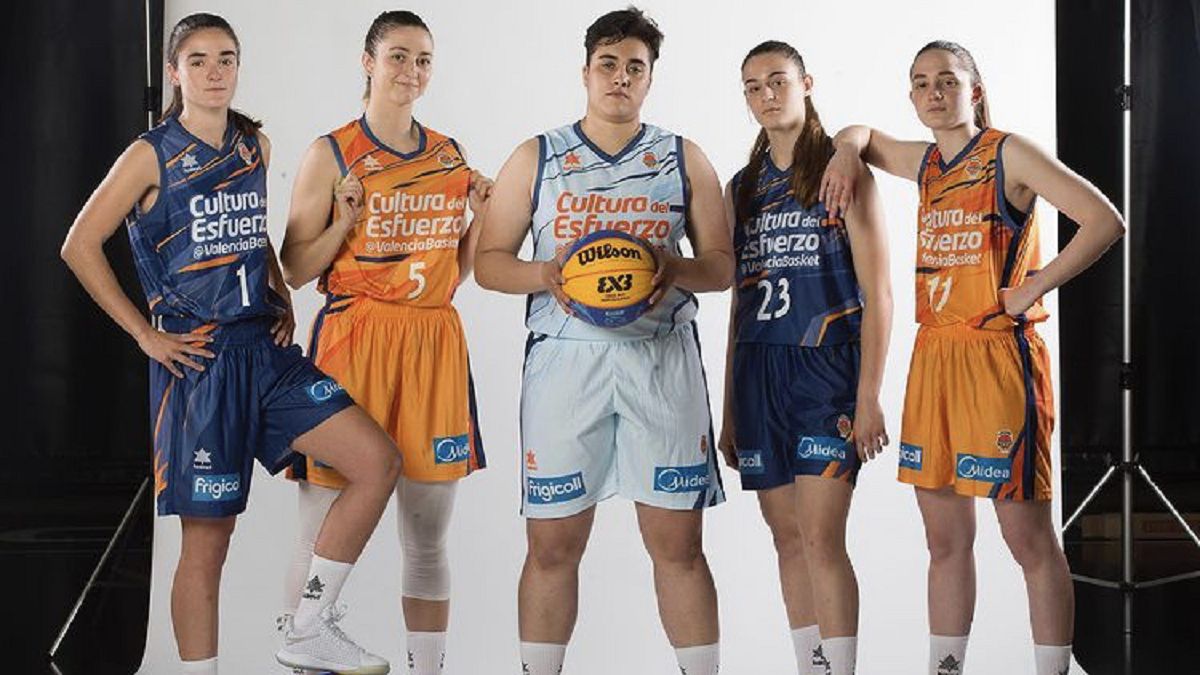 Valencia Basket is the first ACB and Endesa Women's League club to be committed to 3x3 competition with teams from both categories, male and female. In the female category, it has been trained with 4 well-known players in this modality and two incorporations from 5x5.
The Madrid Open will be one of their first dates since they have just started their journey together. They will attend this first appointment of the second edition of the Herbalife 3x3 Series with Cecilia Aldecoa, Celia García, Clara Rodríguez and Noelia Pariente. A talented team that promises to be one of the great attractions of this first open tournament of the Herbalife 3x3 Series circuit 2021
Lorena and Claudia come from the traditional 5x5. What would you say is special about 3x3 for basketball lovers? It is your first summer on the circuit, how are you feeling and how has the adaptation been?
We are very excited to also be able to play this modality in the world of basketball. It is clear that it is very different from 5x5, it is a much faster game and you have to be focused at all times. At the beginning it is difficult to adapt, due to the different rules, the ball, the plays, but it is a very fun game that hooks you from the first moment.
Do you think other ACB teams or the Endesa Women's League will follow in the footsteps of Valencia? How would you encourage them to do so?
Yes, of course it is. The 3x3 is a modality that hooks the spectators from the first minute. Fast, even games with a lot of quality and talent. We believe that this mix will attract more teams to bet on the modality.
Several of you are experts in the 3x3 circuits, how would you describe the Herbalife 3x3 Series experience to other players? What advice would you give to someone who is starting to play this modality?
It is a very nice experience. All the participants are basketball lovers and the atmosphere that is breathed is very special. The competition is even and close and you have the opportunity to meet and talk with other colleagues. Few tips, enjoy and play with great intensity. But, above all, that they participate. Don't be afraid to sign up. The experience is enriching and it is an easy game to learn.
We are going to see you this weekend in Madrid, are you going to cheer up for the following open tournaments (Zaragoza, Marbella and El Campello)? See you at the Final Master in Barcelona in September?
Still with dates to be confirmed, we can anticipate that we will try to be at some other stop on the circuit. We would also love to be able to participate in the Final Master, but due to dates we will all be preparing our 5x5 seasons. Day by day, our goal is to enjoy each tournament.
This team is made up of two valences and four pucelanas, how has the integration been between you? How is your teamwork?
Integration was easy. The six of us are looking forward to continuing to learn and improve in this modality. As soon as we received the call from Valencia Basket we got in touch and now we have a fluid conversation. We will generate feeling in the different tournaments and we are sure that we will play this modality well.
This is the second edition of the Herbalife 3x3 Series circuit. What did you expect from the tournament itself? Which tournament are you most excited about getting?
I wish more teams would sign up !!! We would like to encourage all basketball players to participate in this modality. From there, we expect a very competitive tournament and where we will be able to face great national and international players. We are excited to participate. We play 3x3 basketball because we enjoy it. Our goal is to compete every game and stand up to all the rivals.
Celia García, Cecilia Aldecoa, Clara Rodríguez and Noelia Pariente have formed the well-known Pucelaikas team since 2017, prevailing in the 3x3 Street Basket Tour of Castilla y León in 2017, 2018, 2019, also runners-up in the ACB La Jaula 2019 tournament and tournament champions Sitges and the Catalan Circuit 2018. How do you face the Herbalife 3x3 Series circuit?
We face the Herbalife 3x3 Series circuit with great desire to continue improving and enjoying and also wanting to play under the name of Valencia Basket. We are very grateful to Midea and Frigicoll for betting on this modality and helping us to continue enjoying the different tournaments. From there, wanting to compete and try to surprise.
Clara and Celia, you have had international experience playing with the 3x3 women's team (senior category and U18). You have recently won the European pass in Paris, how do you see the team facing this important title? 444 444
We see the team very worked and rolled, competing and defending Spain. Obviously proud of what they are achieving and the visibility they are giving to the 3x3 mode. Simply encourage people to follow this exciting selection.
Madrid is the first stop of Herbalife 3x3 Series 2021. How would you encourage people to attend the days of the tournament? What elements do you think they might like the most?
We would love to see many more players sign up for tournaments. It just has to be said that it is worth participating! Encourage you to try this modality. The setting is unbeatable and you can live a magnificent experience from within. For the spectators, emphasize that the game is fast and spectacular. We are sure that you will have a lot of fun if you decide to come and watch the tournament.
To finish, what is the goal of Valencia 3x3 Women's Basket for this season?
We have the objective of establishing ourselves in the competition, integrating Claudia and Lorena, who we know are going to love this modality and be able to compete in every game. Without forgetting to enjoy the different tracks, the organization and the level of play. Leave the Valencia Basket shirt as high as possible.
Photos from as.com