United meet an 'extra' signing
Solskjaer has praised Jesse Lingard's role in his loan out last season at West Ham, saying "it's in our plans for now."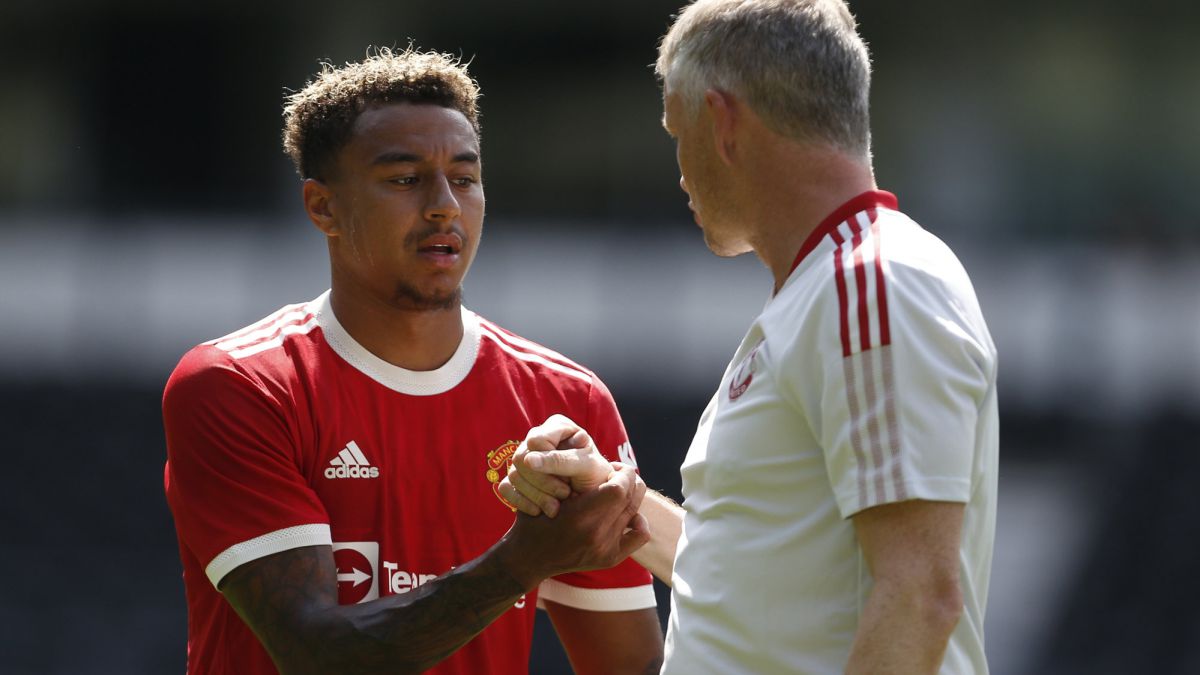 The preseason is a time of second chances and if you are already coming from a stage of redemption, the chances of sealing a rebirth multiply exponentially. This is the case of Jesse Lingard, who last year went from ostracism at United to stardom at West Ham, by loan. The midfielder was not part of Solskjaer's plans, but in London he not only recovered some of the shine lost in Manchester, but also gave the hammer fans the best six months of his career.
Nine goals in 16 games that earned him the call-up of Gareth Southgate to the national team. He went to the Eurocup and although he did not play, he certified a renaissance that few would have bet on a few months before. Now, back at Old Trafford, Solskjaer, who gave him only three games (two for Carabao and one for FA Cup) in the first half of last season, has opened the locker room doors for him again. With Jadon Sancho achieved, in the absence of an official announcement, and in a tough fight to take over Varane, Lingard could become an extra signing for the Red Devils.
The Norwegian coach himself was in charge of confirming this after the team's first summer friendly. In it, the offensive midfielder played the second half. The result (2-1 victory against Derby County) is the least of these games, but after it, Solskjaer has valued the attitude of Warrington very positively: "Jesse has returned, he has been brilliant, he wants to fight for his place here and there is nothing better than seeing players wanting to fight for a place in the team ".
"What he did at the end of last season is what matters, we know what he is capable of and I think at the end of the year we lacked some extra options in attack. Jesse is in our plans for the moment," he added. Thus, Ole confirms that right now they are not looking for a new destination for the brand new English international, who has shown, at 28 years of age, to have a hole in his lifelong team again. Well, let's not forget that Lingard is one of the greatest exponents of the Red Devil quarry in recent years. The 210 games with the first team are a good example of this.
The preseason as the definitive test
Of course, if his situation were to go wrong, Jesse would not be short of suitors. West Ham himself tried to have him again, according to the English press, but at United they have not considered this possibility. Although we cannot forget that the contract ends in 2022 and if he completes six months in the shade they could risk losing him at zero cost in a year from now. The competition you have is fierce. Bruno Fernandes, Pogba or Van de Beek have an advantage when it comes to playing ahead of the double pivot. Sancho, Rashford and Greenwood do it if the band is the habitat that Solskjaer has destined for them. However, Lingard has already shown that he can be an elite footballer at the Hammers. The preseason will mark if it is really an extra reinforcement for United ... 444 444

Photos from as.com